From a certain perspective, the 2023 BMW XM is the most important M car in over 40 years. It is the only vehicle from M, bar the mid-engine M1, not to be based on a more pedestrian offering from BMW. The XM is also the first M car to weave hybrid technology into its drivetrain. It's a purebred performance machine, through and through… at least that's what BMW wants you to believe.
The reality is a bit different. With a claimed curb weight of 6026 pounds, the XM's speed and lateral grip could never live up to true super SUVs like the Porsche Cayenne GT. Instead, the M SUV proves itself as the flagship of flagships in different ways.
The interior is a step above every modern BMW I've driven, including the high-end Alpina models. The first thing you see is the funky headliner that BMW describes as a "three-dimensional prism structure." The backlit, Alcantara-covered display covers the entire length of the roof. Further down you're greeted to a two-tone vintage leather upholstery that, at least in my test car's case, was a stunning color combo of Deep Lagoon and Coffee. The front seats look great and feel amazing, with a standard massage function and plenty of adjustability. There's also a giant curved screen on the dash that encapsulates a digital gauge cluster and the infotainment display. Fancy.
The XM is even more fascinating in the rear. This thing has the exact same wheelbase as the X7, but comes without a third row. That means engineers could give rear occupants an enticing place to spend time. BMW calls the back seats the "M Lounge," but rather than pop in a couple of hardcore bucket-esqe seats like in the M5 CS, designers took a totally different approach. The rear bench feels more like a couch, with little to no bolstering and acres of soft leather. You sit recessed, tucked just north of the XM's D pillar. It makes for a supremely posh experience, though seat adjustments, massaging functions, and seat ventilation are noticeably absent. Another disappointment: a few of the interior switchgear pieces, including sections of the dash, the steering wheel, and a handful of climate control buttons, seem to be parts-bin items lifted directly from the much cheaper M2—not something I expected on a vehicle that starts at $159,995.
The hybrid drivetrain makes that price a bit easier to swallow. Up front you'll find the newest version of BMW's 4.4-liter V-8, internally dubbed S68 if you're into BMW codes. It uses two twin-scroll turbos and a host of other improvements to cooling and oiling to make 483 hp all on its own. Sandwiched between it and the ZF eight-speed automatic is BMW's fifth-gen electric motor, capable of a maximum 194 hp. Combined, BMW says the drivetrain makes 644 hp at 5400 rpm and 590 lb-ft of torque between 1600 and 5000 rpm.
As with most M cars, the XM's power feels underrated. If I had to guess, this thing is making closer to 700 horses at the crank. Pop the drive mode into its most aggressive setting, and torque comes on instantly, the electric motor filling in as the turbos lag. The XM feels at least as quick in a straight line as an M3, no small feat considering the XM weighs a full ton more. BMW claims a 0-60 time of 4.1 seconds, but mid to high 3s seems more realistic. Top speed is electronically limited to 155 mph, which arrives quickly and doesn't require much space to achieve. Option the M Driver's package, and that speed jumps to a slightly more exciting 168 mph.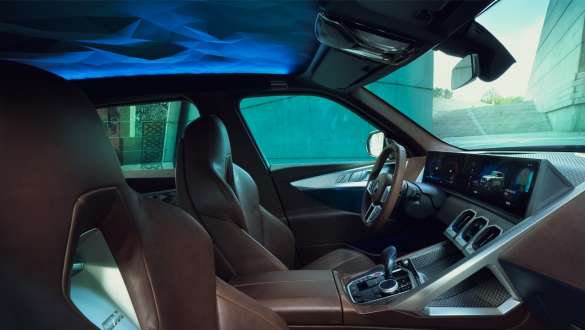 Thankfully, the XM's pure electric mode is more than just a gimmick. The 29.5 kWh battery cluster lives in the floor, and packs enough energy to deliver around 30 miles of all-electric driving range. The e-motor spins through the transmission, which then sends power to all four wheels. Weirdly, you can feel the car rowing through each gear as you accelerate in electric mode. It's a funny sensation. And it's not like the XM is fully neutered when the engine is off; it can still accelerate well enough to keep up with traffic in a busy city environment. BMW says top speed in electric mode is 87 mph.
M-badged BMW SUVs tend to have this always-on, ready-to-go attitude. The steering is immediate and sharp, the suspension is taught, and the brakes feel like they can stop a planet the microsecond you put any pressure into the pedal. The XM is the M SUV, so I expected more of the same. Not so. This leviathan of a vehicle feels refreshingly un-M-like with its inputs, and for this application, I think that's a good thing. The steering isn't hyperactive, but smooth and progressive, though feel is largely absent. The brakes, too, aren't dialed to chomp down on the rotors if you so much as breathe on them. The pedal has a long travel, and takes a considered effort to get the XM slowed. In some ways, this thing drives more like an Alpina than it does an M car.
The ride is the exception. BMW chose to stick with traditional coil springs rather than air-ride, giving the XM a wired road feel. I wouldn't say it's uncomfortable, but it's not particularly pleasant unless the tarmac is ultra-smooth, with more bumps than you might expect entering the experience. It helps make the XM handle impressively on twisty sections of road, especially once you mix in the standard four-wheel steering and 48-volt active anti-roll bars. With the right driver, this behemoth can keep up with most sports cars.
But the XM is an SUV with an ultra-luxurious interior that the vast majority of buyers will never really hustle on a back road. So why make it so stiff? It's a strange juxtaposition, considering the XM's main competitors, like the Bentley Bentayga and the Mercedes G-Class, aren't as flinty on broken pavement. Surely there's a better medium to be had in the XM's ride to make it more appealing to live with. A spokesperson later explained to me the XM is BMW's interpretation of what the ultimate SUV should be, rather than a copy of anything else currently on the market. With that thought process, it starts to make a bit of sense. This is still an M car, after all, so it has to feel at least a bit like one when you carve through corners.
I won't sit here and bad-mouth the XM's looks. It's different, interesting, and bold. It's near impossible to get an elegant SUV into production with today's safety regulations, so BMW penned something that stands out. The obnoxious front end does everything to convince you that yes, this is a BMW, and it's angry. The optional gold trim, which surrounds the kidney grilles and trails the length of either side, is ostentatious and fun. Those chromed-out 23-inch wheels are standard. The rear end is concept-like in its departure from your average BMW, with three-dimensional tail lights, vertically stacked quad exhaust pipes, and no centralized badge on the trunk (there are two roundels on the rear glass on either upper edge, a homage to the M1's dual-badge placement).
You can option away the cool paint and gold accents, and BMW even offers smaller 22-inch wheels as a no-cost option. But what's the point? Like every other vehicle in this segment, the XM is meant to make a statement. Going for a stealth spec puts a damper on the excitement—the opposite of what buyers will want, we bet.
While the XM is certainly capable and generally pleasant to drive, its approach is, at times, confusing. It can feel special, but it also feels like a committee car made to check a bunch of predetermined boxes, instead of something designed through one person's vision. There isn't one fantastic stand-out aspect to the XM, no one revolutionary thing to pique the public's interest. And it doesn't lean hard enough into sportiness or luxuriousness to be classified one way or the other. That makes it a hard sell, especially when your targeted buyer is shopping for clout. And the pointlessly stiff ride and a selection of parts-bin cabin appointments do the XM no favors considering it's approaching Bentley levels of expensive.
That being said, I don't think BMW will have a problem selling every XM it makes. The funky styling and spacious rear bench feel like they were tailor-made for buyers who have a desire to be that little bit different. And there will always be a steady stream of people that don't want to blend into the G-Wagen crowd. Keep production low to drive up the exclusivity factor, and the XM will no doubt be a hit. But for my money, you'll catch me in a G63.