Bugatti automobiles stand out for their exceptional design, captivating proportions, curves, and edgy lines. Yet to date, the brand has only ventured into hypercar territory. How incredible would it be if Bugatti expanded its roster of vehicles beyond just this realm? What kind of automotive masterpieces could they create then? Would their iconic DNA still apply to various vehicular categories? Their designs are renowned for retaining an incomparable beauty and allure, even when transferred into alternate forms such as All-Terrain Vehicles or Recreational Vehicles; they remain stunning nevertheless. Recently, the Instagram account FLYBYARTIST revealed some amazing AI-generated images of Bugatti cars in different avatars. The incredible results further reinforce our conviction that Bugatti has one of the most aesthetically pleasing product DNA.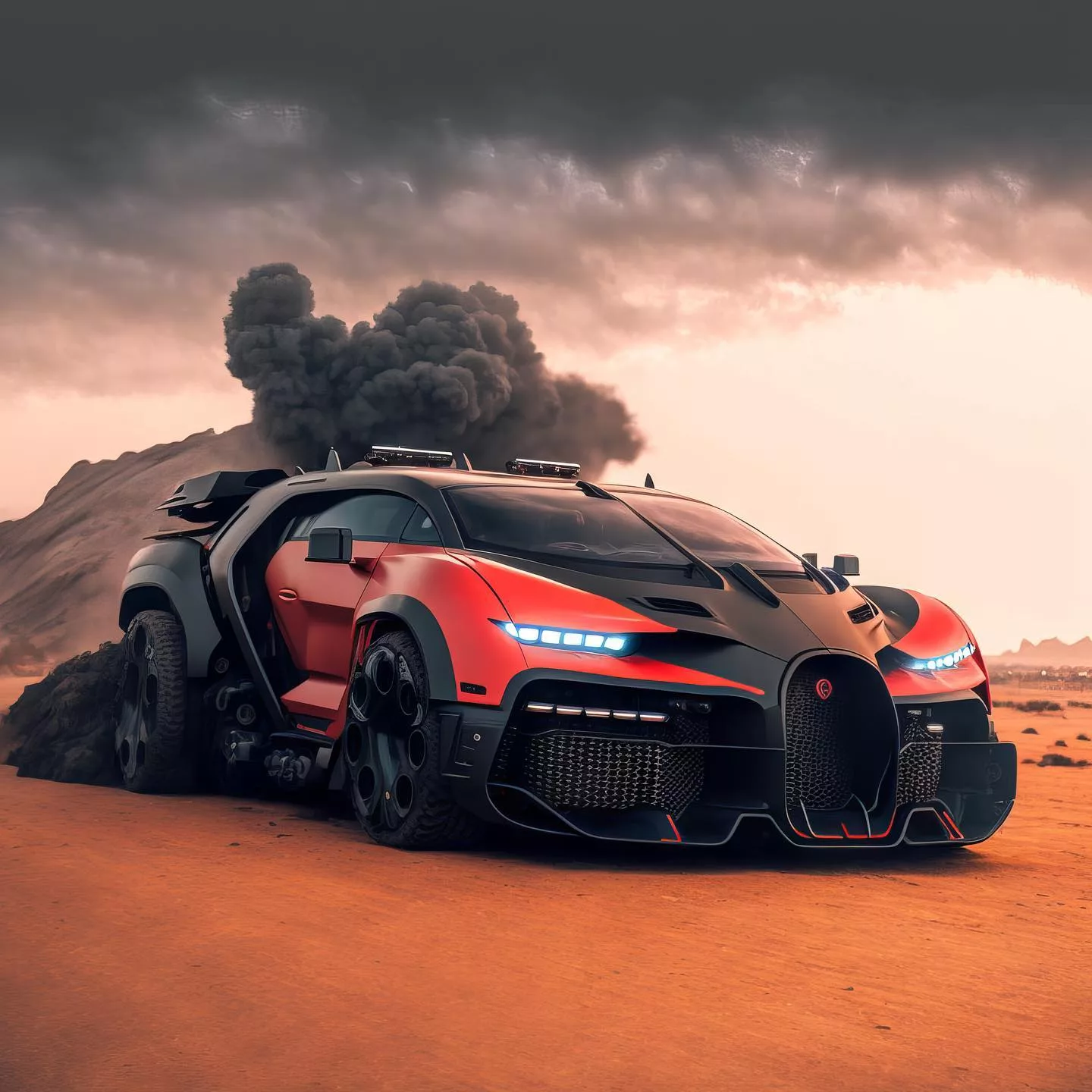 The custom Bugatti ATV looks like something that Mad Max would be proud to ride – luxurious yet rugged. Though some details may not be perfectly symmetrical, these AI-generated images appear wild. This vehicle is a must-have for any automobile connoisseur! You've got a Bugatti that pays homage to the classics with its horseshoe grill and C-shaped pillar. It takes it further by adding larger tires, more oversized air intakes right below the headlights, and, most impressively – an incredibly reinforced chassis. The first image looks almost ready for some monster truck action while maintaining enough ground clearance to put it in ATV territory.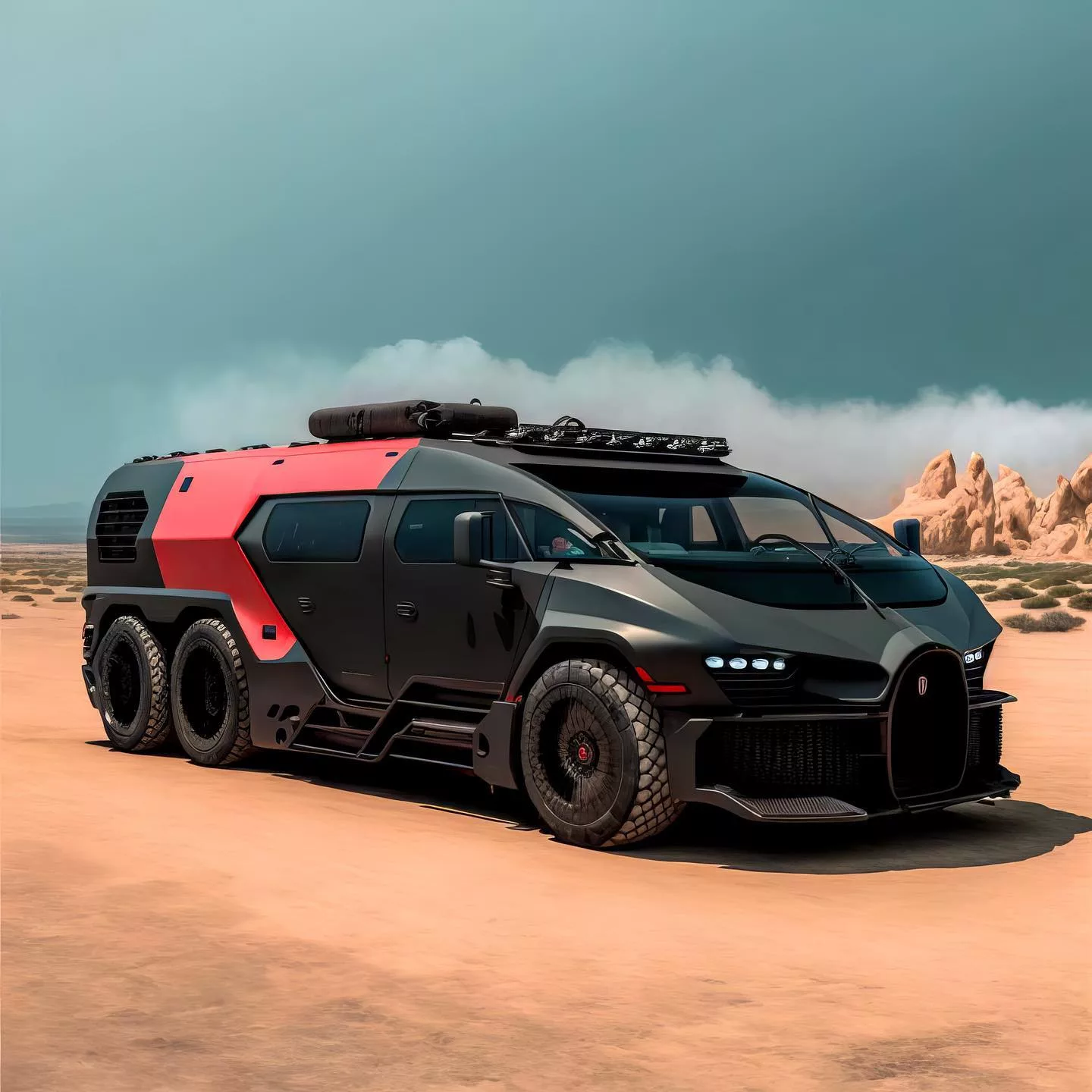 The explorations that follow are very intricate. These automobiles look like RVs but were designed for a post-apocalyptic desert city; they demand respect! The image above is wonderfully detailed and displays a considerable amount of symmetry. Artificial Intelligence understands design concepts such as the C-shaped cutout near the red panel in the back, and those Chiron headlights fit perfectly with this vehicle's aesthetic. The RV below offers remarkable AI craftsmanship. Although it lacks symmetry around the headlights, its spaciousness is second to none – almost like you're in a semi-truck! We're not too keen on how high that door is placed.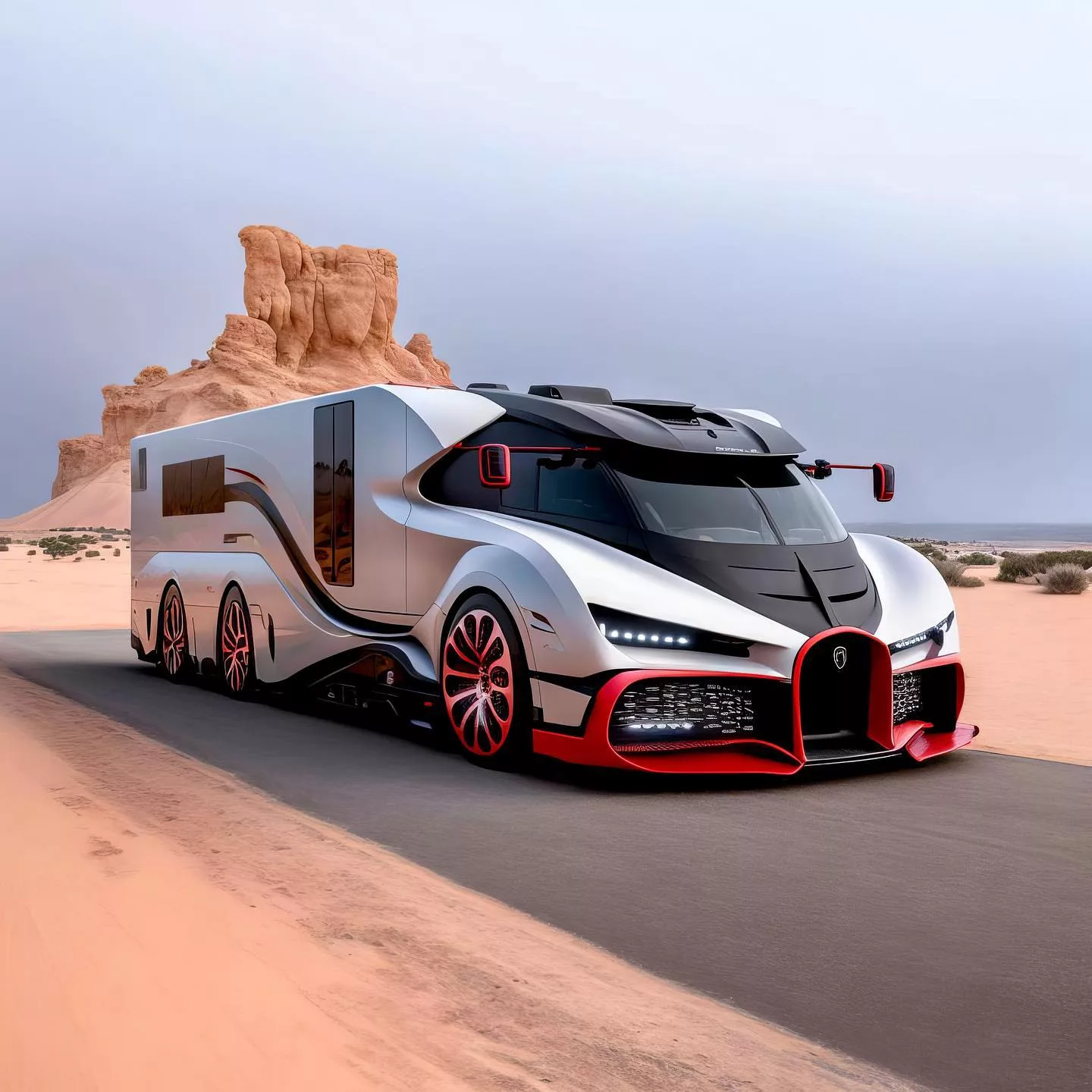 The Bugatti van is a sight to behold, but what could it be used for? Our first thought was that it was the most luxurious delivery service ever. But then we realized this vehicle had much more potential than hauling cardboard boxes; law enforcement or paramilitary forces would benefit from its armored capabilities and brute strength. When you look at this machine decked out in black armor, you can't help but think of power and domination – there's nothing vanilla or standard about it!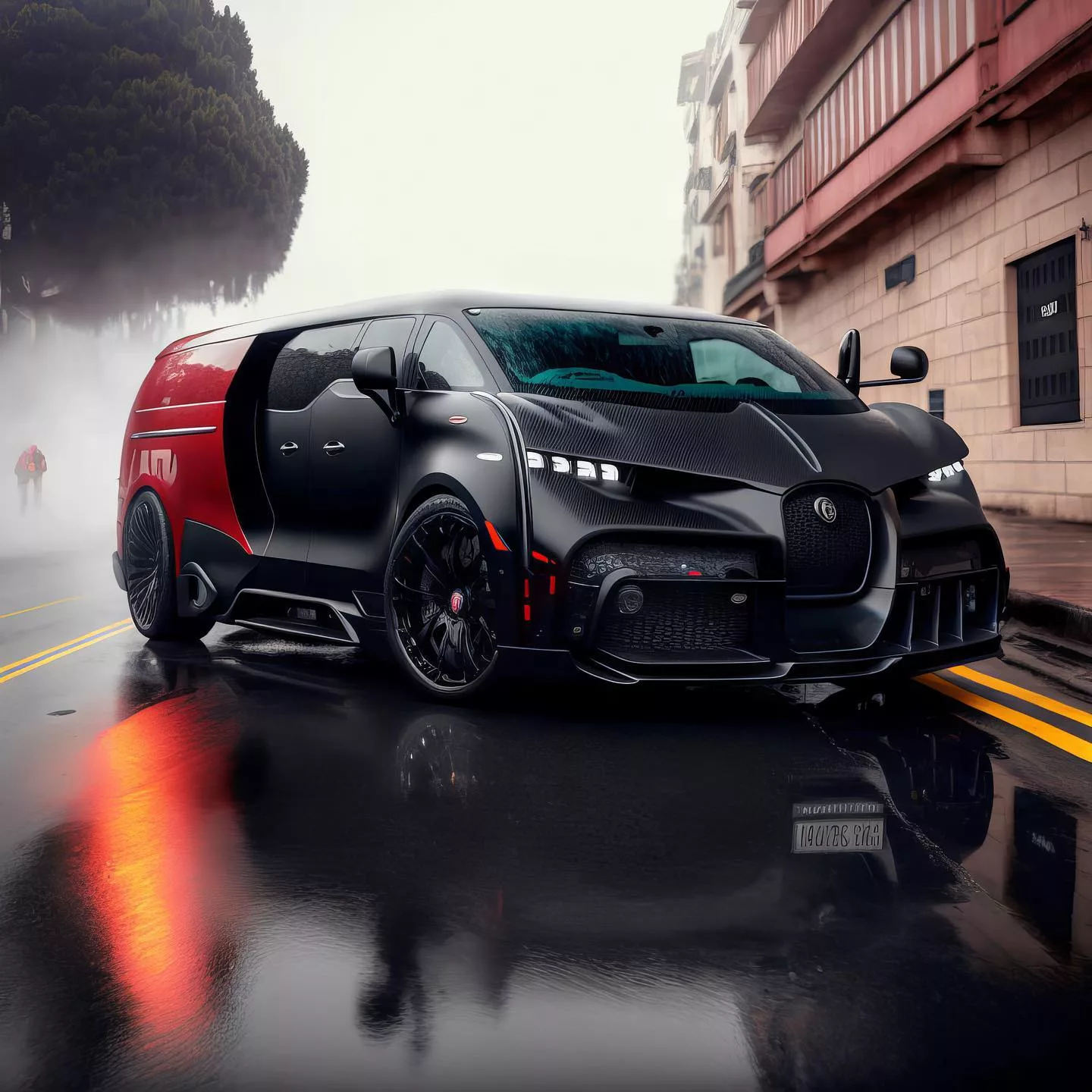 Not every vehicle needs to be a truck or RV; some can be highly stylish hypercars! This modern classic combination of the Bolide, Divo, and Chiron will leave you in awe. To take it up a notch further, the one just below takes form and aerodynamics into account while making slight compromises on symmetry.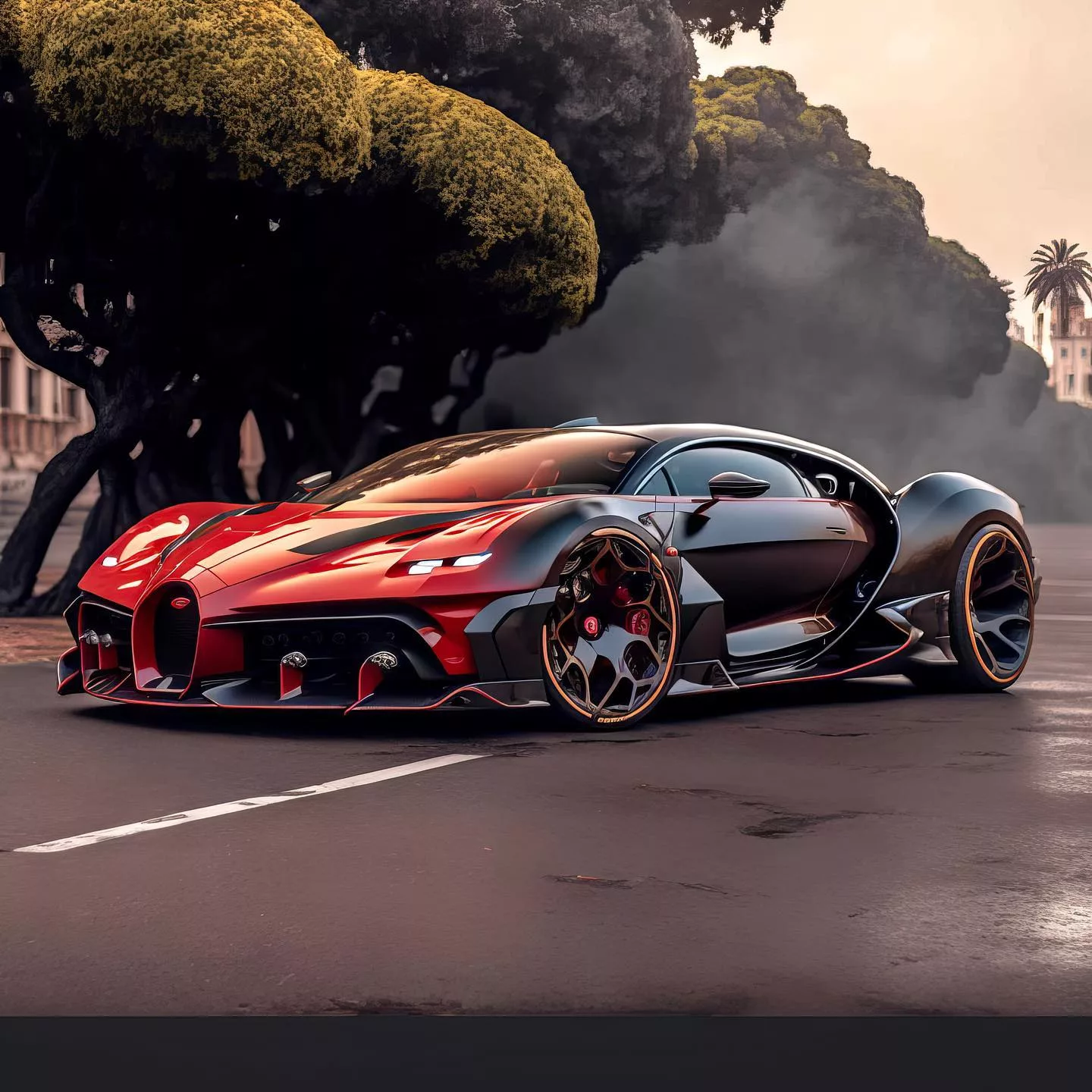 Our final two examples present opposite extremes. The top image displays a heavy-duty truck built for transporting goods and featuring dual rear wheels coupled with an armor-like construction that can easily cut through barriers. On the flip side, we have a sightseeing vehicle with exposed sides so passengers can observe their surroundings in real-time – lightweight yet resilient enough to handle any terrain! In contrast, the minimalistic design gives it a luxurious ambiance. Its glossy black exterior with golden trims and deep red interiors give passengers the ultimate VIP treatment – just like what you'd find in Saudi princes' homes!
If this looks amazing, check out FLYBYARTIST's other designs on Instagram.