The earliest of the 1968 models were available only as 2-door pillared coupes (with a B-pillar or "post" between the front and rear windows), but later in the model year, a 2-door "hardtop" model (sans pillar) was offered. The Road Runner of 1968-1970 was based on the Belvedere, while the GTX was based on the Sport Satellite, a car with higher-level trim and slight differences in the grilles and taillights.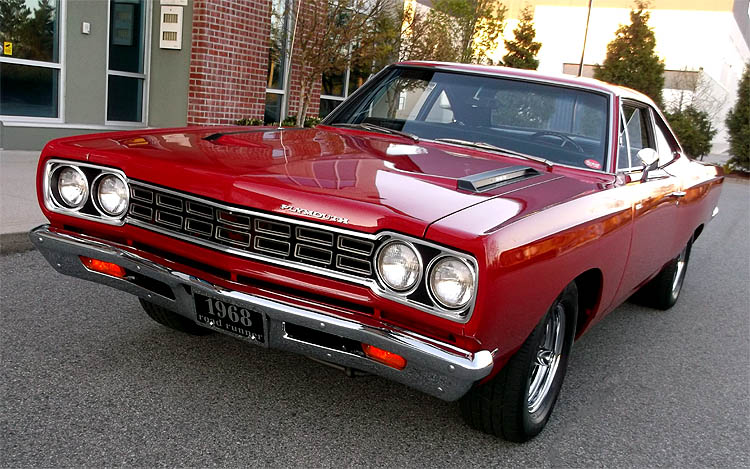 The interior was spartan with a basic vinyl bench seat, lacking even carpets in early models, and few options were available — such as power steering and front disc brakes, AM radio, air conditioning (except with the 426 Hemi) and automatic transmission. A floor-mounted shifter (for the four-speed) featured only a rubber boot and no console so that a bench seat could be used.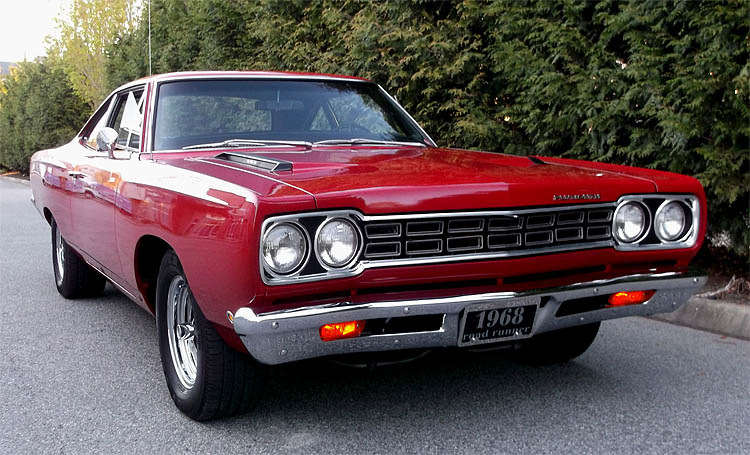 The standard engine was an exclusive "Roadrunner" 383 cu in (6.3 L) B-series V8 engine with a 4-barrel Carter Carburetor rated at 335 bhp (340 PS; 250 kW) at 5200 rpm and 425 lb⋅ft (576 N⋅m) at 3400 rpm of torque.[4] Its extra 5 hp (4 kW) rating was the result of using the radical cam from the 440 Super Commando and a .25 raise in compression to 10.5:1 (vs. 10.25:1 with the 330 hp (246 kW) 383).
When air conditioning was ordered, the cars received the 330 hp (246 kW) version, as the radical cam specs of the 335 bhp (250 kW) version did not create enough vacuum to accommodate air conditioning. A $714 option was the 426 cu in (7.0 L) Hemi with 2X4 Carter AFB carburetors rated at 425 bhp (431 PS; 317 kW) at 5000 rpm and 490 lb⋅ft (664 N⋅m) at 4000 rpm of torque.
The standard equipment transmission was a 4-speed manual transmission with floor shifter, and the three-speed TorqueFlite automatic transmission was optional. Early four-speed 1968 Road Runners featured Inland shifters, which were replaced by Hurst shifters during the course of the model year.
Plymouth expected to sell about 20,000 units in 1968; actual sales numbered around 45,000. This placed the Road Runner third in sales among muscle cars, with only the Pontiac GTO and Chevy's SS-396 Chevelle outselling it. Dodge debuted the Road Runner's cousin, the Super Bee, as a mid-1968 offering after seeing Plymouth's success with the Road Runner.