Let's be honest. The sporty XL version of the full-size Ford wasn't Henry's flashiest car of the 1960's, it wasn't always the fastest, and it was far from being the best seller. It also wasn't that much different from other big Fords of that era, though it always seemed to have something special that set it apart.
Nevertheless, the XL, especially the early models, remains the definitive "Total Performance" car for many enthusiasts, and that makes all the difference. Introduced at mid-model year 1962 as a subseries in the top-shelf Galaxie 500 line, the XL was one of the first cars to reflect Ford's publicly stated, all-out commitment to that hallowed industry precept, "racing improves the breed."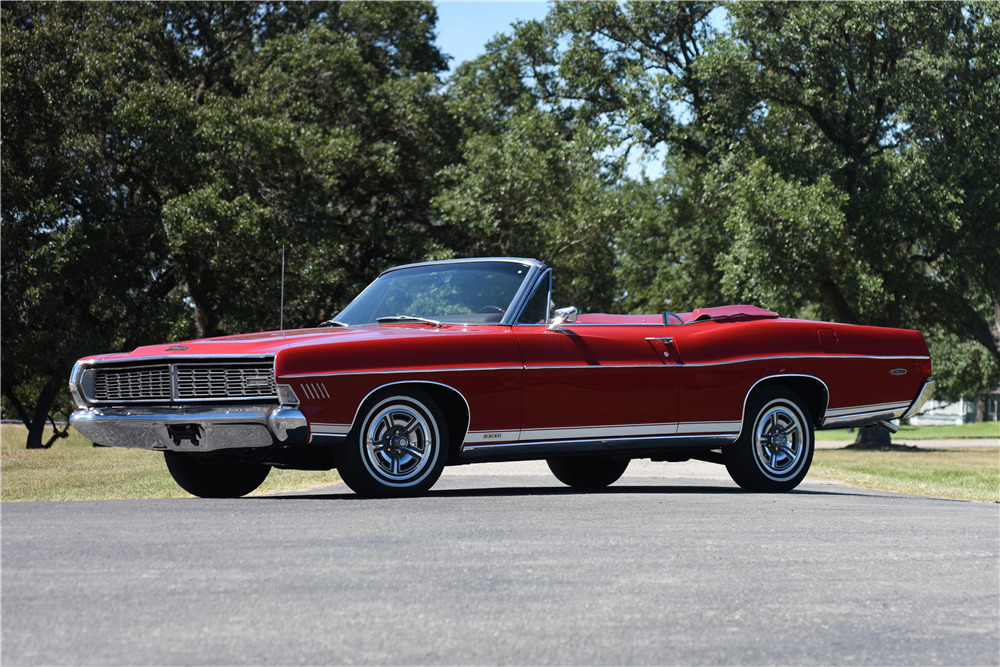 For consignment a good looking gal from 1968 in the form of the XL. Hidden headlights, curved sides and straight doors, and a convertible top make up just a few of the features of this interesting model, kind of forgotten in history. Ready for its next owner, and here in the hallowed halls of Classic Auto Mall.
Exterior
Complete with extensive changes ordained for 1968, when big-Ford sheetmetal was again reshaped to ape GM's "Coke bottle" look more closely. On our XL, dual front horizontal headlights are hidden behind flip-up panels at the outer ends of the grille, which was composed of small, slim rectangles. The long straight hood works its way rearward towards the sloping windshield which is framed in chrome. A black convertible top now with a glass window replaces the original. The loooooong trunk makes its way rearward to the split squared oval vertical taillights. A black racing stripe just above the rocker trim, competes with a mid car chrome thin trim spear. 15-inch Torque Thrust wheels are all around and looking great! I'm praying the interior matches up.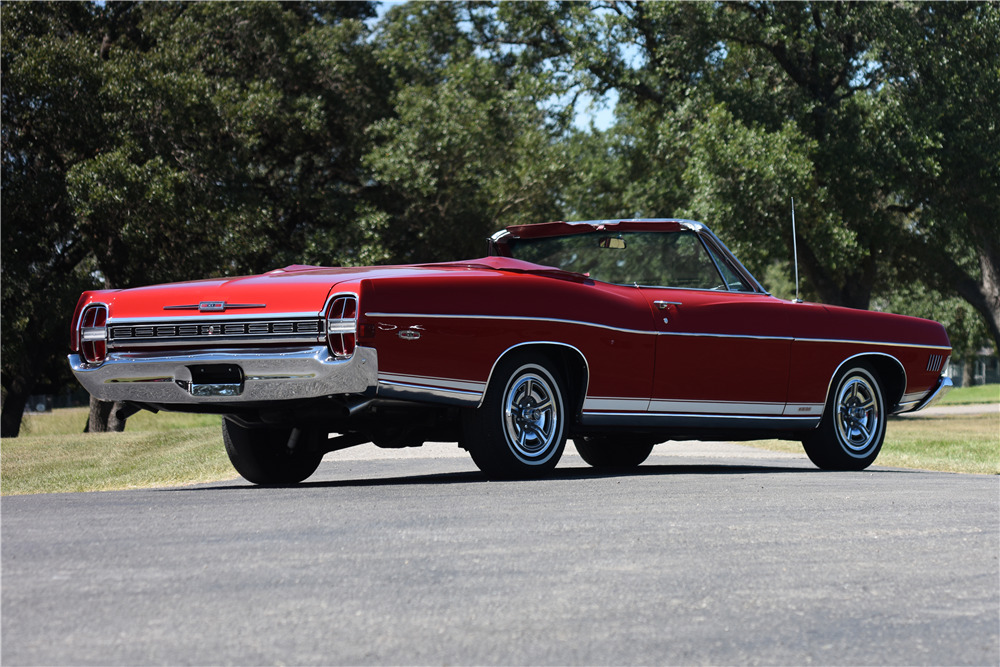 Interior
A swing of the massive doors and my prayers were answered with black vinyl door panels with black door pulls. The driver's door shows a small area where the padded vinyl has chipped away. Vinyl is just ever so slightly sagging but appears nicely. A long clean front split back bench also in black with tuck and roll inserts and smooth bolsters is looking righteous. Back seat is same pattern and is a great place to have a religious experience. Nice black carpet floods the floor and a tight headliner is above. Dash is clean and original with all working instruments and knobs. I'm in 1968 XL heaven!
Drivetrain
We can certainly raise a little hell with these 390 cubes of V8 power with a 4-barrel Edelbrock intake and carburetor atop. A 3-speed automatic C6 transmission is on back and throws power to a Ford 9-inch 2.75 rear. The power is biblical.
Undercarriage
All rust free, slight patina, but otherwise black as an Ash Wednesday smudge. Floorpans are wonderful, and structurally it is solid as a rock named Peter.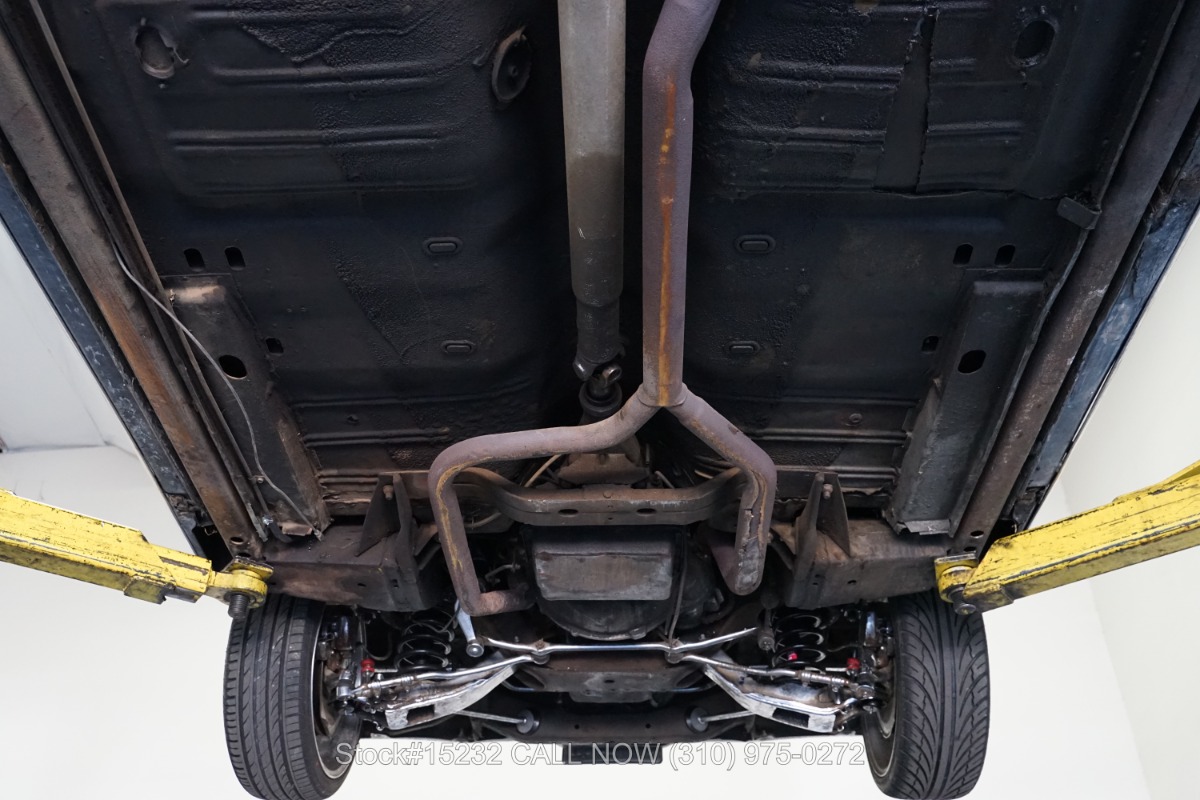 Drive-Ability
Being a Ford disciple I was most anxious to drive this seldom seen XL example, and it did not disappoint as it lit quickly, idled smoothly, and accelerated with ease. Keeping in mind this is a large car, it cruised well, and even took the corners without too much sinning on the tires. I probably took the corner a bit too fast, but hey I was on a test drive being just a bit devilish.
Overall this 1968 is a religious experience and can say it is in overall good condition. Top is like new with new glass window, engine presents well in blue and chrome, clean rubber and no corrosion. Interior is nice with a few faults, but since it was driven more than just on Sundays to go to church, I'd have to say it remains a good example, and I certainly will remain faithful to the blue oval.