1961 Chevrolet Corvette Gasser. There's no mistaking the "classical gas" look of this 1961 Chevrolet Corvette built by Nickey Chicago technical adviser John Tinberg, who began with a long-time California drag racing Vette convertible. The build was prompted by an airline pilot who contacted Nickey Chicago owner Stephano Bimbi, who also sells Corvette Gasser front end kits.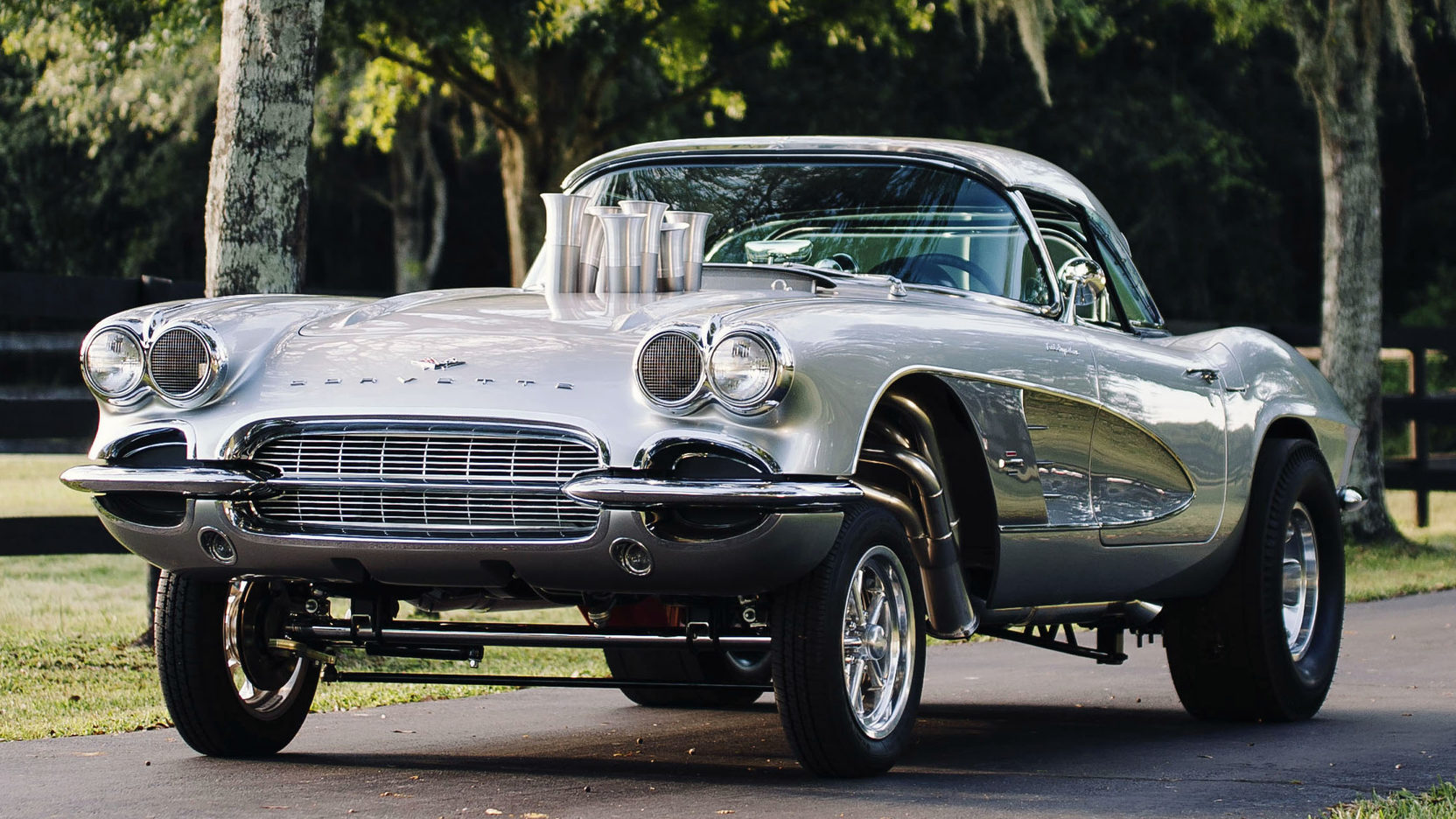 Custom mandrel-bent 2×4 frame rails replace the originals, and a new Hilborn EFI-equipped 502 CI crate engine sits in place of the original 283 CI V-8 in front of a new Autogear 4-speed manual transmission. Out back, a Ford 9-inch rear with Strange Engineering axles is suspended by old school ladder bars to help replicate the gasser look, which is driven home by the car's tube front axle, wild stainless fenderwell headers and through-the-hood injector stacks. As a part of the body-off build to bring this Vette to fruition, the interior features original-appearing WiseGuy seats complimented by period correct Sun tach and gauges and a painted roll bar for safety.
Beneath its gleaming Black paint laid down by Tech-Ni-Color Autocrafters of Dwight, Illinois are numerous carefully considered modifications to the fiberglass body to accommodate relocated seats, a trunk mounted fuel cell, front fender supports and the roll bar. Running on pump gas, the car has the look and feel of its 60s progenitors while being perfectly suited for both street and strip. With feature appearances in Vette Vues, Canadian Hot Rod and Leadfoot magazines, the car also was specially invited to be displayed at the Muscle Car and Corvette Nationals in Chicago November 2011.