think of the Hudson Terraplane Cab Pickup as just some prewar passenger car rejiggered by the factory as a truck. The truth is, this was one seriously overbuilt passenger car, allowed to explore its inner truck-ness. A pickup, hiding in plain sight, finally free of its cage-like steel roof and enclosed trunk.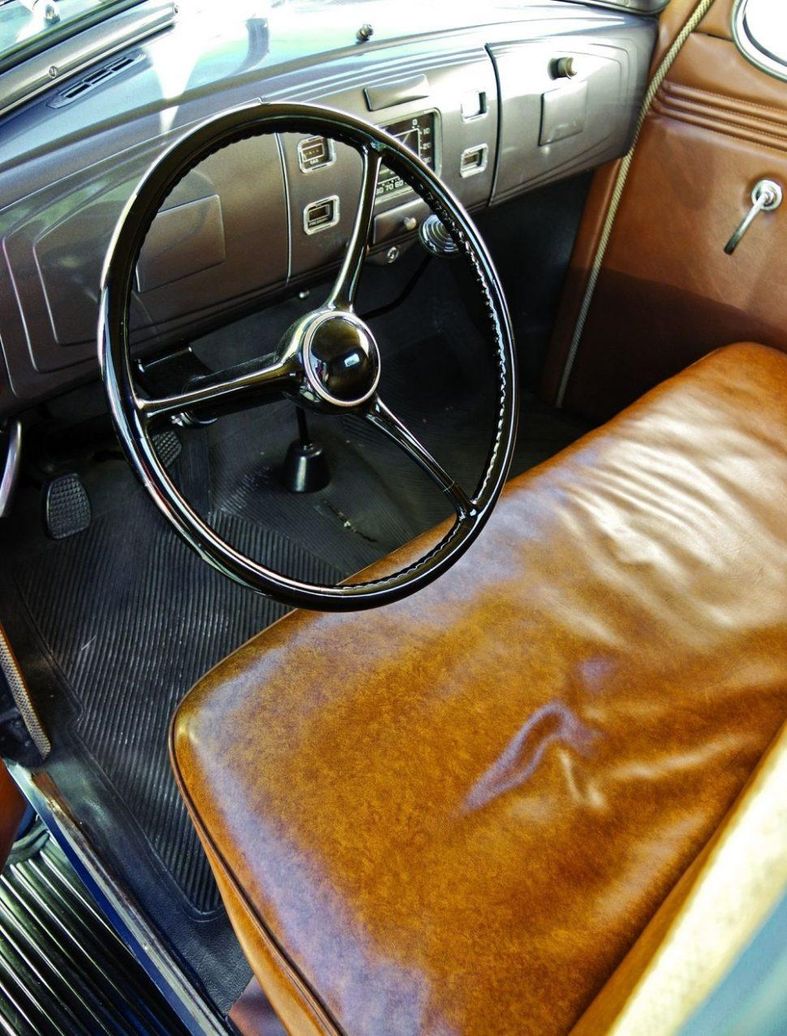 The difference? The car-truck hybrids, even compact trucks that came along post WW II, were often weak-kneed, riding on beefed-up passenger car coil springs or leaf springs befitting a sedan. How many 80-pound bags of cement will your Ranchero's bed swallow before the front wheels are clawing at the sky? Ever try to haul home with a Chevrolet S-10 enough pressure-treated lumber to build a 10 x 16-foot deck? (Ask how we know this is inadvisable). Small haulers have their purpose, but serious jobs require a full-size truck, not a car playing dress up.
Okay, so forget the Terraplane's fashionable sidemount spare for a moment. One look underneath is all it takes to see that this is no truck imposter. Observe those towering 14-leaf rear springs appearing more than capable of living up to the vehicle's ¾-ton rating. The 10-leaf packs up front look admittedly more prewar car-like, as does the front axle, but still, its all plenty durable. The Terraplane's chassis also used "Monobilt" construction: Basically, a couple of boxed frame rails made of 1⁄8-inch steel were slid underneath the body, which was then bolted down at 38 points. All of this was then reinforced by a massive X-member in the center of the frame, sturdy enough to serve as a highway overpass.
The result is a low-slung vehicle with a comfortably low tailgate (the running boards actually sit below the frame rails) on a chassis that likely wouldn't buckle under hundreds of pounds of weight. In short, this Terraplane is no El Camino.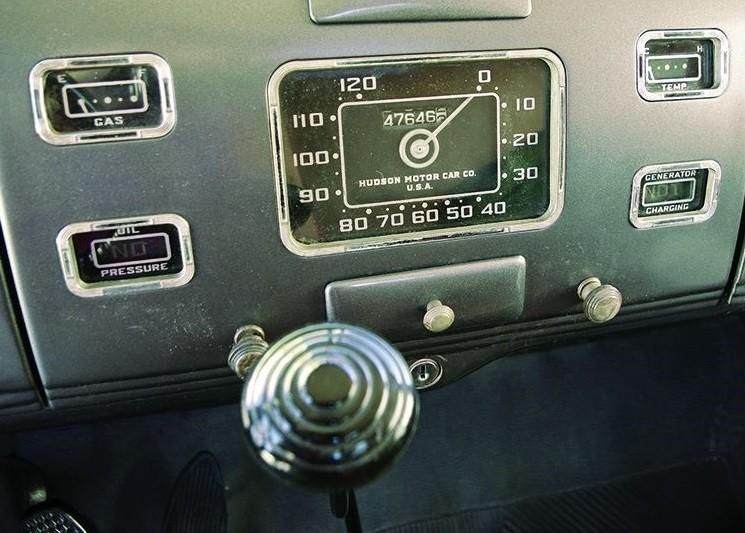 Just the basics in this 1937 Terraplane Cab Pickup: bench seat, floor mat, floor shift and scant instruments including speedometer, two gauges and two warning lamps.
When you stand back for the panoramic view, of course, there's no denying the Terraplane Cab Pickup's passenger-car roots. It clearly resembles a sedan with the body hacked off behind the front seat and a simple cargo bed shoved between the rear fenders. There's also no denying that the exterior is pure, prewar elegance with all of that swoopy, streamlined bodywork and that Art Moderne grille.
Inside, at least, the theme was considerably more utilitarian with a simple bench seat, a rubber floor mat and a floor shift to stir the synchro-shift three-speed transmission. The instrument panel, centrally located, featured only a large rectangular speedometer flanked by a fuel gauge and temperature gauge on top, while on the bottom, a pair of "Teleflash" warning lamps monitored the oil pressure and charging system. In the event of a failure in either, the letters "NO" would glow in the center of the oil pressure warning light while the letters "NOT" would glow on the generator indicator: i.e. NO oil pressure; NOT charging.
In the rear, a seven-foot-long bed stood at the ready with a pair of removable full-length "lockers," which covered the wheel housings and made the inner bed sides smooth. When in place, these lockers could be used to keep tools from rolling around loose in the bed or, in less safety-conscious days, serve as benches for the guys in the work crew to sit on. Between the wheelwells, the bed was 47 7/8-inches wide. Fore and aft of the wells, the bed spread out to a full 62 inches, and the tailgate was made 63 inches wide to cover. While the Terraplane's bed measured up well in terms of length and width, sideboards wouldn't have been a bad idea for handling higher loads, as the truck's bedsides were only about 18 inches tall.
Under the hood of the Cab Pickup–as well as Terraplane's other Commerical Cars–was the rugged Terraplane Six, displacing 212 cubic inches. With 6.25:1 compression ratio, this L-head powerplant developed 96hp at 3,900 RPM. Equipped with an aluminum, high-compression (7:1) Power Dome cylinder head, the engine's rating grew to 102hp.
Just like the chassis, the Terraplane's passenger car engine was built durable enough for hauling. The heavily reinforced block was cast of a high-chrome alloy that Hudson said was so hard that it didn't require insert valve seats. Meanwhile, the 73-pound, 28-inch-long, inherently balanced crankshaft rode in three bronze-backed babbited bearings fed by Hudson's Duo-flo non-pressurized oiling system.
Lightweight silicon aluminum alloy pistons (9.6 ounces each) with two compression rings and two oil rings (one of which was located below the wrist pin) swung from I-beam type, drop-forged connecting rods–83⁄16 inches long from center to center, with babbit bearings.
The camshaft in the Terraplane Six was gear driven and made from a hardened nickel-chrome-molybendum alloy. It too rode in three babbited bearings, two inches in diameter at the front, more than three inches at the center and 11/2 inches at the rear. Interestingly, roller tappets were used in these engines as well–a feature found only in Hudson-built engines at the time.
Depending on the engine rating, Terraplanes used either a single downdraft or double downdraft carburetor fed by a 40-gph pump driven off the camshaft, and a 16.5-gallon tank was standard issue.
When it came time to stop, operators could rely on Hudson's "Duo-Automatic Hydraulic Brakes," which mated a primary hydraulic braking system with an auxiliary mechanical system. In the event of a brake failure, the secondary system would stop the vehicle. An optional hill-hold unit was available as well, to aid the driver during uphill takeoffs.
Hudson's "Selective Automatic Shift" with "Electric Hand," which permitted clutch-free driving, was also available on Terraplane commercial rigs. The setup (also used by Cord and developed by Bendix) used an electric/vacuum mechanism mounted on the transmission to actuate the clutch via throttle pressure. In the event of a malfunction (known to happen) a conventional shift lever could be easily installed.
Finally, these trucks were offered in two wheelbases: the standard 117-inch version and the "Big Boy" at 124 inches. The longer rig was intended to provide greater load-carrying stability.
Though Hudson isn't usually remembered for its commercial vehicles, the company had a history in the hauler business prior to WWII. In the Roaring Twenties, for instance, Hudson-Essex dealers offered open wood bodies built by a couple of different vendors perched atop Essex chassis.
In 1929, Hudson offered its own Dover-branded line of light-duty commercial vehicles, sold as either bare cab and chassis or outfitted with bodies that included a panel delivery, a screenside express, an open express, a canopy express and a sedan delivery.
In 1930, the company changed the name of its commercial vehicles to Essex (Dovers had been using Essex fenders, headlamps, running boards, hood, cowl, as well as front-opening doors anyway). Then the name was changed to Terraplane, for the 1933 model year.
In 1934, Hudson sold 1,901 commercial Terraplanes–a pretty good haul for a light-truck maker in those days. But the Terraplane brand would be short-lived and it was phased out altogether after 1938. Its last hurrah came as the second half of a hyphenated nameplate on Hudson-Terraplane cars.
This month's feature truck is owned by serial Hudson collector Dave Lanning of Englewood, Florida. Dave has owned the Terraplane for more than 20 years and bought it from a fellow Hudson club member in much the same condition as it's pictured here. He drives the truck regularly and isn't afraid to use it as it was intended, despite its rarity. "It's a decent driver, and everything on it works," he said. "I take it to the dump and to Lowe's whenever I need to haul something."
The Terraplane has asked for little in return for its service, Dave said–just new tires, a set of brake wheel cylinder rebuild kits and other minor repairs. For the most part, it's just provided years of trouble-free hauling. "It really runs nice," he said. "I've had to do very little to it. It's just a great old truck."