It's always good to see companies that are working with recycled materials.
Trex composite deck boards use reclaimed wood such as sawdust and plastic reclaimed from sandwich bags, over-wraps on paper products, and ice bags.
They have set up recycling centers around the country.
We've collected some of the best Trex deck ideas for your outdoor oasis.
Composite decking doesn't sound any more environmentally friendly than wood decking until you factor in the use of reclaimed materials. A 500-square foot outdoor deck made from Trex boards contains 140,000 recycled plastic bags.
What should not be put on a Trex deck?
Avoid caustic solvents such as acid and bleach. Also, keep acetone away from the railings. Your nail polish remover can damage your porch.
A conversation with your deck builders will confirm that the cost of installing a wood deck and staircase is the same as using Trex composite decking. The only difference in price is the cost of the materials.
What is the average cost of Trex decking?
The cost of Trex deck boards runs $15 to $30 per square foot.
There are three tiers of composite decking.
Trex Select is rated Good.
Trex Enhance is rated Better.
Trex Transcend is considered the Best.
What is cheaper Trex or wood?
Wood decking costs $6 to $8 per square foot. However, a new deck made of natural wood will cost more in the long run. The wood will eventually rot, even under normal weather conditions.
You'll spend more on a couple of coats of wood stain, and you'll also have to keep an eye on your stair stringer as it can wear out before it becomes noticeable at a glance. When it comes to durability, Trex decks are the smart choice.
1. A Monochromatic Look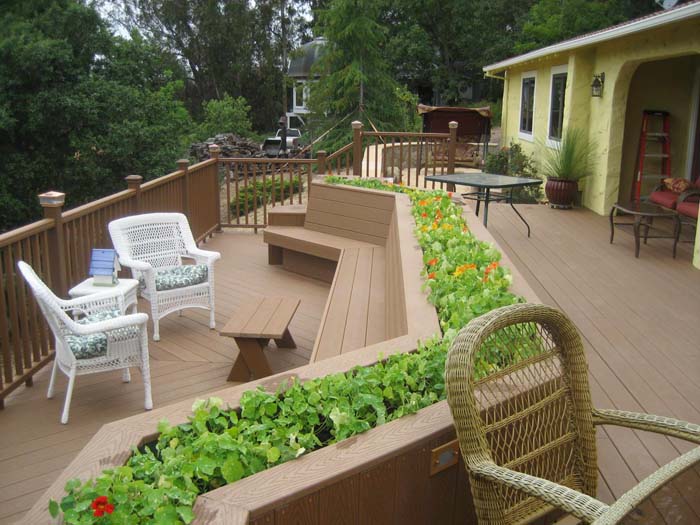 Trex decking comes in many colors. One of the most attractive features is its versatility. This multilevel porch uses a darker color for the railing and includes lamps on the post tops.
The deck material is also used for the bench and planter.
via Mabry Construction
2. Porch with Modern Romance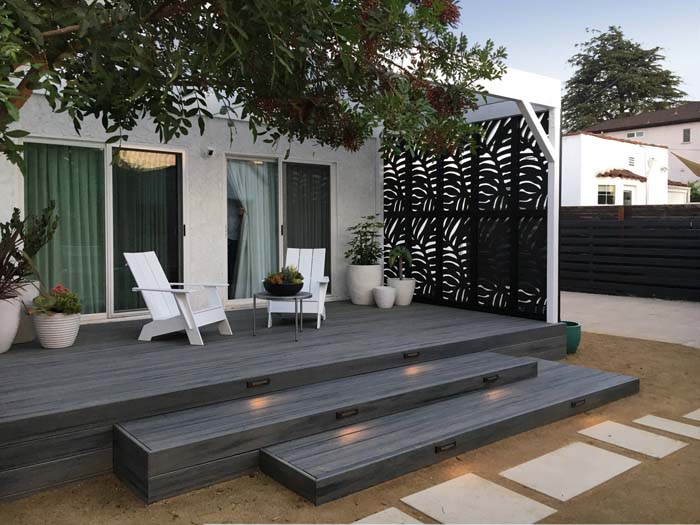 A black and white color scheme of this Trex deck has a modern style. Adding a white pergola reinforces the modern vibe. You can use a sail canopy or beams to suit your needs and taste.
There are more Trex products available besides pergolas. Trex composite materials are also used in patio furniture like Adirondack chairs.
via Urban Oasis Landscape Design
3. Hot Tub Oasis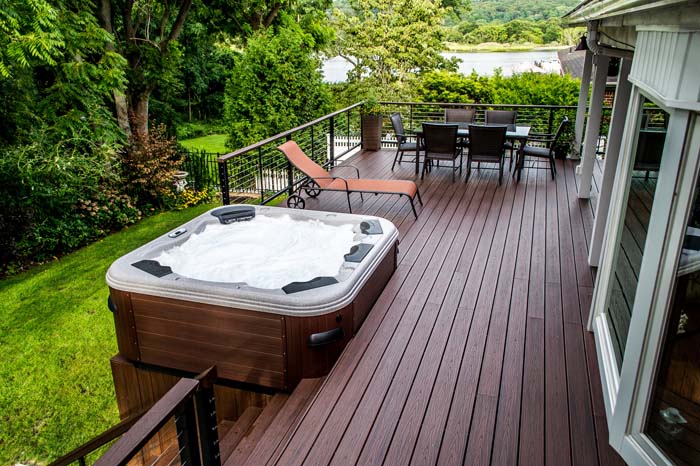 Yes, Trex decks are sturdy enough that you can include a hot tub in your deck design. The lava rock color is a popular choice for decking.
The reddish brown is often mistaken for redwood. Cable rail keeps the view clear.
via Best Hot Tubs
4. A Curved Design Idea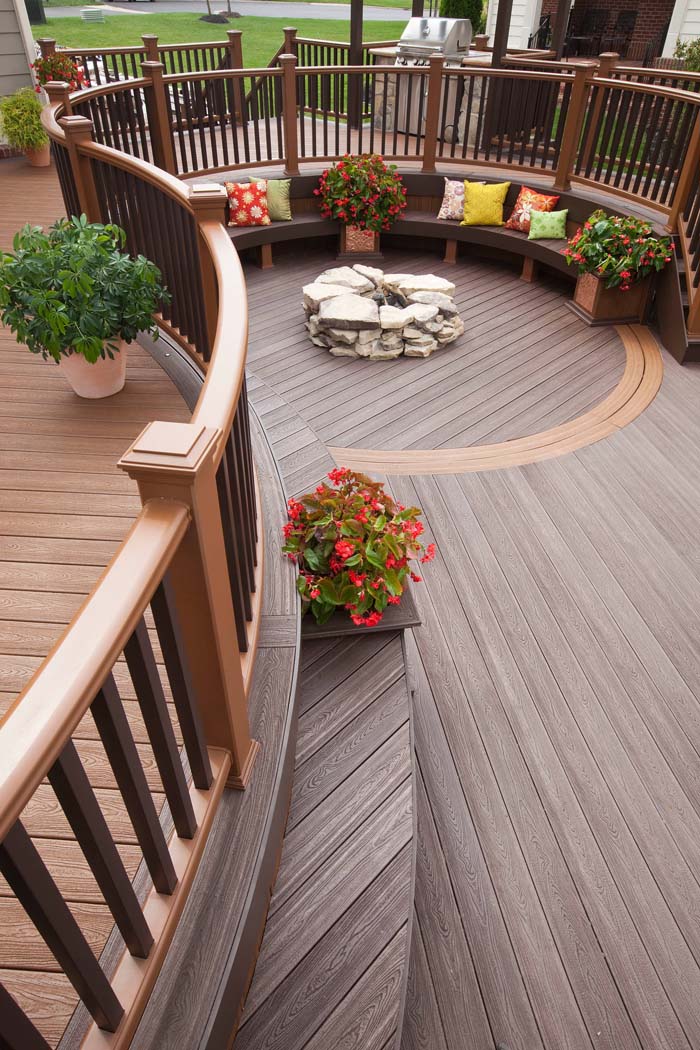 An easy way to add interest to your outdoor space is by using two colors. This stunning deck design differentiates the two tiers by using a different color for each level.
It's easy to work with Trex composites and they are available in different lengths. This allowed the builders to trim out the curves using precise cuts without a lot of waste.
via Trex
5. Add a Pergola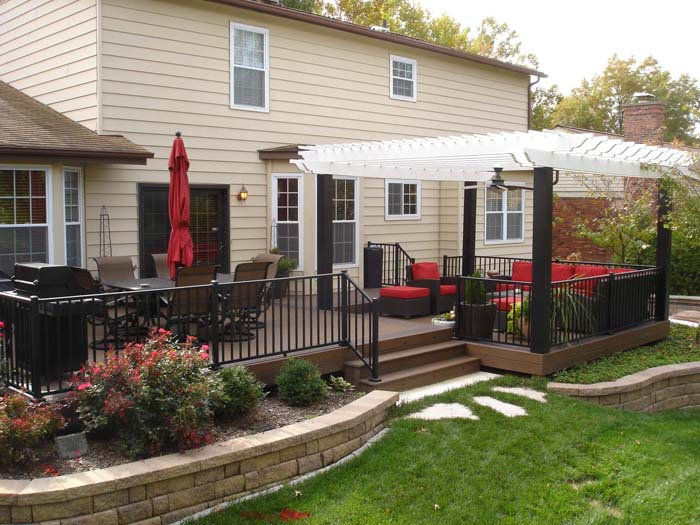 A custom pergola with black posts and white beams stands over part of the Trex deck, which is separated by using two levels.
The red cushions and umbrella pick up on the red undertones of the deck color.
via Aesthetic Design & Build
6. Multi Level Decks Are Simply Elegant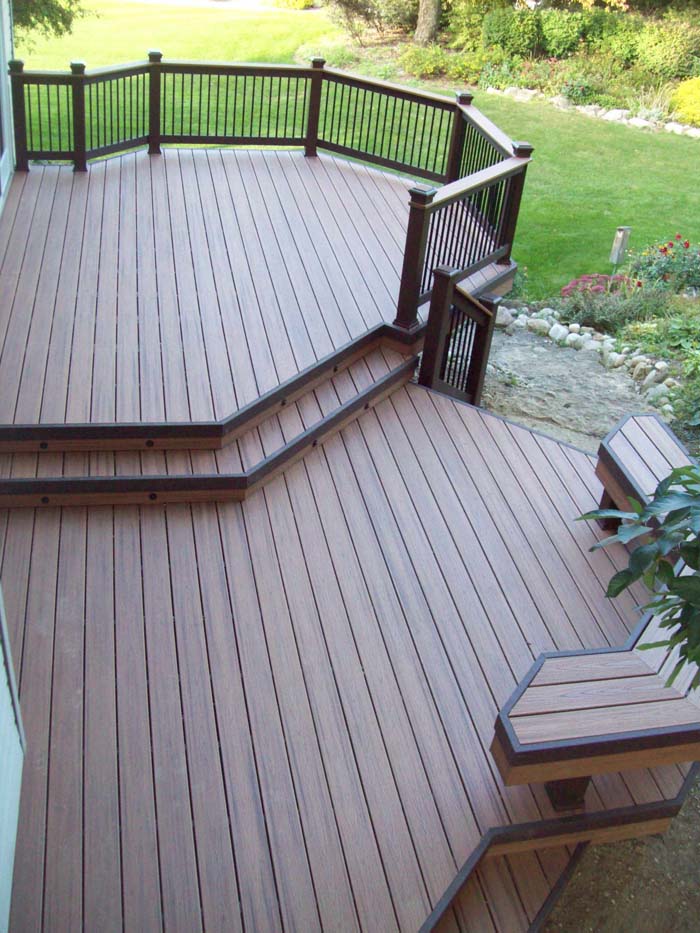 The custom shape of the deck works with the irregular level of the landscape.
Bench seating doubles as a rail on the lower level. The dark finish along the edges is a nice touch.
via Bella Decks
7. Platform Deck Ideas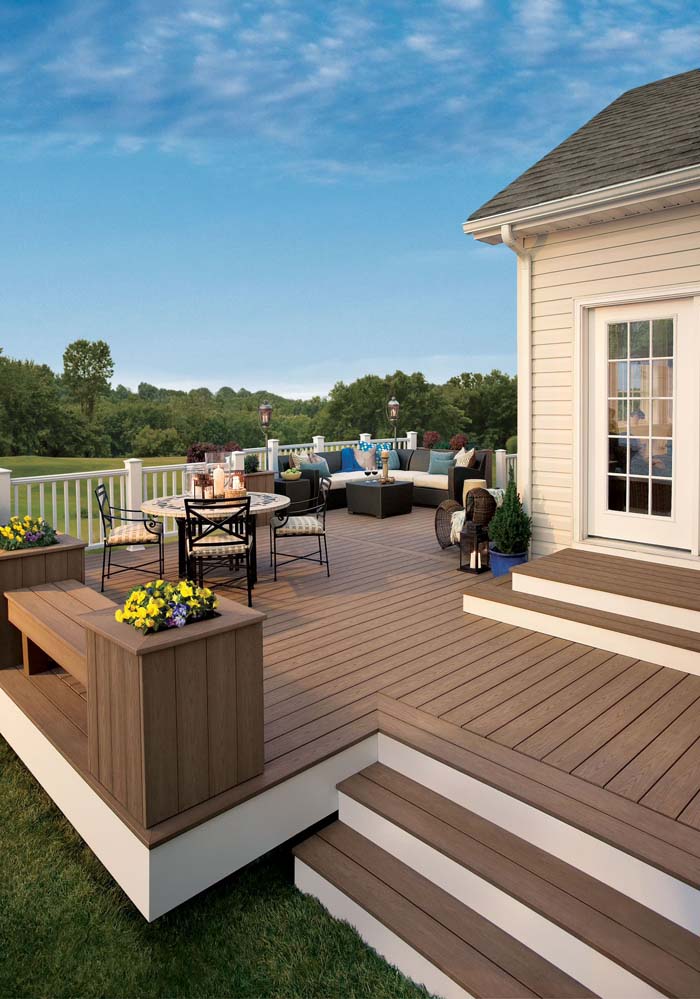 If your deck is positioned closer to ground level, you have more design options. The rail becomes optional so you can create a barrier using planter boxes and a bench.
You can create a nice neutral palette with this composite. Notice the stair risers were built using a different color. The photo before this used a deeper color on the edges. That option could have been used here, as there's an edge that runs parallel with the open steps.
via American Deck and Patio
8. Build Lights into the Posts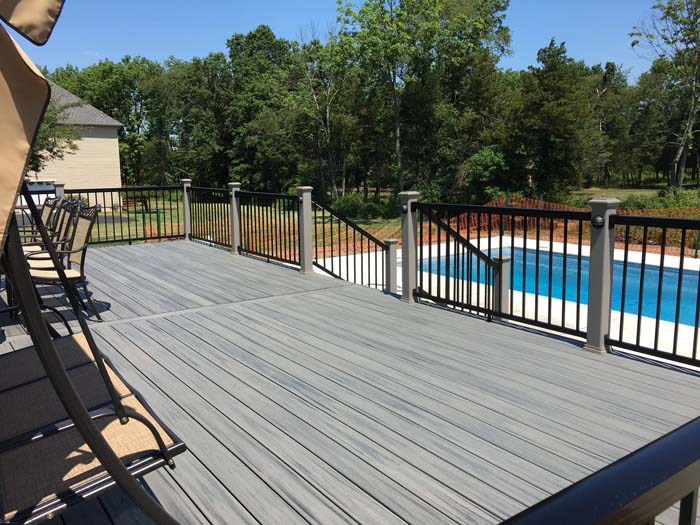 This silver-gray Trex deck color is called Island Mist from the Trex Transcend line and looks a lot like driftwood.
Rail posts with lights make it easy to light up the deck without building a structure in order to hang lights overhead.
via Deck Guardian
9. Add Benches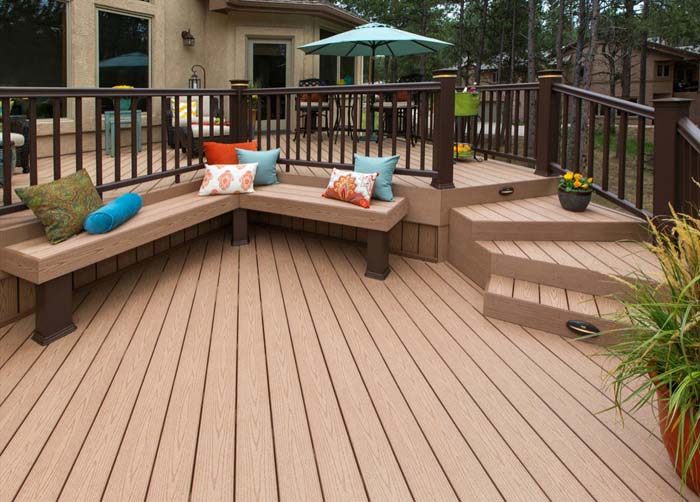 Here's another deck idea for two-tiers or more.
Instead of dropping a centered custom step system, the steps are off to one side, making space for another seating section.
via Lampert Lumber – Rockford
10. A Raised Deck Creates Two Seating Areas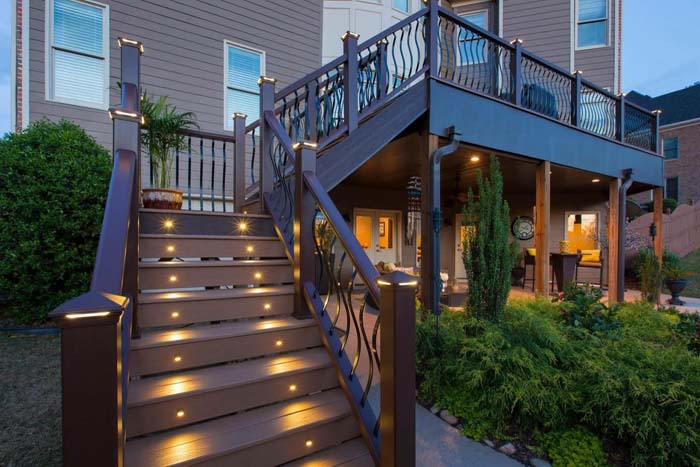 Beautiful steps have LED lights on the steps and the post caps. The curves in the balusters make it unique.
Underneath the deck, the ceiling has been angled to accommodate electricity and recessed lighting.
The upper deck has a drainage system installed to redirect water away from the deck to the downspouts on the support posts.
via Stellar Decks
11. Add a Sail Canopy to Your Pergola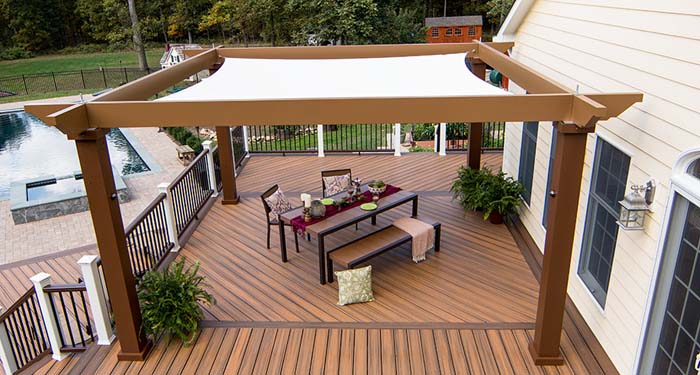 Trex has pre-built canopies. Of course, you can build this yourself, but it's nice to know that there are materials available that are compatible with your deck.
The pergola sports a sail canopy which provides more shade than a patio umbrella. In face, it's easy to see how a canopy like this will cut down on the solar heat in your home, saving energy.
12. Subtle & Sandy Multi Level Deck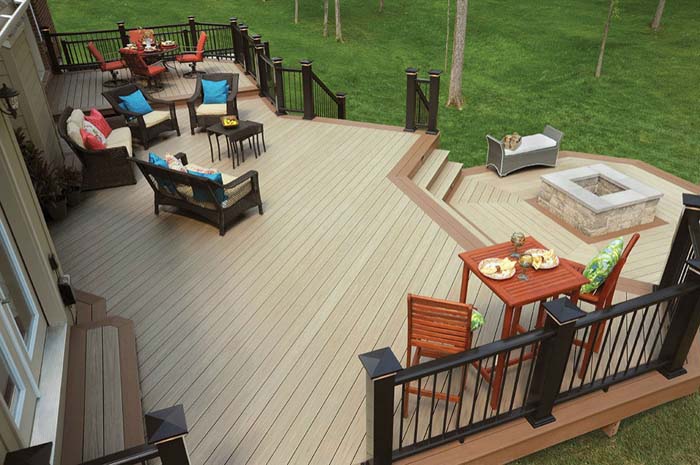 This is a three-tier deck. It's divided into a dining area, seating area, and fire pit area. The pine color composite looks rich and inviting.
Check out how many neutral shades of beige and brown have been brought into this deck. The perimeters look like cherry wood, while the posts and rails are black.
via Mentor Installed Services
13. Add More Entertainment Space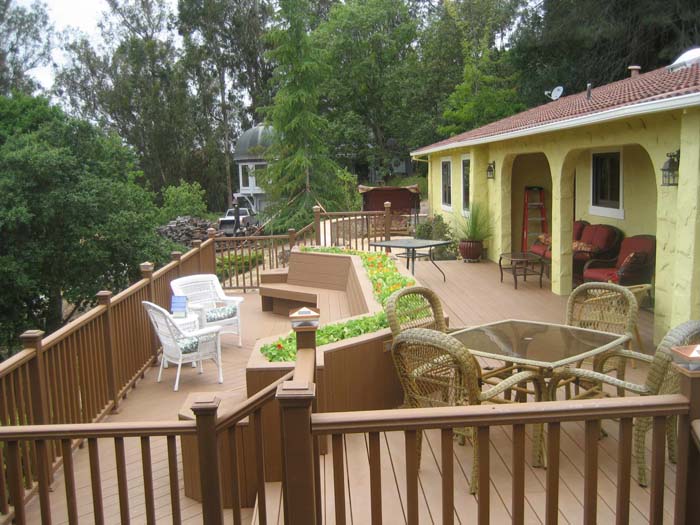 Your outdoor living space can be an extension of your home decor.
Whether your new deck will be a simple porch that has a chair or two or you're planning a full outdoor kitchen, it can be customized using Trex decking.
via Mabry Construction
14. Rooftop Lounge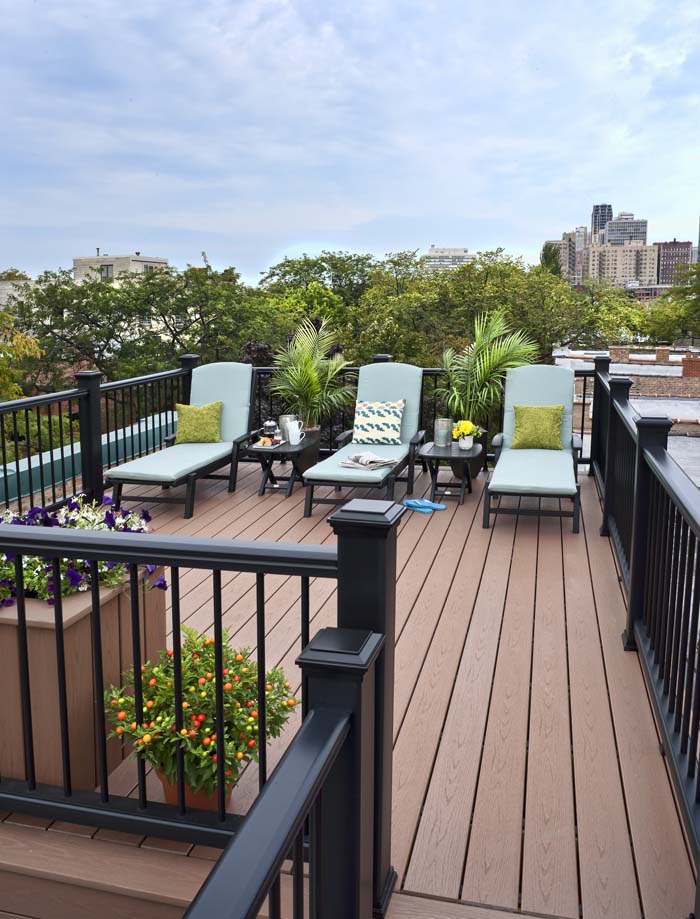 Having an urban style doesn't mean everything has to have the square edges of the modern style. These rounded charcoal black aluminum balusters and railings are not just casual, they're easier on the hands. The beach dune deck is furnished with three lounge chairs.
The greens are mixed and matched to add a more natural feel to this urban oasis.
15. Fire and Water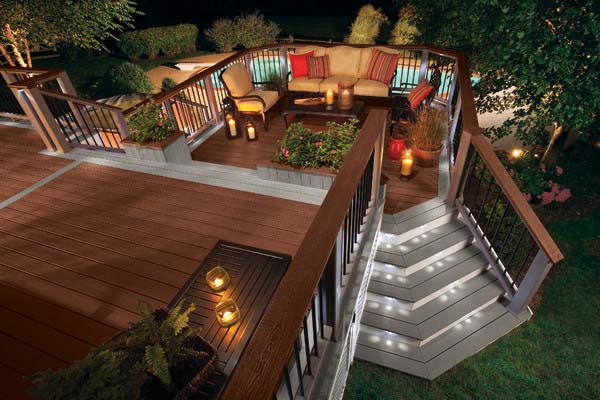 A custom staircase is made striking by changing it the color to a very light – almost white – color. It's in contrast to the earthy brown platforms.
Deep reds, orange, and patterns accessorize the furniture with light cushions.
via American Deck and Patio
16. Patio and Porch Combo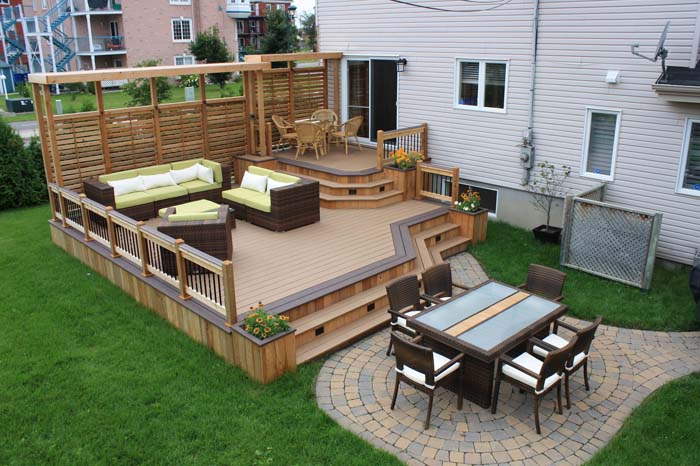 The designer took advantage of a larger backyard by creating a combination patio and bi-level deck. A larger table on the patio is set up for larger gatherings.
The small dinette table works for smaller, everyday meals outdoors. The privacy fence is a great solution to the distracting multi-residential apartments across the street.
17. Gray Washed Porch with Cedar Trim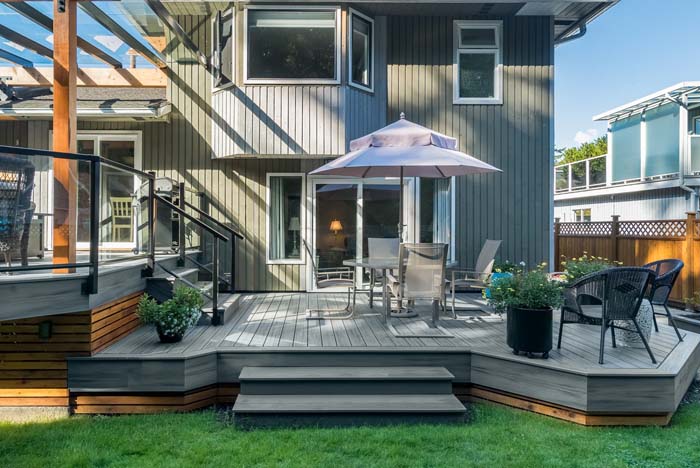 This bi-level deck checks all the boxes for entertaining. An extension on the floating deck is possible because there's no need for a safety railing.
The straightforward steps bring a cohesiveness to the house. The gray works well with the horizontal cedar skirting.
via Hasler Homes
18. Minimalist Porch Idea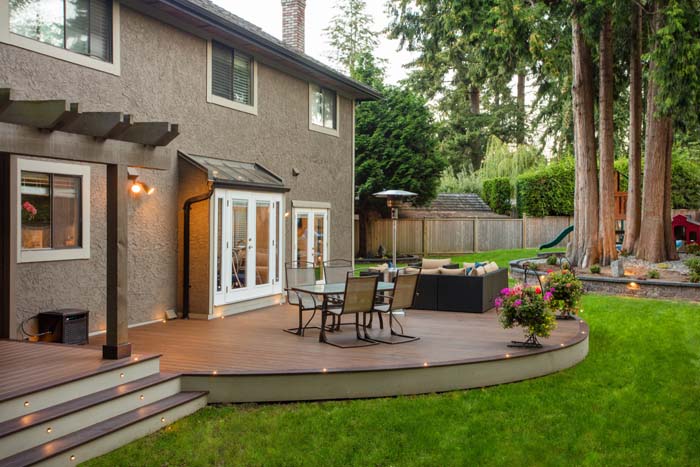 This half-circle floating deck is smooth and minimalist.
The lights along the edge add to the contemporary design. Matching the beige risers and skirting bring a light feel with a sleek finish.
via XMT Construction
19. Ideas for Trex Island Mist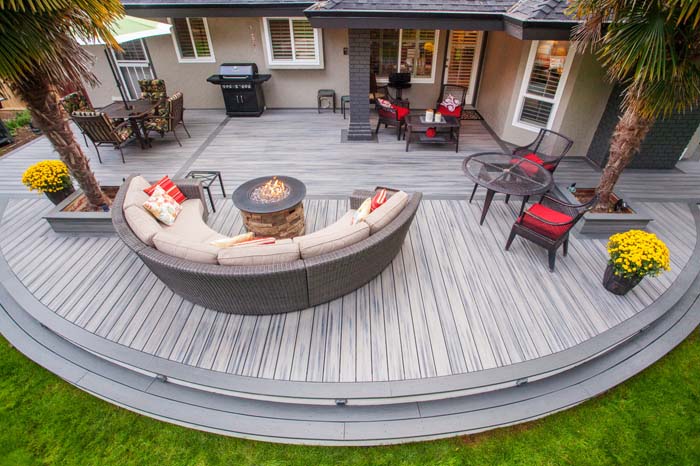 Here's another look at the Trex deck Island Mist color. This time, we see it in a floating deck on a traditional deck with a half-circle extension.
Large palm trees were saved. They add a great deal of character to the deck. The curved bench around the fire table is a great complement to the overall design.
via XMT Construction
20. Add a Separate Dining Area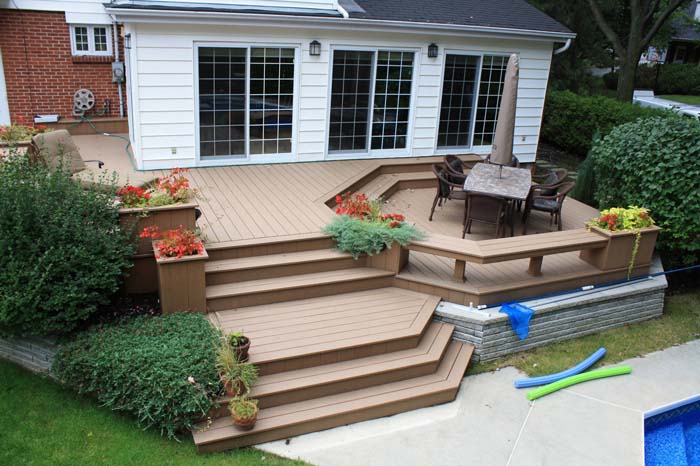 The beige decking was separated into a separate seating area with a bench where parents can keep an eye on their young ones in the pool.
Setting it off to the side keeps the view clear for those sitting in the sun room addition.
21. Intimate Porch Dining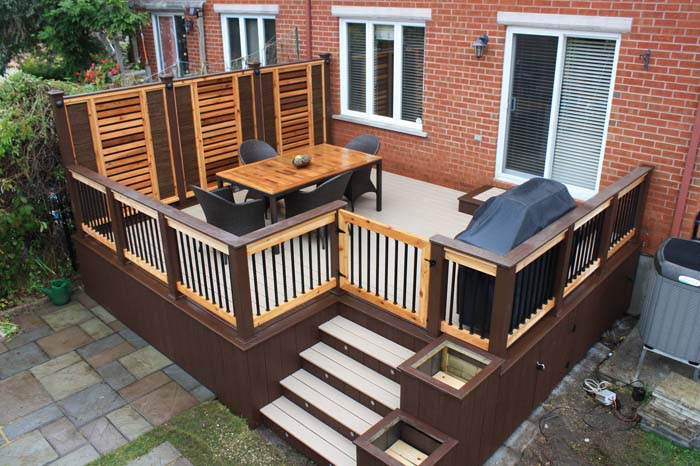 Here's a contemporary deck that packs a lot in a small footprint. The stark contrast in the finishes adds drama. The privacy screens add visual interest.
The planters alongside the steps will add more greenery over the summer months.
22. Dark Two-tone Palette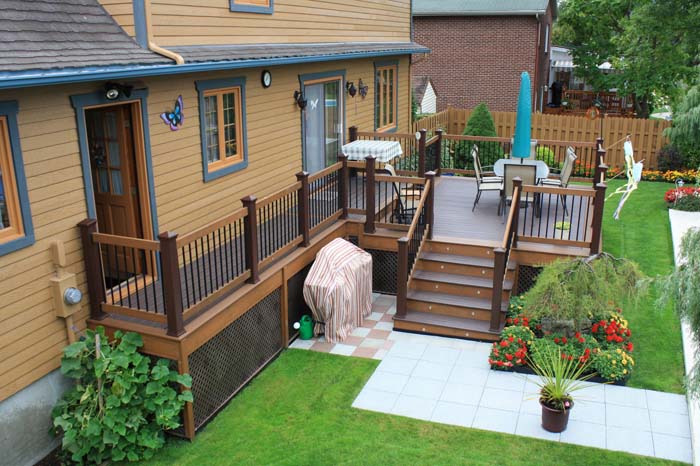 The two-tone deck showcases a nod to the trim on the house.
The charcoal black lattice keeps the color scheme going.
23. Extensive Deck and Staircase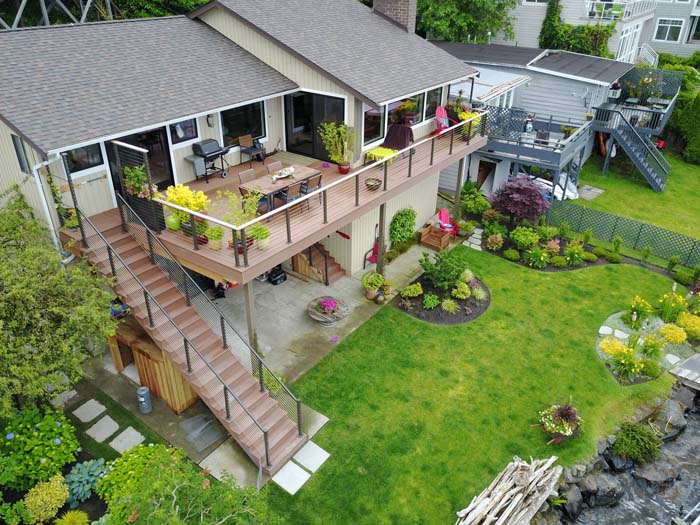 Stretch your deck to create an extension on the second floor. Keeping the stairs to the side makes it easy to secure a childproof exit.
Cable balusters offer a better view of the backyard.
via Undercover Systems