When designing your outdoor living space, the sliding glass patio door plays a crucial role in seamlessly connecting your indoor and outdoor spaces.
Not only do these doors let in natural light, but they also provide beautiful views and can enhance the overall aesthetics of your home.
With so many options available, deciding which sliding glass patio door curtain ideas will work best for your needs can be challenging.
We'll explore fifteen of the best sliding glass patio door window treatments to inspire you and help you create the perfect transition between your indoor and outdoor spaces.
1. Tie Back Curtains
You want to keep the curtains away from the areas that impede the pass through. Tie backs are the go-to drape style to keep standard tab door curtains from getting in the way of your vision and your feet.
This style of window covering works with most cottage and farmhouse interiors. Note that the pattern and style are mimicked in the window curtain over the bed.
via S / Wiley Interior Photography
2. Traditional Drapes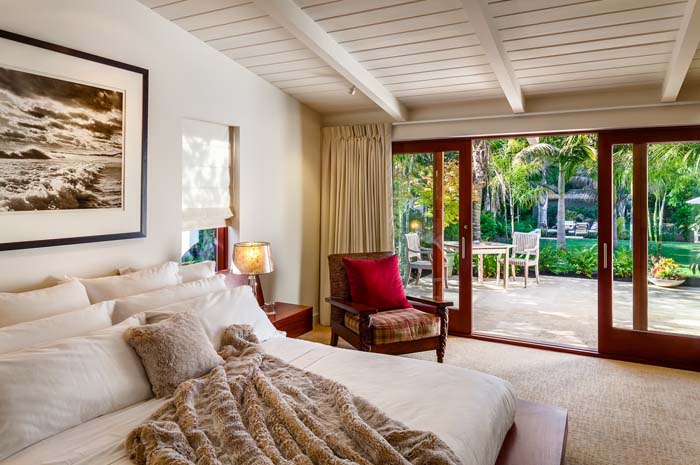 A neutral color scheme maintains its theme with light brown curtains. The panels are pulled to the sides when the doors are open, adding another texture to the room.
When hanging traditional drapes, extend the rod away higher above the door frame and from the wall, creating a gap for wiggle room around the door handles.
via Neumann Mendro Andrulaitis Architects
3. Grommet Curtains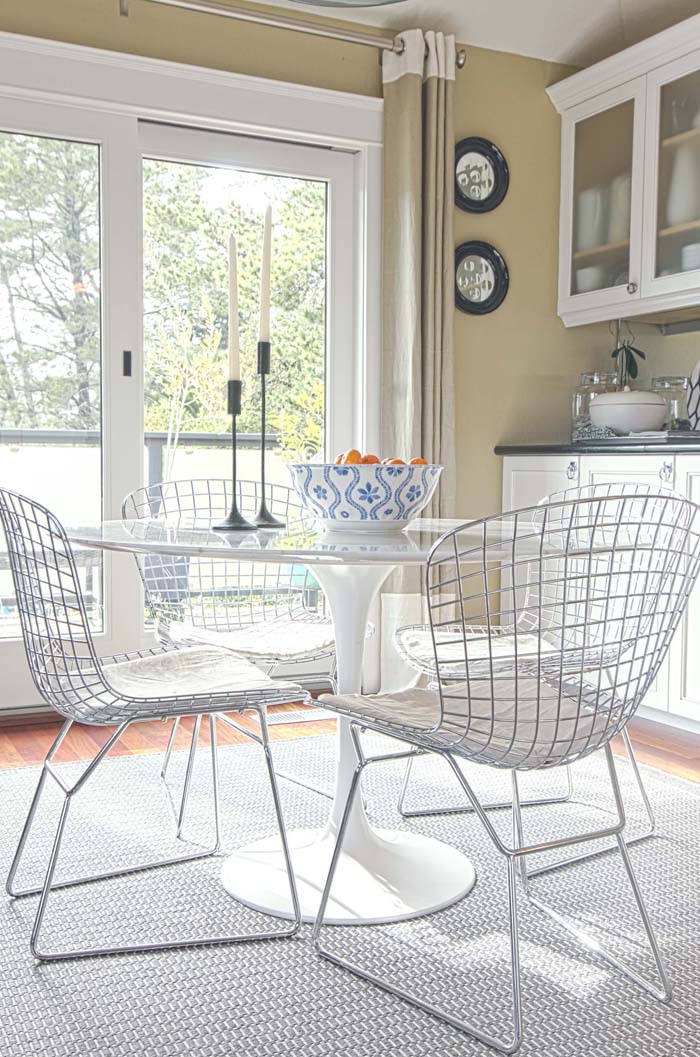 Grommet curtains are easy to use with sliding glass doors. You can see these panels are made from a heavy material.
You can purchase curtains that block light and have thermal properties to keep out the cold. Blackout curtains are affordable while saving up for windows with better insulation.
The color block pattern works seamlessly with the rest of the kitchen.
4. Printed Pattern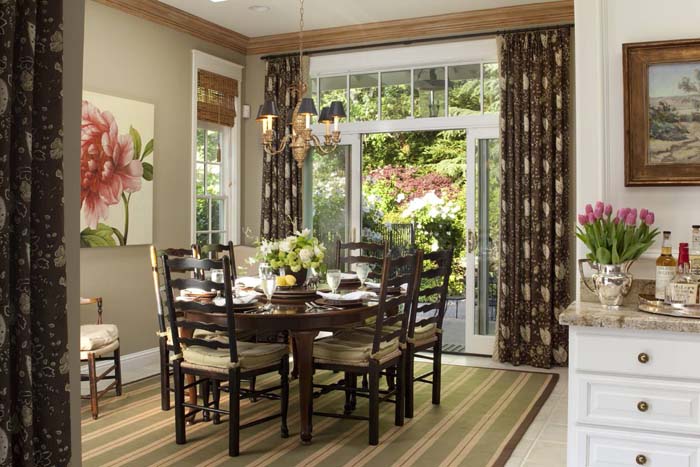 This printed pattern ties in with the furniture. Tall curtains go all the way up to the crown molding. The doors are actually pocket doors where they are stationary on the left and far right of the wall.
via Kathleen Burke Design
5. Gliding Window Panels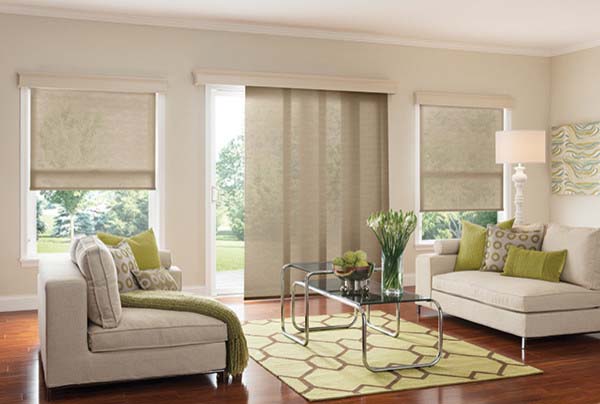 Sheer panel track door blinds allow light with little effort to open and close. When you hire a professional, they'll be able to pick out the best window treatment for your room.
The pros will also have a wide selection of matching colors and materials, so you won't have to go crazy trying to find a way to make a Roman shade work with wood blinds.
They can also show you other options for traditional roller shades.
via Windows Dressed Up
6. Blue-Gray Drapes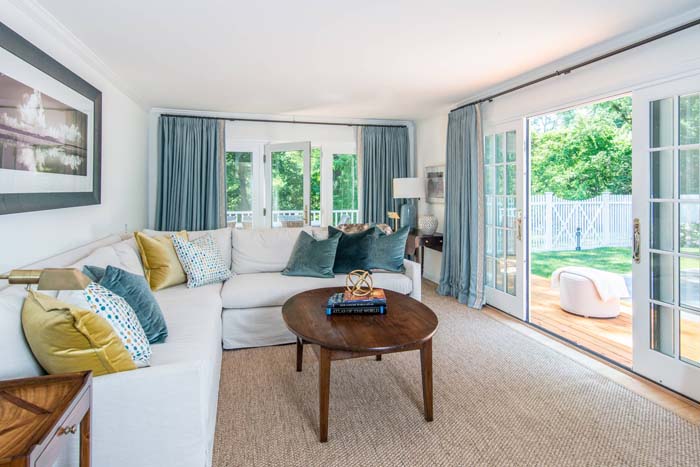 Curtains work the same way as the door. You don't want to create curtains that will impede the entrance, but you also want the curtains to function the same way, whether the doors slide or are hinged.
Blue curtain panels work as part of the accent color and the room.
via Genie's Drapery Service
7. Divide and Conquer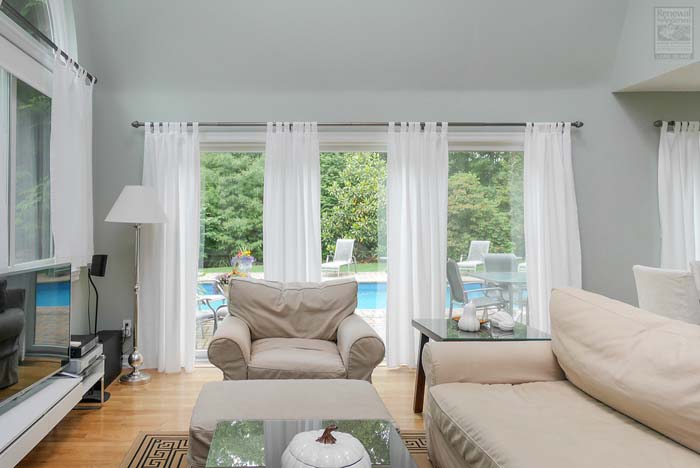 Tabbed panels break up the wall into evenly divided sections.
The bottom of the curtain should be raised 1/2 to 1 inch off the floor. This will help keep dirt and dust from collecting on the bottoms.
via Renewal by Andersen Long Island
8. Sheer Track Curtains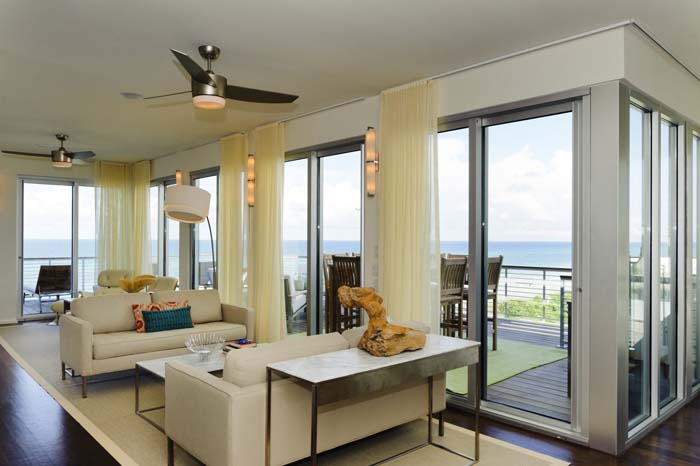 Shear custom curtain panels can wrap around the corners. A track is installed just under the ceiling. The pale yellow brings out the blue in the view outside.
via Arkon Group
9. Sheer Patio Panels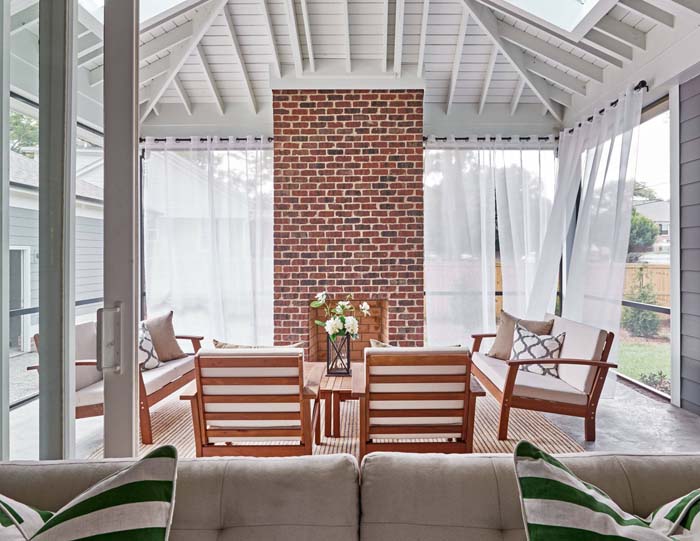 White sheer curtain panels add privacy without obstructing the view or preventing the light from coming in. They act as the walls in this indoor/outdoor space.
They also add a lighter neutral to this gray and brick red color scheme.
via Frusterio Design
10. Contrast the Rod with the Wall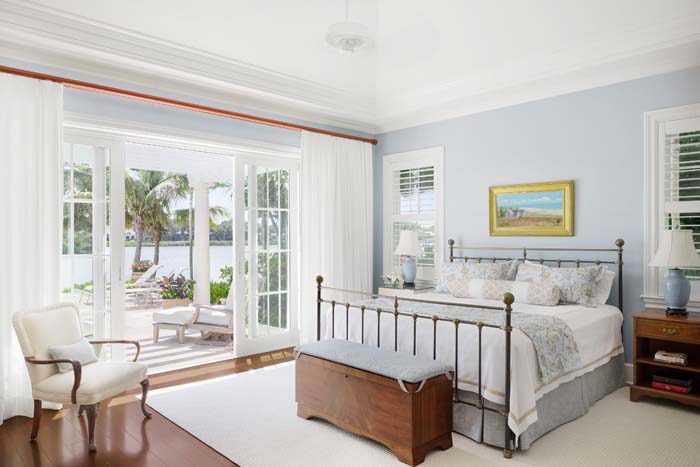 The curtain rod is actually a track. It becomes another feature that matches the furniture in the room.
Raising the curtain rod above the sliding door panels makes the windows look taller. It also makes the room look larger.
via RCL Development
11. Turquoise Blue Corner Curtain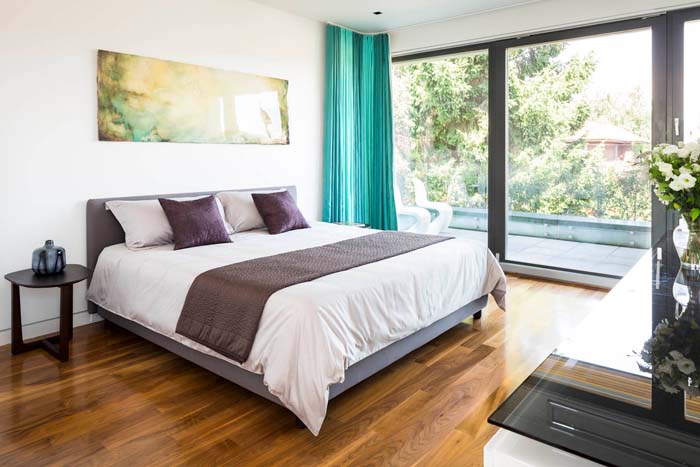 Using a contrasting color, like this turquoise curtain panel, is a great way to add a pop of color in the room without over-accessorizing.
Note how the duvet and throw pillows and headboard match the frame of the sliding doors.
via Natural Balance Home Builders
12. Wall-to-Wall Curtain Rods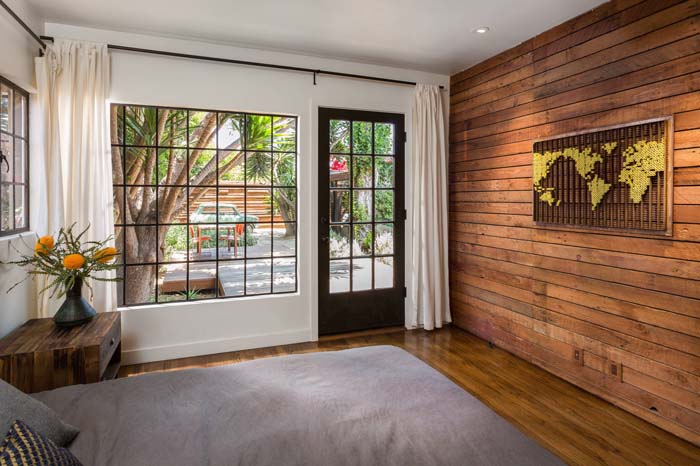 These curtain panels don't conform to the window. Instead, they conform to the wall itself, allowing the window and door to function as a single unit.
via Hsu McCullough
13. Sheer Print Panels Add Lots of Color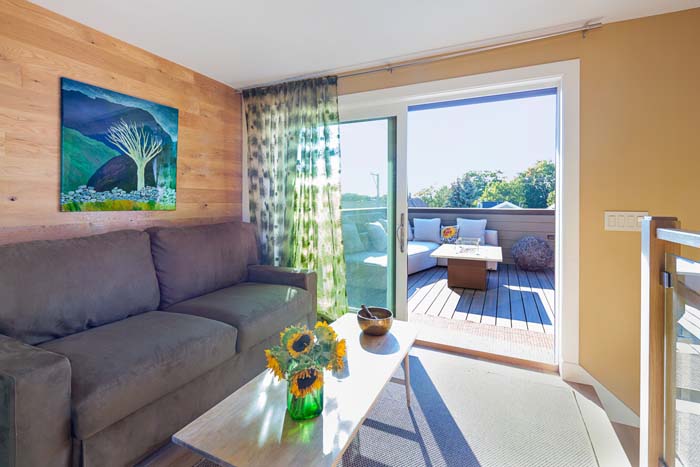 Sheer pattern curtains panels are set to one side. This works with the oversized door adding blocking sunlight from directly hitting the seating area.
The panels work in concert with the door. You cannot open the door on the left side, leaving the curtain panels as a nice wall decor.
via Kipnis Architecture + Planning
14. Full Length Curtain Panels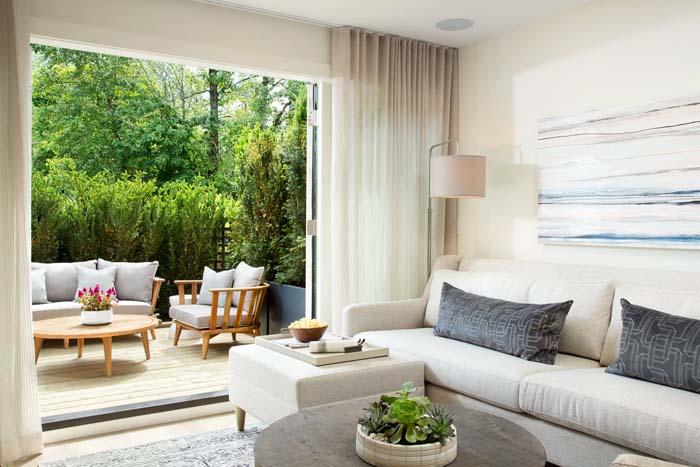 These curtain panels were chosen to match the wall color. Color of the wall. The sliding glass doors are hidden from view when fully opened.
This creates a seamless transition to the outdoor seating area.
via Form Collective
15. Coastal Contemporary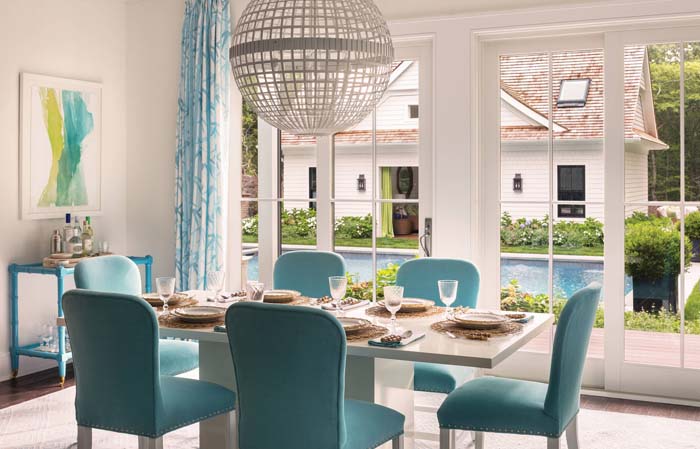 Use color to extend the view. The blue curtain panels are set high and match the blue of the dining room chairs and the pool outside. They bridge the gap between the glass doors and raise the eyes, creating the illusion the room is larger than it is.
via D.K. Boos Glass
Frequently Asked Questions:
What kind of curtains do you put on a sliding glass door?
When buying sliding glass door curtains, there are several factors to consider, including:
Size: Make sure to measure the width and height of your patio doors before buying curtains. You'll want to ensure that your curtains are wide enough to cover the entire width of the door when closed, but not so wide that they cover up the screen door when open.
Material: Consider the material of the curtains based on the climate of your area. For instance, if you live in a hot climate, you might want to consider lightweight and breathable materials, while if you live in a colder climate, you might want heavier materials for insulation purposes.
Light control: Depending on the amount of sunlight and privacy you desire, you may want to consider curtains with a certain level of opacity. Sheer curtains will let in more light but offer less privacy, while blackout, or room darkening, curtains will block out most light and offer maximum privacy.
Style: Consider the decor and style of your room when choosing curtains for your patio doors. There are many options available, such as plantation shutters, French door curtains, solar shades, and more, so choose a style that complements your existing home decor.
Hardware: Consider the hardware required for hanging the curtains. Some curtains require special rods or tracks, so make sure to purchase the appropriate hardware to ensure proper installation.
Can you put curtains on sliding glass doors?
Typically, you would only put a curtain directly on a sliding glass door if it's the interior door. The track will inhibit a curtain on the stationary exterior door. There is special hardware available to add curtains to French doors and other bifold doors, so you have other options here.
What kind of curtains for patio doors?
When it comes to choosing curtains for a sliding glass door, there are a few options to consider:
Vertical Cellular Shades: These are a classic window treatment for sliding glass doors. They are made up of vertical slats that can be angled to control light and privacy. They are available in a wide range of materials and colors, from sheer vertical shades to vertical blinds with thermal properties. You can get them custom fitted so they're a good option if you have a door frame that's an unconventional size.
Panel Track Blinds: These are a modern option for sliding glass doors. They are made up of large fabric panels that slide back and forth on a track. They are available in a variety of materials and can be customized to fit your decor.
Sheer Curtains: These are a light and airy option that can add a touch of elegance to your sliding glass door. They are available in a variety of colors and materials and can be hung on a rod or a track.Drapes: These are a traditional option that can add a touch of sophistication to your sliding glass door. They are available in a variety of materials and colors and can be hung on a rod or a track.