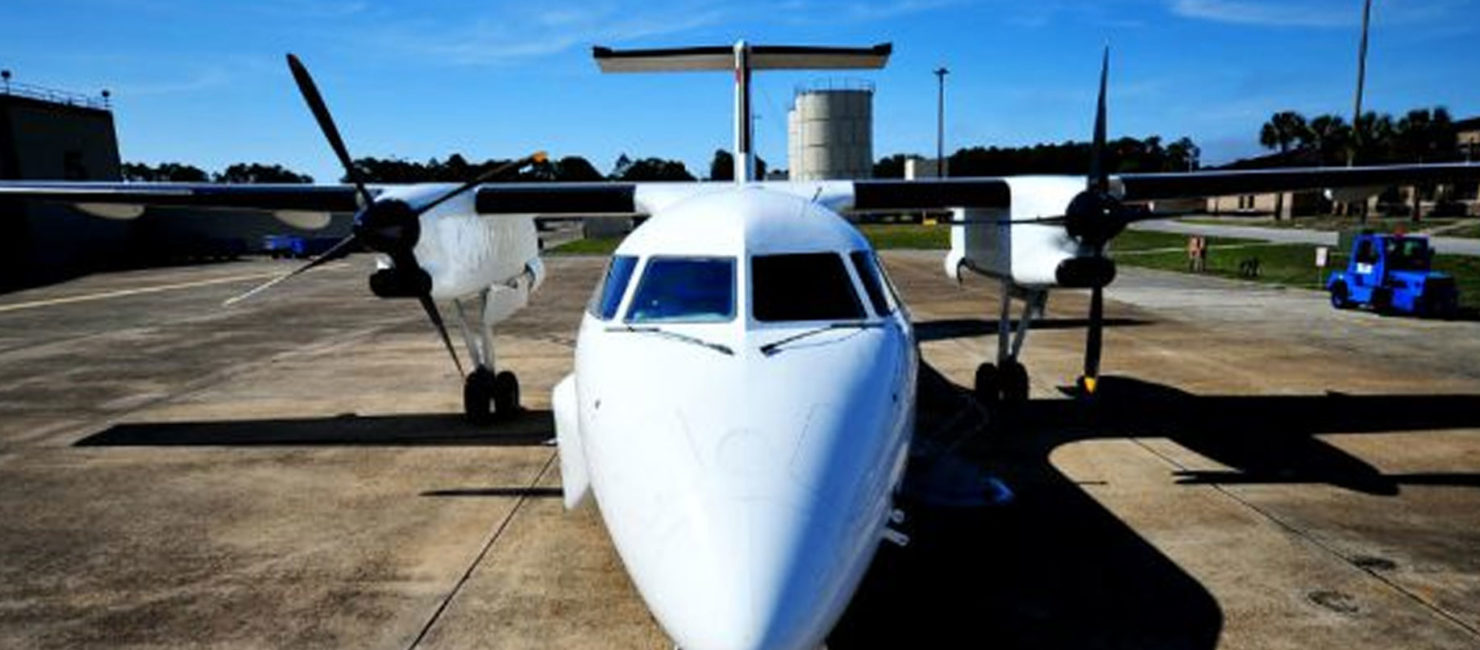 The E-9A Widget is one of the Air Force's least flashy aircraft, but is still quite important to national security. The twin turboprop E-9A is primarily employed by the US Air Force to patrol waters around military research and training facilities. In the Gulf of Mexico especially, these aircraft are also used to clear waters of civilian vessels and aircraft during live missile launches and other dangerous military activities. Once the area is safe, the E-9A tracks the testing of air-to-air weapons systems. No other aircraft is so uniquely equipped to collect crucial evaluation, development and operational data for weapons designers.
Design:
While not the most glamorous job in the Air Force, collecting telemetry and radio relays is critical to developing advanced weapons in the future and ensuring the reliability of our current arsenal. For such a job, the reliable E-9 medium-range turboprop is a solid choice. The designers derived the airframe from the Havilland "Bombardier" Dash, which is frequently used in short-haul civilian airline operations. With its ability to take off and land from short airfields, the E-9 can also operate from all sorts of isolated research facilities.
Radar Technology:
Equipped with the AN/APS-143(V)-1 Airborne Sea Surveillance Radar, this aircraft can detect the smallest dangers in the water at high-altitude. E-9's can even detect a single person in a life preserve up to 25 miles out and sweep. With this unique capability, the range control plane can scan hundreds of square miles in a matter of minutes. All the data is sent directly to the nearest range safety officer who can then determine if the "downrange" area is safe for live-fire actions.
Missile Monitor:
Additionally in the evaluation mode, the E-9A is uniquely suited to monitoring high-speed missile tests. Its Airborne Telemetry Platform provides a beyond visual range, ultra-high frequency command initiate/destruct relay system to monitor weapon flight and missile profiles with incredible accuracy. The E-9 also constantly streams the telemetry to ground-based engineers and scientists in real-time, thanks to its datalink's transfer rates of up to 10 Mbits/sec.
The E-9A also has an extra fixed antenna array to receive and record telemetry directly from test and drone vehicles flying over the Gulf of Mexico and relay that to shore. With its large radio transmitters, the E-9A can communicate with two different airborne UHF frequencies to over the horizon ground sites.
Since 1988, E-9A's have operated exclusively out of Florida in support of every major air-to-air missile research product. In addition, these rugged and reliable aircraft are well built for high frequency and short-haul operations from ultra short and rough airfields.
Special Programs:
Currently, both of the Air Force's E-9A aircraft operate from Tyndall Air Force Base in Florida, assigned to the 82nd Aerial Targets Squadron. The Air Force uses both aircraft for telemetry reading, long-range UHF relaying and surface clearance in support of the Air Force Development Test Center (AFDTC). The most recent programs they've supported are proof of concept launches for the Navy Fjord missile program and live missile testing for the F-22 Raptor.
See E-9A Widget Specifications
Primary Function: Airborne telemetry support, and also long-range UHF relaying and surface clearance
Prime Contractor: Bombardier
E-9A Modification Contractor: Sierra Research
Power Plant: Two Pratt & Whitney PW-120A turboprop engines
Thrust: 1,800 shaft horsepower per engine
Wingspan: 85 ft. (25.9 meters)
Length: 73 ft.  (22.280 meters)
Height: 24 ft. 6 in. (7.467 meters)
Weight: 34,500 pounds (15,640 kilograms)
Maximum Takeoff Weight: 34,500 pounds (15,649 kilograms)
Fuel Capacity: 5,600 pounds (2,540 kilograms)
Payload: 697 pounds (316 kilograms)
Speed: 280 mph (.367 Mach)
Range: 1,000 miles (also 1,609 kilometers)
Ceiling: 30,000 ft
Cost (modified): $16.5 million
Crew: 4 (two pilots, also two mission operators)>
Initial Operating Capability: June 1988
Inventory: Active force, 2; ANG, 0; Reserve, 0