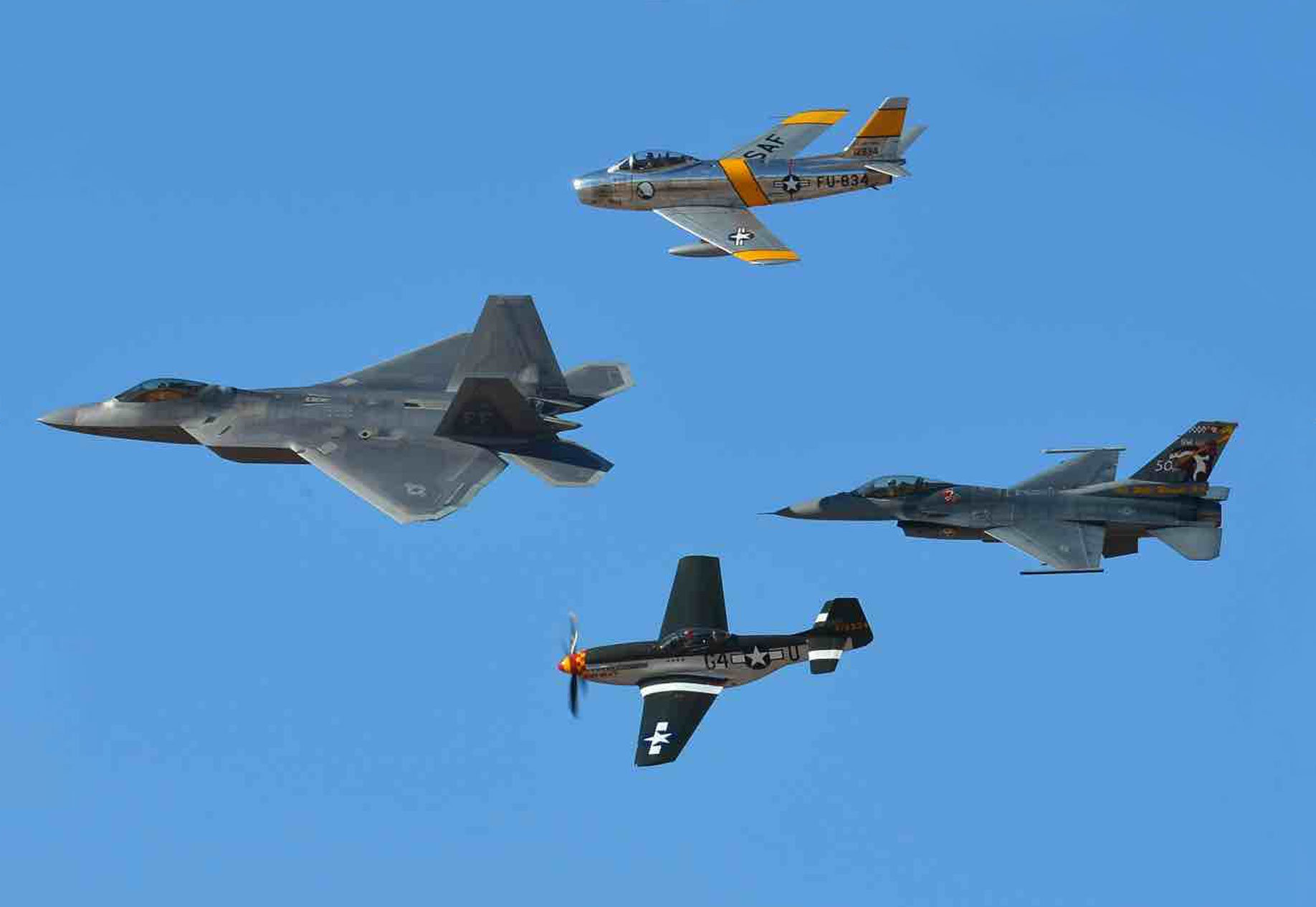 In 1903, the Wright brothers achieved the first powered, sustained, and controlled airplane flight, heralding the age of heavier-than-air aviation. More than a century later, aviation has advanced tremendously and the U.S. Air Force is a dominant force in air superiority. From Kitty Hawk to Afghanistan, the trials and triumphs of air and space power emphasize a proud heritage of sacrifice, valor, and success.
To honor those who have served or are currently serving in the U.S. Air Force, the Air Force Heritage Flight Foundation was founded. The foundation is comprised of 10 pilots, all aviation history enthusiasts and/or retired USAF pilots. The team travels to approximately 40 – 60 air shows each year demonstrating the capabilities of the U.S. Air Force's past air frames with the purpose of honoring the men and women who made the ultimate sacrifice.
Heritage Flight is a non-profit organization with a primary charitable mission of providing the public with educational and inspirational heritage flights.
"We want to inspire the American public, we want to inspire the future generation of the 'long blue line,'" said Maj. Craig Baker. Baker is a pilot with the Air Combat Command Viper Demo Team. "We want to inspire those currently serving in the Air Force, and to give thanks to those who have gone before us and fought for this great nation."
Heritage Flight performed an aircraft flyover for the first time its history in 2018 at the NFL Super Bowl. Two A-10C Thunderbolt IIs, an F-16 Fighting Falcon and a P-51 Mustang flew over U.S. Bank Stadium in Minneapolis during the Super Bowl's opening ceremonies. The program flies at air shows primarily, but also at funerals or parades.
The program serves as a flying museum proudly displaying air power history in the skies. Heritage Flight demonstrations showcase current fighter aircraft alongside World War II, Korean, and Vietnam-era fighters. The flights are a living memorial for the men and women who have served. Seeing a mid-century fighter flying next to the fifth-generation F-22 is impressive.
"When I watch the film after the flight I am reminded over and over again of how special Heritage Flight is," said Baker. "There is a common link within the formation, and that link is the pilots. It is the pilots flying combat missions in undisclosed locations right now, linked to the World War II aviator that fought for the same freedoms we enjoy and continue to protect today."
Heritage Flight Foundation Aircraft
The planes flown by the Air Force Heritage Flight Foundation are the: P-51 Mustang, F-86 Sabre, P-38 Lightning,  P-40 Warhawk, P-47 Thunderbolt, A-1 Skyraider. The United States Air Force also flies in select air shows alongside the foundation's pilots. The USAF planes involved are the: A-10 Warthog, F-16 Fighting Falcon, F-22 Raptor and the F-35 Lightning II.