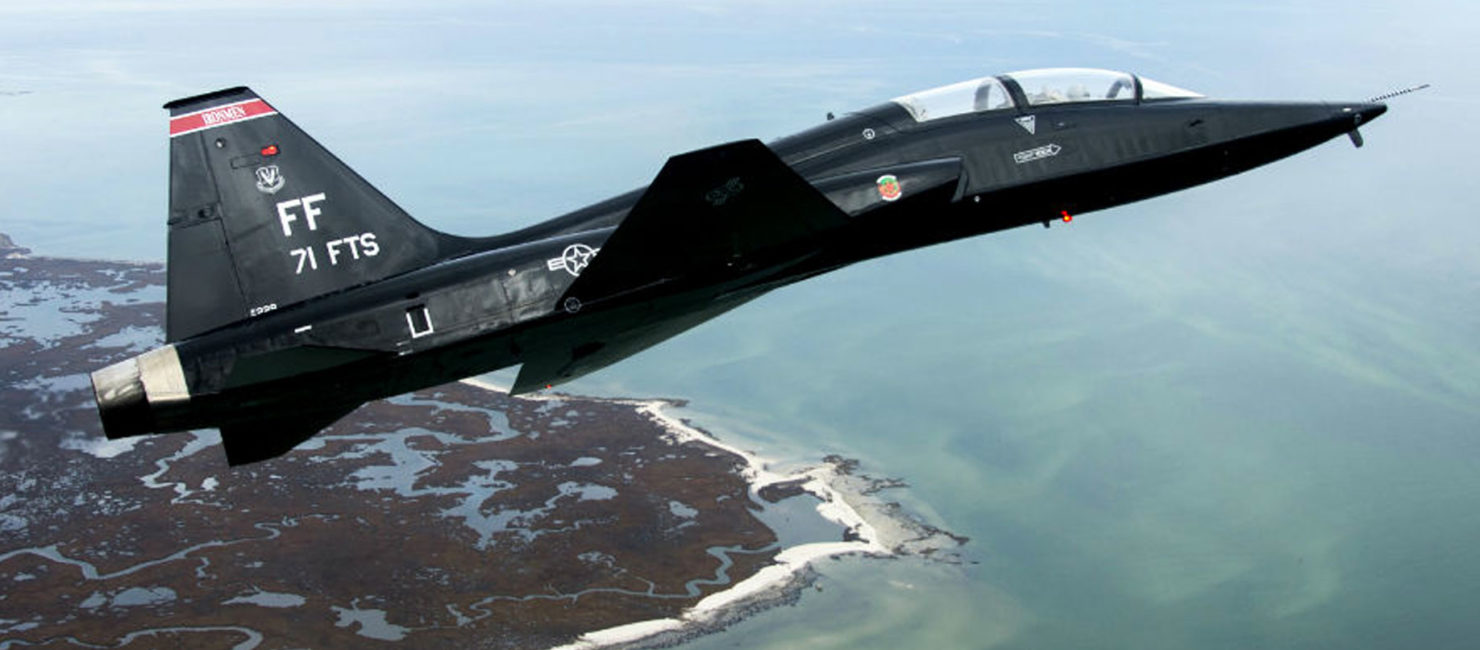 The Northrop Grumman T-38 Talon Jet Trainer is a twin-engine, high-altitude, supersonic jet trainer used primarily by the U.S. Air Force for joint specialized undergraduate pilot training. Between 1959 and 1972, the former Northrop Corporation produced 1,187 T-38s, around half of which remain in service today. Because of its maintenance-friendly design, low operating cost, high performance, and exceptional safety record, the T-38 is also used in a variety of roles by NASA, the U.S. Navy, and other air forces around the world. Since 1961, approximately 75,000 pilots have earned their wings in the T-38 and the aircraft is expected to remain in service until at least 2020.
Speed
The Air Force specs the T-38 at 812 mph (Mach 1.08 at sea level), but NASA claims it can fly up to Mach 1.6. How's that for 1950s technology? The original T-38, powered by two General Electric J85-GE-5 turbojet engines, is capable of producing 2,050 pounds dry thrust and 2,900 pounds with afterburners. T-38Cs with an upgraded propulsion system crank out 2,200 pounds dry thrust and 3,300 pounds with afterburners.
Unique Technology
The T-38 is the world's first and most produced supersonic trainer. It can climb from sea level to nearly 30,000 feet (9,068 meters) in a mere 60 seconds, wrenching its pilots through more than seven Gs, or seven times the force of gravity. Good luck lifting your hands, moving your head, or even breathing with those forces. The T-38C incorporates a "glass cockpit" with integrated avionics displays, head-up display, and an electronic "no drop bomb" scoring system. The AT-38B has a gun sight and practice bomb dispenser.
Cost
Each T-38 cost only $756,000 in 1961. That would make it roughly $6,000,000 in today's money, a bargain by many standards. And not only that, every T-38 Talon built by Northrop was delivered on time and at or below the contract price.
Configuration
T-38 wings are single units from tip to tip, constructed of aluminum alloys with control surfaces reinforced with internal honeycomb. The instructor and student sit in tandem on rocket-powered ejection seats in a pressurized, air-conditioned cockpit. If you're an Air Force pilot in the fighter/bomber pipeline, you'll likely have flown the T-38. In this military jet, pilots honed their skills in aerobatics, cross-country navigation, as well as formation, night, instrument flying.
Air Force and Navy test pilots and flight test engineers at Edwards Air Force Base, California and Patuxent River, Maryland, respectively, also get a turn in T-38s. They even use this jet to test experimental electrical and weapon systems.
Not to leave our NATO Allies out in the cold, their pilots also get to train in the T-38 at Sheppard AFB, Texas, through the Euro-NATO Joint Jet Pilot Training Program. Lastly, NASA uses this versatile bird as a trainer for astronauts and as observers and chase planes.
History And Development
In 1956, the former Northrop Corporation was awarded the U.S. Air Force contract to develop an advanced supersonic trainer and produced 1,187 T-38 aircraft between 1959 and 1972. The first test flight occurred on April 10, 1959.
As the fleet has aged, it has received new wings along with upgraded avionics and propulsion systems. At a ceremony marking the 50th anniversary of the T-38's first flight, Major General Greg Feest, Commander, 19th Air Force, Air Education and Training Command, Randolph Air Force Base, Texas, said,
"The impact this aircraft has had on the Air Force has been profound. The T-38 has been the backbone for training Air Force aviators of the past and the present, and undoubtedly it will continue to produce the best pilots in the world for many years to come."
Ongoing maintenance and upgrades should keep this workhorse in the air until at least 2020. That's nearly 60 years of faithful service.
Logging over 13 million flight hours as a fleet while averaging 15,000 hours per aircraft, the T-38 hasn't disappointed. It's been lauded for its longevity, performance, exceptional safety record, reliability, and reputation for easy maintenance as the primary training aircraft for generations of Air Force pilots.
During the 1970s, it was even the preferred aircraft of the Air Force Thunderbirds, starring as the featured performers in air shows around the world.
Now see compelling images of the T-38 Talon.
See T-38 Talon Jet Trainer Specifications
Length:  46 feet, 4 inches (14 meters)
Height:  12 feet, 10 inches (3.8 meters)
Wingspan:  25 feet, 3 inches (7.6 meters)
Ceiling:  Above 55,000 feet (16,764 meters)
Maximum Takeoff Weight:  12,093 pounds (5,485 kilograms)
Minimum Takeoff Distance: 2,300 feet (695.2 meters)
Range:  1,093 miles
Crew:  Two, student and instructor