NELLIS AIR FORCE BASE, Nev. (AFNS) —  
The Israeli Air Force returned to Nellis Air Force Base to participate in Red Flag 23-2, this time with its F-35I Adir. The large-scale exercise took place from March 13-24, challenging participants to adapt to and overcome complex, multi-domain scenarios, all while up against Nellis AFB's professional aggressor force trained to replicate threats participants will see in real-world conflict.
The IAF's participation in Red Flag 23-2 builds on the success of Juniper Oak 23-2, Juniper Falcon and other combined exercises and provides the U.S. Air Force the opportunity to enhance interoperability with the IAF, strengthen bilateral cooperation and improve capabilities in ways that enhance and promote regional stability and reinforce the United States' enduring commitment to Israel's security.
The IAF first participated in Red Flag in 1978 and their return to Nellis AFB after a seven-year absence underscores the importance of the relationship between the United States and Israel.
Red Flag exercises are designed to provide joint and allied partners with realistic training scenarios and the skillset to maintain readiness and preparedness for potential real-world scenarios.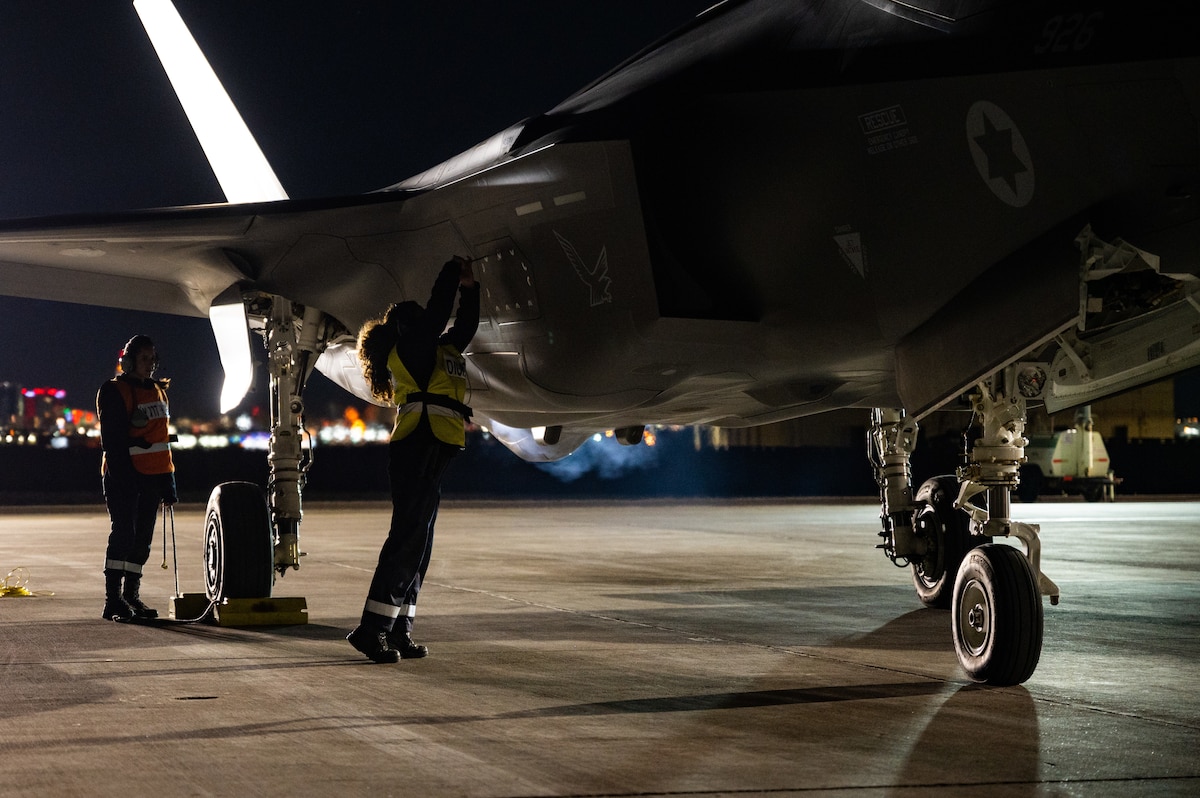 An Israeli Air Force member prepares an F-35I Adir for takeoff prior to a Red Flag-Nellis 23-2 mission at Nellis Air Force Base, Nev., March 16, 2023. The F-35I has been an integral part of the IAF fleet since 2016. (U.S. Air Force photo by Airman 1st Class Trevor Bell)
An Israeli Air Force member marshals an F-35I Adir during Red Flag-Nellis 23-2 mission at Nellis Air Force Base, Nev., March 16, 2023. Red Flag is an opportunity to build on the success of exercises Juniper Oak 23-2, Juniper Falcon and additional combined exercises to enhance interoperability with Israel, strengthen bilateral cooperation and improve capabilities in ways that enhance and promote regional stability and reinforce the United States' enduring commitment to Israel's security. (U.S. Air Force photo by Airman 1st Class Trevor Bell)
An Israeli Air Force pilot climbs into an F-35I Adir prior to a Red Flag-Nellis 23-2 mission at Nellis Air Force Base, Nev., March 16, 2023. Building on the success of exercises Juniper Oak 23-2 and Juniper Falcon, Red Flag will improve capabilities in ways that enhance and promote regional stability and reinforce the United States' enduring commitment to Israel's security. (U.S. Air Force photo by Airman 1st Class Trevor Bell)
"The F-35 Adir is a game-changer for us," said the IAF 140 Squadron commander. "Its advanced capabilities make it an ideal platform for participating in complex exercises like Red Flag. We're excited to showcase the capabilities of this aircraft to our American partners and learn from the experience of flying alongside them."The IAF's employment of the Adir in this iteration provides mutually beneficial interoperability training opportunities while flying alongside of F-35A Lightning IIs from Hill Air Force Base, Utah.

"The Israeli F-35 participation in Red Flag 23-2 is another step forward for the U.S. and its allies in the transition to the next level of air warfare," said Col. Jared Hutchinson, 414th Combat Training Squadron commander.

The F-35I Adir's participation in the exercise marks the first time the aircraft has been deployed to the United States. The IAF's fleet of Adirs are state-of-the-art fighter jets equipped with advanced sensors and communication systems. They have been a key component of the Israeli Air Force since the F-35 joined their fighter fleet in 2016.

"It is a rare opportunity for warfighters from both countries to integrate our most advanced capabilities," Hutchinson said. "As the Fifth-Generation Center of Excellence, Nellis AFB is uniquely capable of hosting F-35 units on the ground and challenging them in the air."