A swimming pool is a big commitment to your property. It can also have a calming effect on your life.
Here are some ideas to make walking out to your pool after work feel like walking to a resort.
When thinking about Backyard Pool Landscaping Ideas, make sure the pool remains the focal point of your design.
The shape of your pool matters. The tile color affects the color of the pool water. It starts with the area around the pool. What type of deck and patio will be underfoot?
What type of mood do you want to convey? These are the questions you'll need to answer when working with a landscape architect for your dreamy oasis.
Here are twenty-six ideas to inspire your home oasis.
1. Turn Your Yard Into an All-Inclusive Sanctuary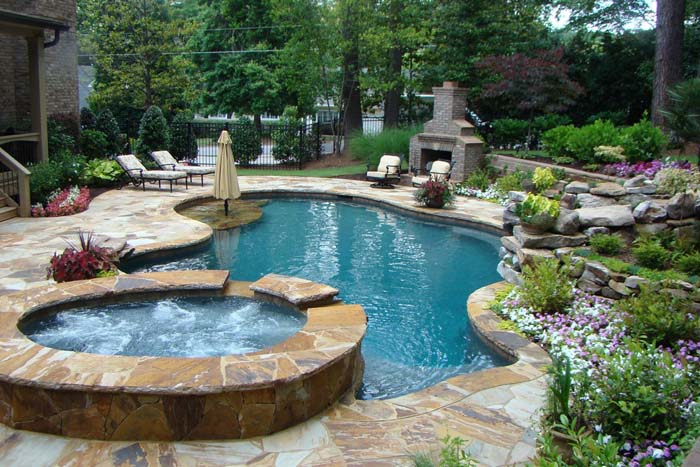 A hot tub, fireplace, and lush greenery are the highlights of a backyard pool that's landscaped like a resort.
via Atlanta Outdoor Designs
2. Trio of Pool Lounge Areas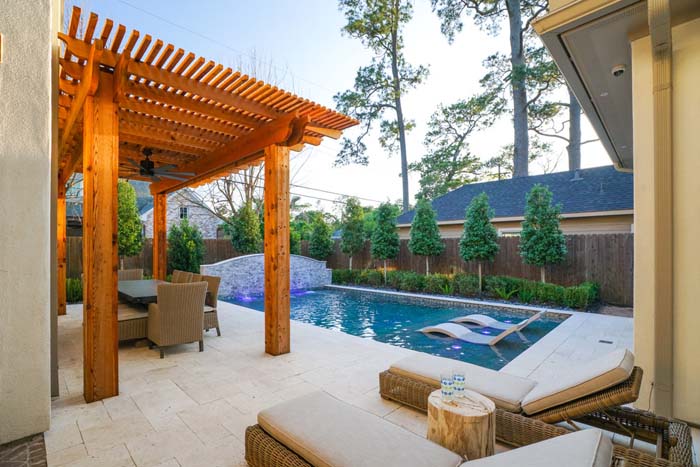 Lounge chairs in and out of the pool offer plenty of places to relax. A pergola provides shade over contemporary furniture. In-pool lounge chairs are the perfect summer soak.
via Outdoor Elements
3. Make the Most of a Small Yard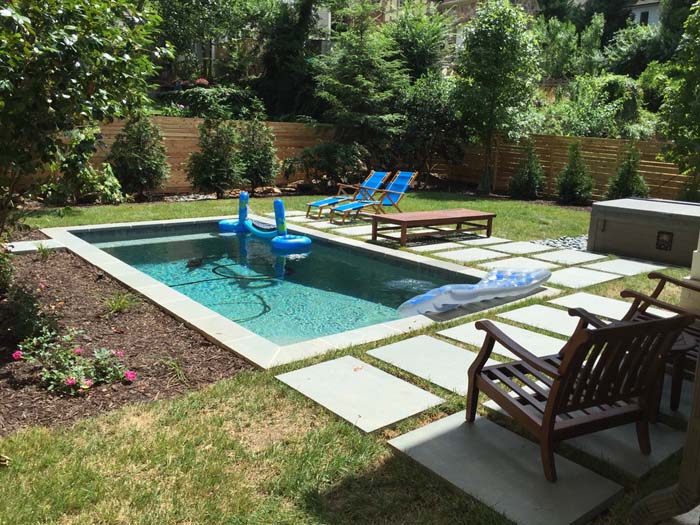 A small backyard can become a great getaway. This yard is actually in an Atlanta neighborhood, proving you don't have to have a big suburban home to build a pool.
The pool is surrounded by a narrow deck. The transitional area is made of concrete pavers, which can be permanent or temporary, depending on your budget.
via Platinum Design Build
4. Pool House Leads to Sunken Splendor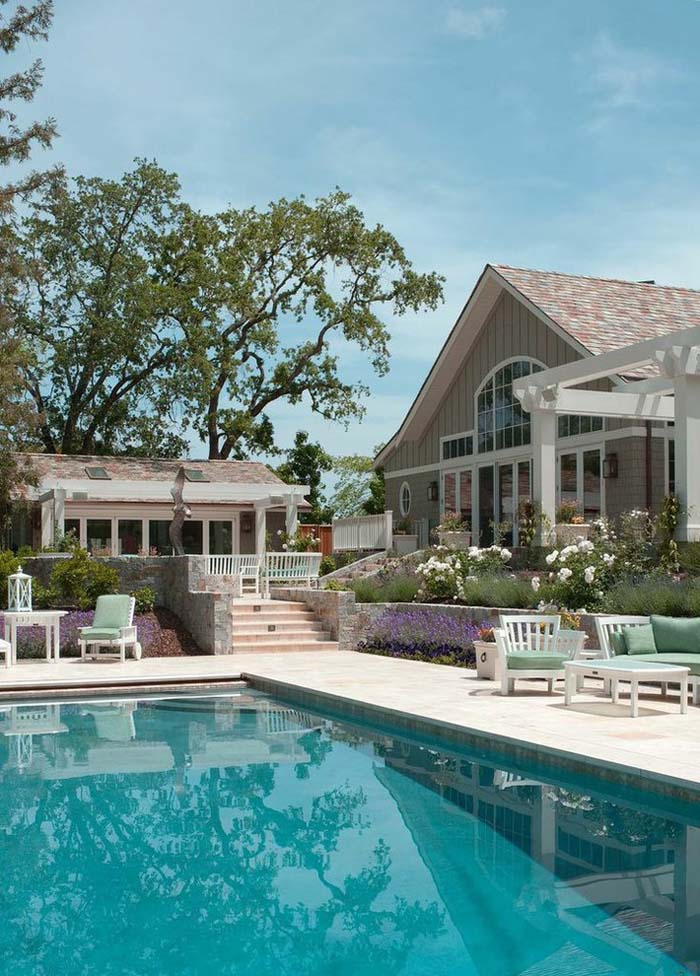 Adding the pool to the bottom of the hill lowers noise levels and adds privacy.
The dark teal pool bottom is a stunning contrast to the home's exterior.
via KG Bell
5. Mosaic Design With Stone Slab Patio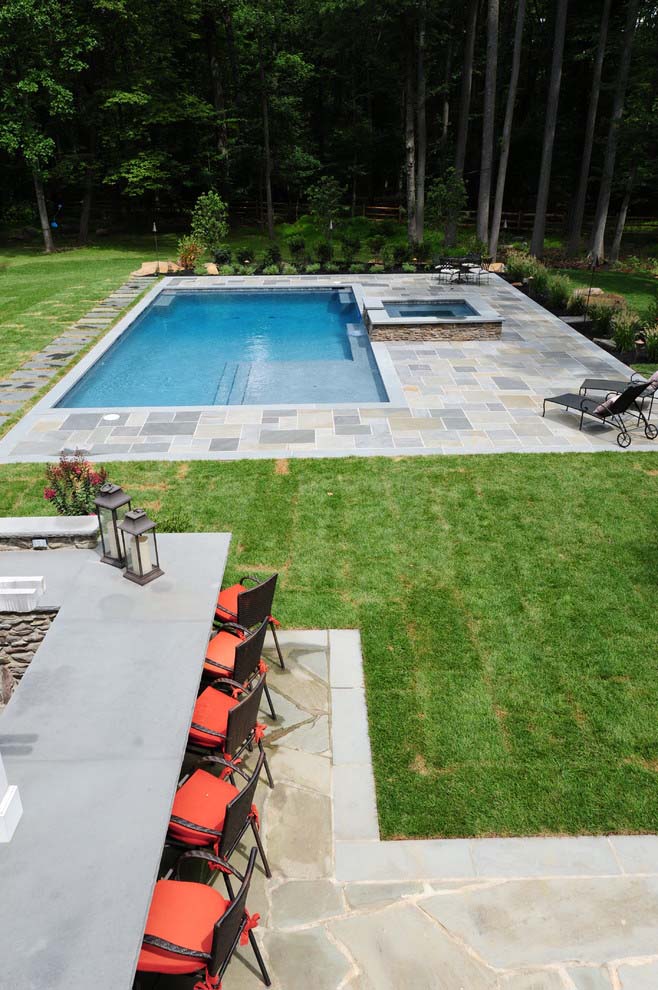 Colorful quarry rock is used for the deck. Grass is used for the transitional area to the large seating area at the fire table.
26 Best Backyard Pool Landscaping Ideas To Create The Perfect Outdoor Oasis video:
Hedges were added around the perimeter to gain a sense of separation from the rest of the yard.
via Greenview Designs
6. Lounge Area Keeps Things Cool in Hill Country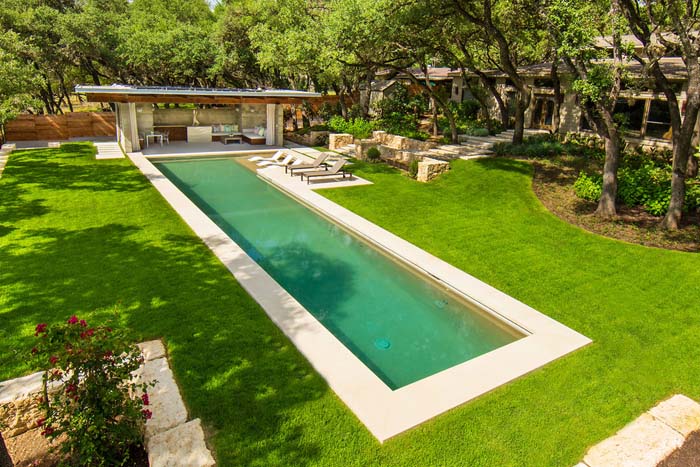 An eye-catching lap pool is part of the pool owner's complete remodel in Texas.
The heat in this area calls for lots of shady places and a minimal deck. Grass is cooler underfoot.
via Vernon Wentz
7. A Cabana That Can Handle the Cold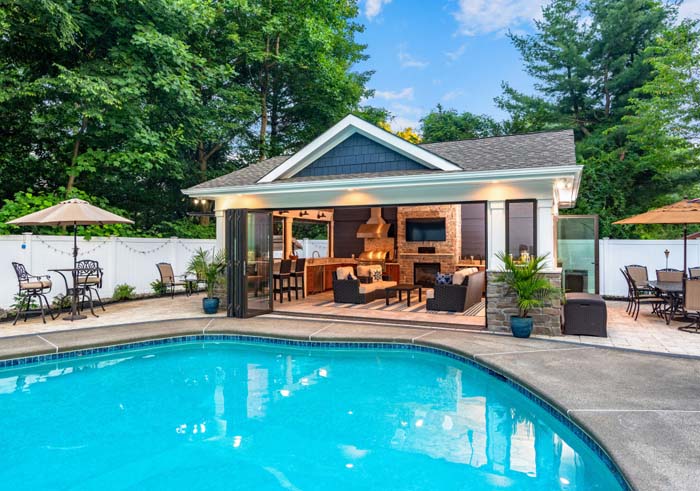 Here is a cabana so large, it might as well be a weekend cabin. The window walls are barely noticeable but provide protection for the interior during heat waves and when it's closed up for the winter.
The fireplace and grill warm up the room on chilly nights.
via ROAM Architecture
8. Courtyard Spa Embraces Brick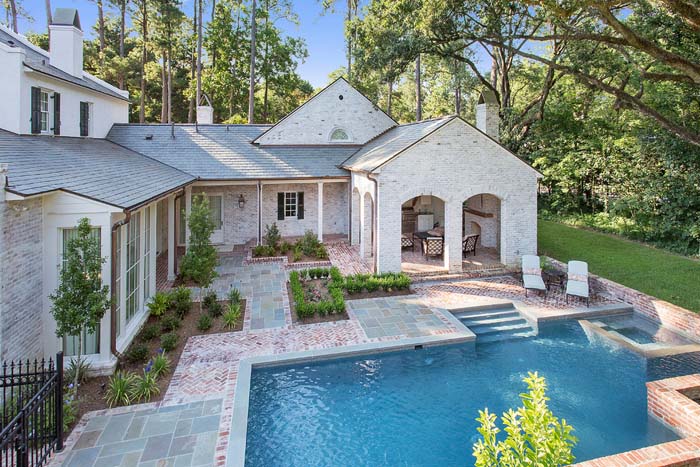 The patio is a mix of slate and red brick set in a herringbone pattern. This works well with the whitewashed brick of the house.
While your pool should be the focus of the backyard, it doesn't have to be positioned right in the center.
via Eco Regions
9. Pavilion and Swim-up Bar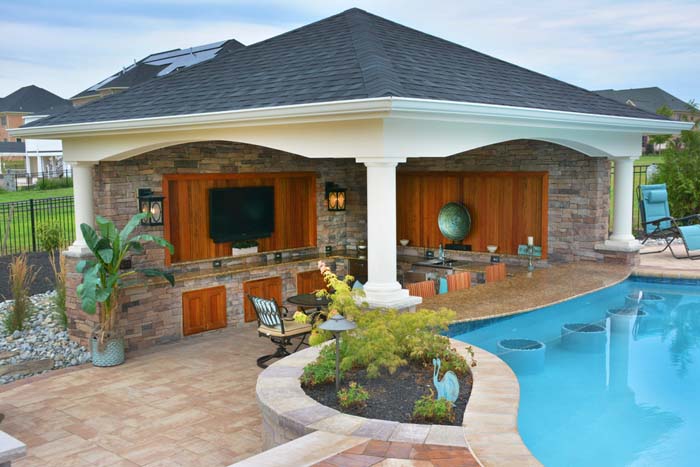 Nothing says 'resort' like a swim-up bar.
It's a place where you can sip your coffee in the morning and relax with a drink in the evening.
via Rhine Landscaping
10. Stunning Pool in a Thimble-Sized Yard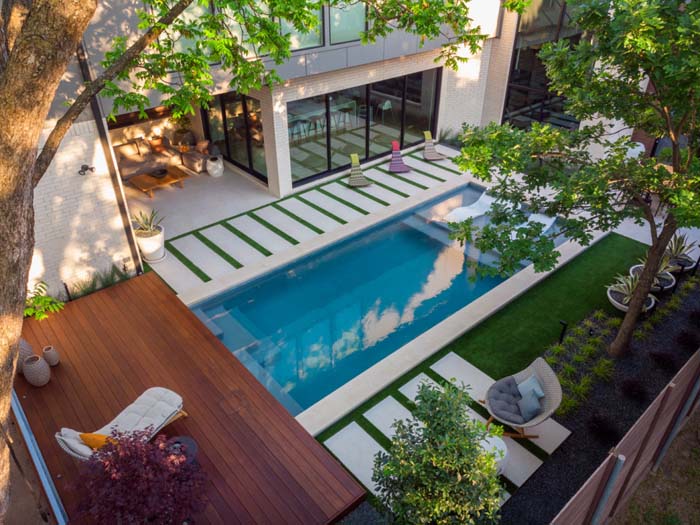 The architects used every inch of this yard to create the pool area.
The result is an amazing spa with a beautiful wooden deck. Pavers were dropped on top of artificial turf to keep the area green.
via Randy Angell Designs
11. Pool Spouts and a Spanish Pavilion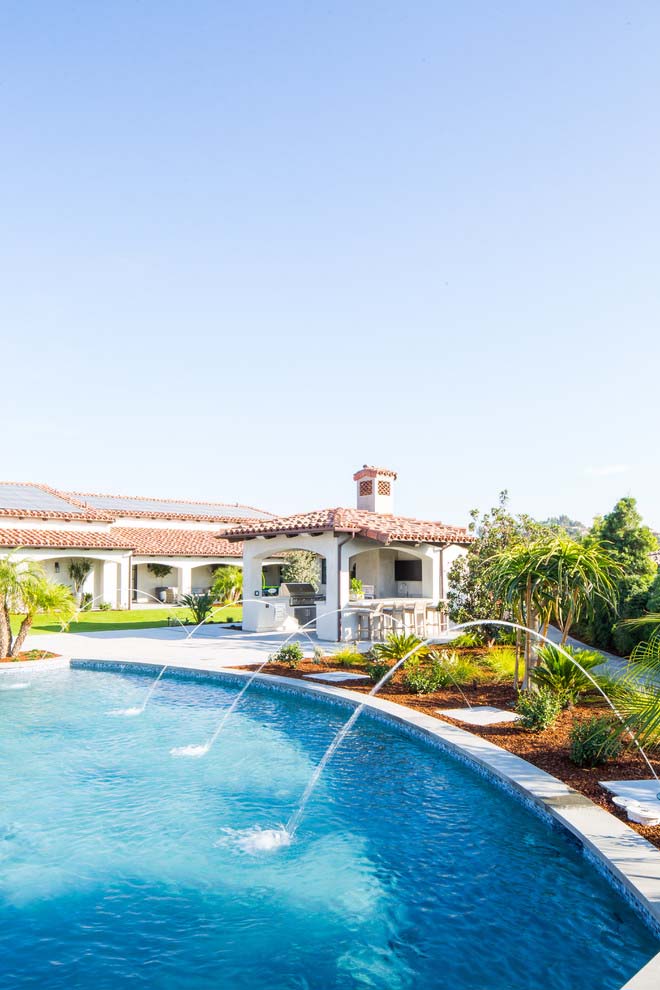 The clay roof of the pavilion matches the terracotta of the Mediterranean style home.
A narrow deck allows room for a magnificent row of water spouts.
via Tracy Lynn Studio
12. Free-Form Pools Keep It Natural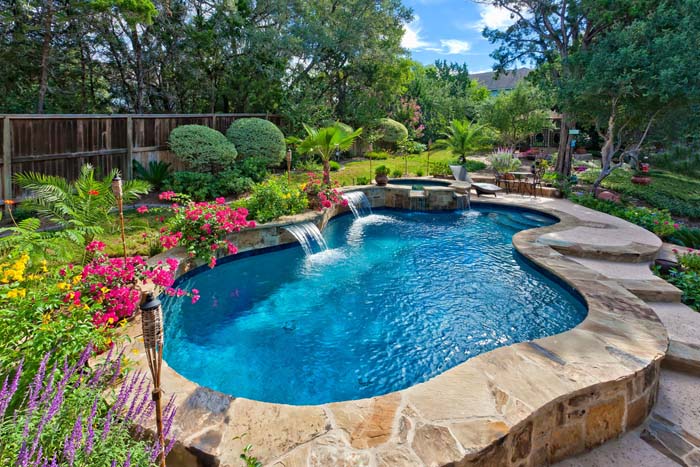 Asymmetrical pools are designed to give a feel of the pool being a part of the landscape, instead of the other way around.
The pathways and deck are usually made from pebbles and stones. The bottom of the pool usually has a pebble-like appearance as well, keeping the look as natural as possible.
via Cody Pools
13. Low-Key Modern Endless Pool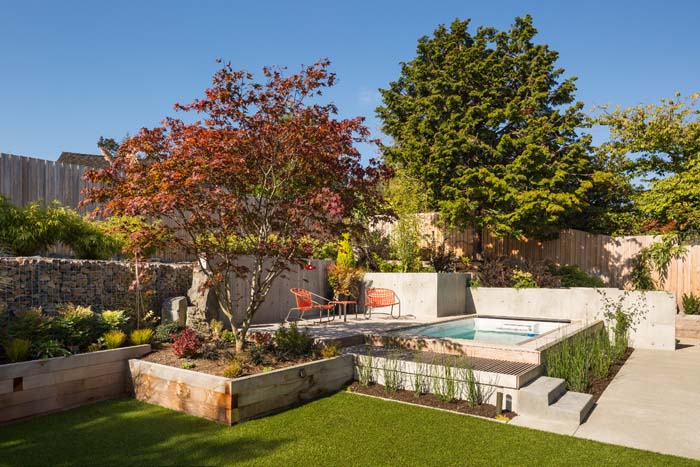 A small yard and a slope don't have to stop you from putting in a pool.
An Endless pool can be installed partially in-ground. They take up less backyard space than the average inground pool.
via Lane Williams
14. A Hedge Adds Privacy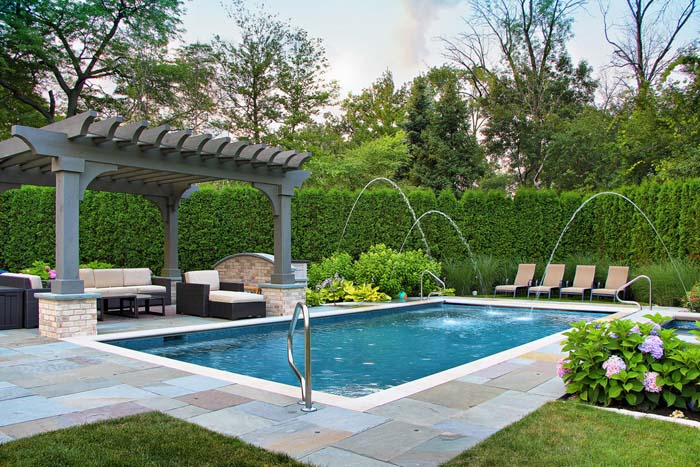 A line of trees adds privacy or just blocks an uninspiring view.
A simple rectangular pool looks exquisite with flower beds, water jets and a pergola.
via Arrow Land and Structures
15. Add a Water Feature to Your Pool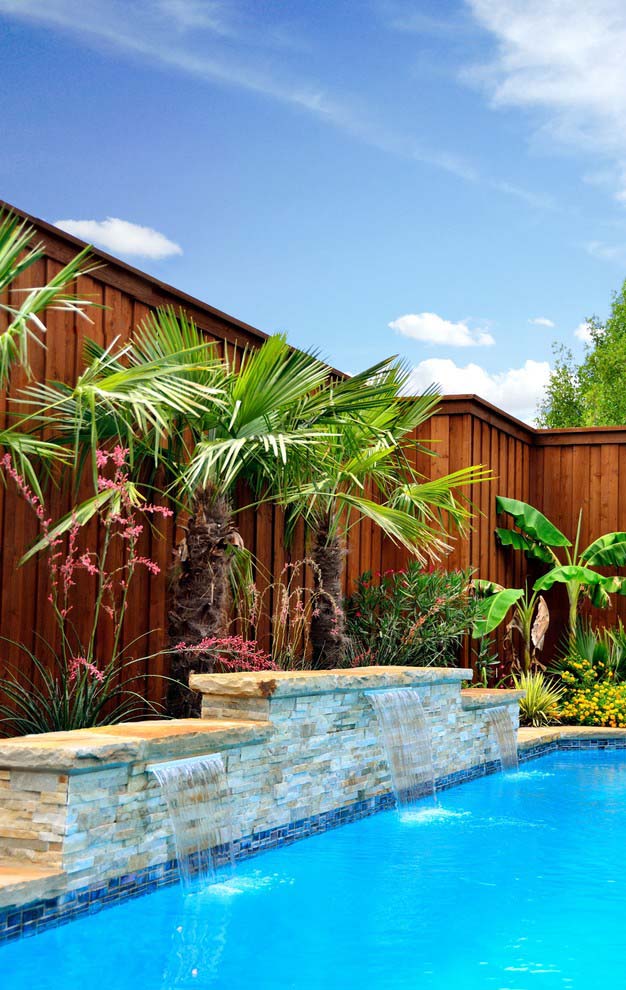 A stepped stone wall is the base for three waterfalls.
The tall fence is the perfect backdrop for the tall palms and ornamental grass.
via Premier Pools and Spas
16. A Pool That Looks Like a Pond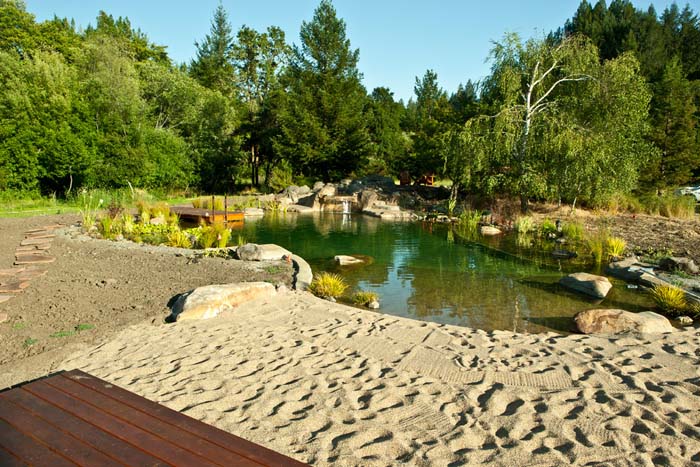 Although it may look like a beach scene in a small pond, this pool is completely man-made. It even has a filtration system.
There are landscape architects that specialize in this type of backyard design. If you love the beach but not the crowds, this type of pool landscaping idea is worth considering.
via Gary McDonald
17. Create a Landscape With Multiple Levels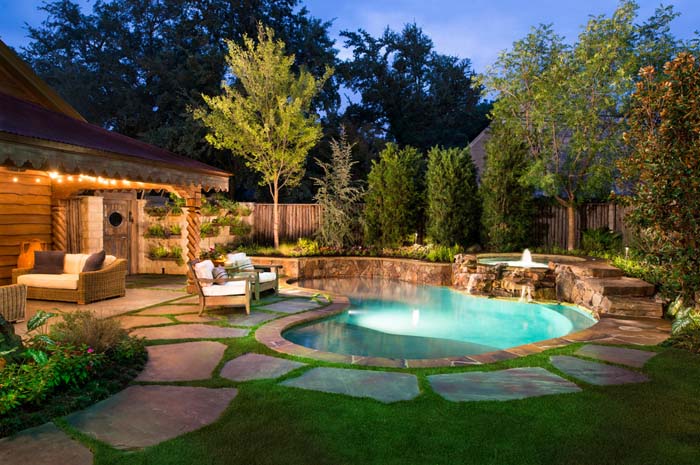 This pool's water feature separates the pool from the soaking tub area.
The water bubbler adds soothing white noise. Flagstone pavers add a natural look to the transitional area.
via Pool Environments
18. Covered Lounge Area and Vanishing Point Patio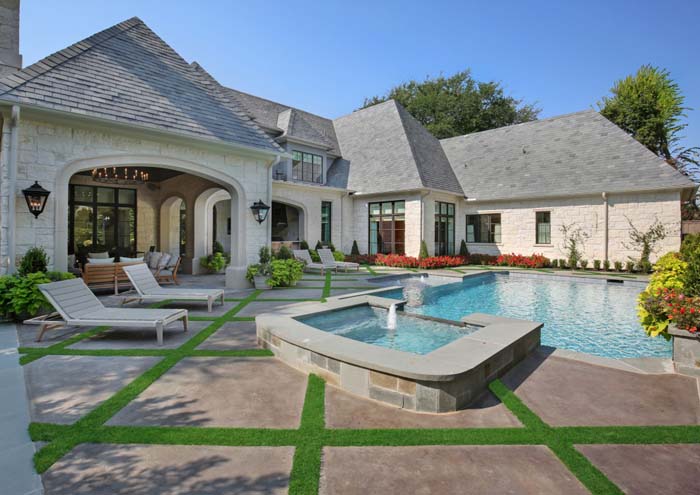 Adding a pattern at an angle creates a patio that looks larger than it really is.
Substituting turf for grass keeps the green going without water or maintenance.
via Houzz
19. Green Pathway to the Pool Areas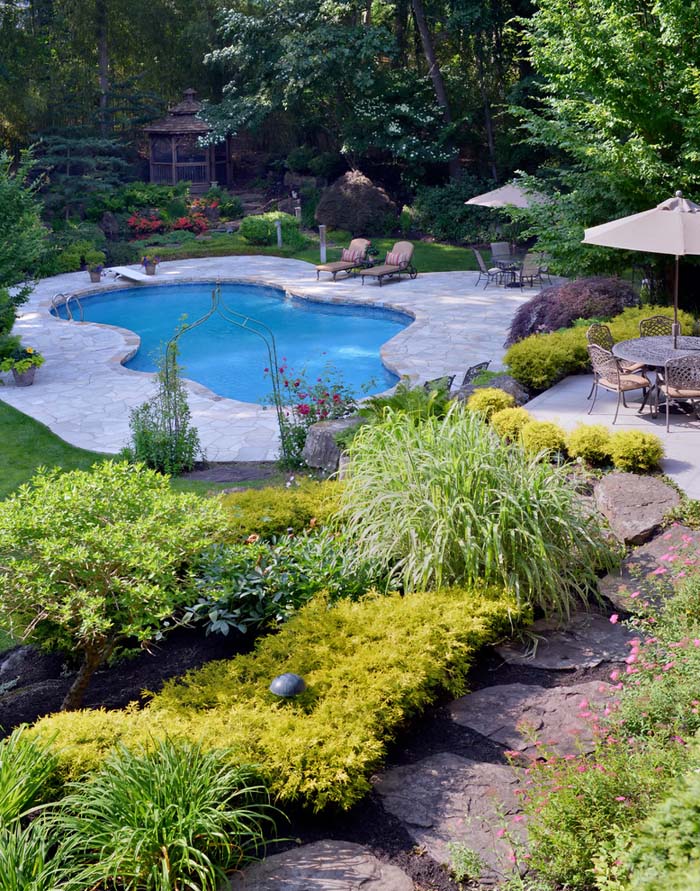 A long walk to the pool and patio is made more interesting by flanking flagstone with low ground cover and ornamental grasses.
Adding rows of plants is a gentle way to keep guests from testing the steepness of your hill.
via CRS RA
20. Create Cover and Symmetry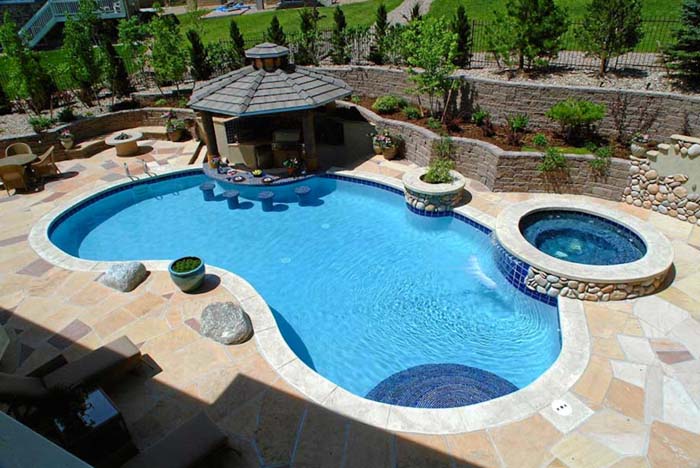 The classic kidney shaped pool is made more interesting with a hot tub and a patio area.
A row of trees stands behind two tiers of retaining walls. They add privacy and create several seating areas around the pool.
via Colorado Pools
21. Use Beautiful Scenery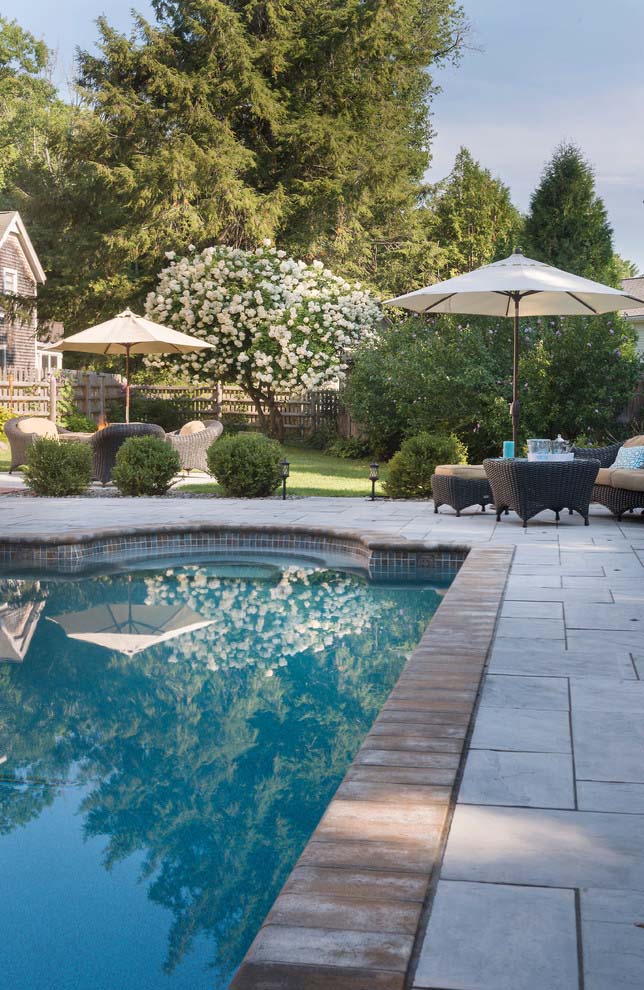 It would be a shame to ignore the majestic tree line in the distance.
Instead, the view from the pool takes the eye up from the junipers to to trees in the distance.
via Mandeville Canyon Designs
22. Trees Work With a Fence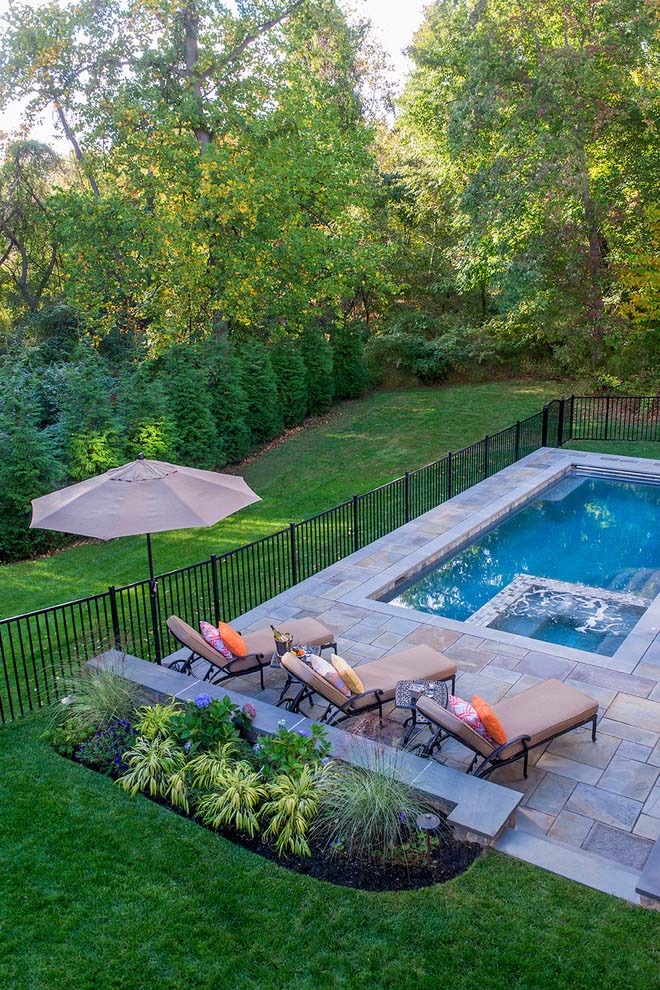 Fences are a common necessity and one thing you may have to add in order to comply with a town ordinance.
A second visual barrier was added along the grass line.
via Gasper
23. Add a Dramatic Waterfall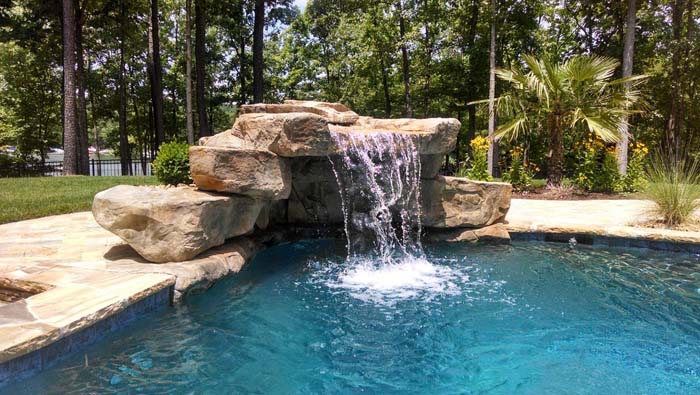 Thanks to TV shows that showcase incredible pools, a pool with a waterfall is always in demand.
Fortunately, the technology to create these showpieces has brought down the price.
While it isn't for everyone, consult with your contractor before dismissing the idea as being outside of your budget.
via Creative Rock Formations
24. Add Walls of Privacy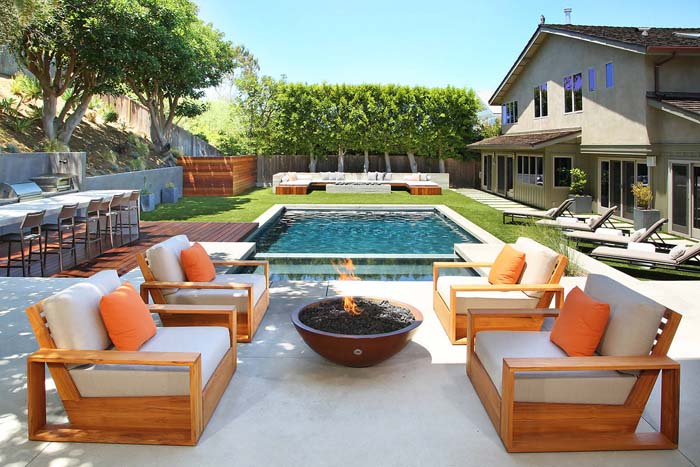 One of the most striking things about this landscape is how low it is. Retaining walls and careful planning have created a row of trees that are as high as the roofline.
The entire yard is a large entertainment suite, but because of its perimeter, it feels secluded.
via GDM Landscape and Pools
25. Build a Pond Pool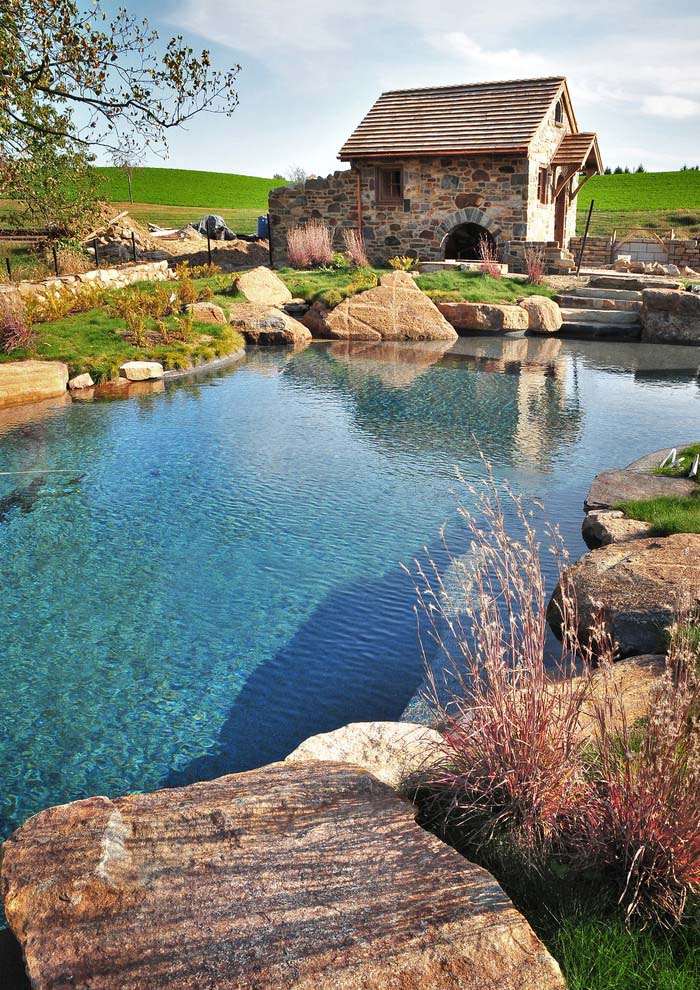 Yes, this is another backyard pool that is completely man-made.
Things to note is the rough look of the bottom and the stone slab steps to the shallow end.
via Archer and Bucanan
26. Add a Garden Around the Perimeter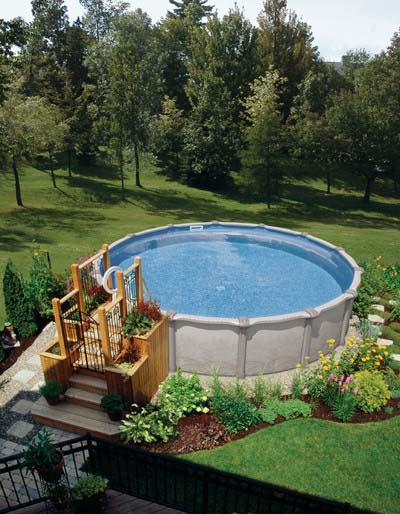 Without trying some landscaping ideas, an above ground pool can look empty and cheap.
This fiberglass pool looks beautiful, surrounded by a flower garden. It gets extra points with the wooden stairs and safety gate. The protective iron rails are softened with the addition of tiered planters on the sides.
via Home Oasis