Though subtle, trellises are often the foundation of gardens. They can take many forms and serve a variety of purposes. Typically made of wood or metal, the framework is commonly used to support climbing plants or fruit trees. Freestanding versions like pergolas can easily define pathways, while providing a bit of shade and privacy. Some are meant to beautify plain walls with vibrant, flowering vines. Others can give veggies like cucumbers room to grow properly in a garden.
While there are plenty of trellises available to shop online, making your own can ensure you get exactly what you want. You can personalize it based on your gardening needs and style preferences. Plus, it can oftentimes be more budget-friendly! If you're not sure where to start, we have you covered. Ahead, browse some lovely trellis ideas dedicated gardeners and landscape designers have dreamt up. From a wood honeycomb-shaped trellis to one fashioned from copper pipes, these displays serve as major inspiration for any garden.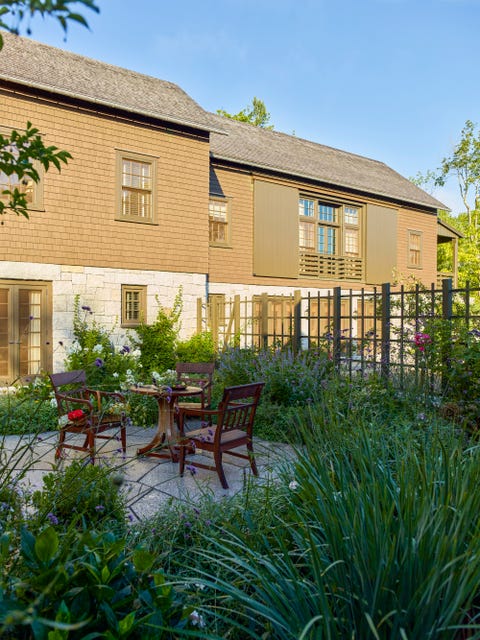 TRELLIS FENCE
Architect and designer Gil Schafer worked with landscape designer firm Mohr & Seredin to create a home and garden that feels timeless, restorative, and welcoming. "As far as landscape and architecture are concerned, you can't tell where one ends and the other begins," says Schafer. Here, the freestanding trellises are painted the same colors as the shutters and blend right in with the surrounding plants and flowers they're there to support.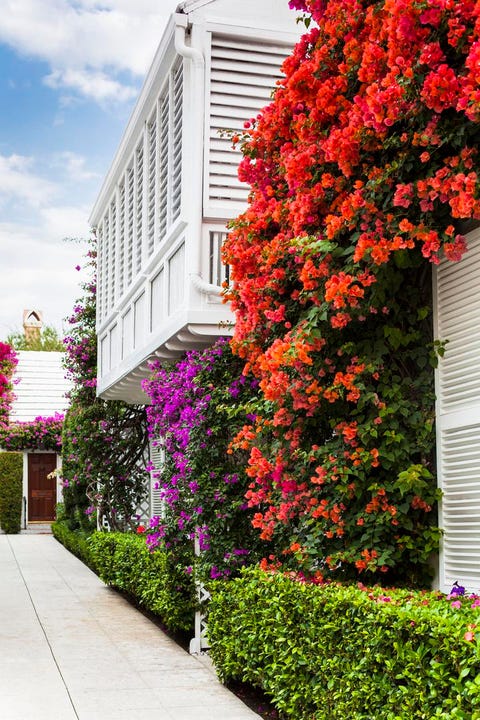 BOUGAINVILLEA-COVERED TRELLIS
Though all flowering vines flourish beautifully on trellises, there's something particularly beautiful and wild about bougainvillea. Here, in a garden designed by Mii McMakin, the plant's range of vibrant shades, from deep fuchsia to warm coral, is on full display.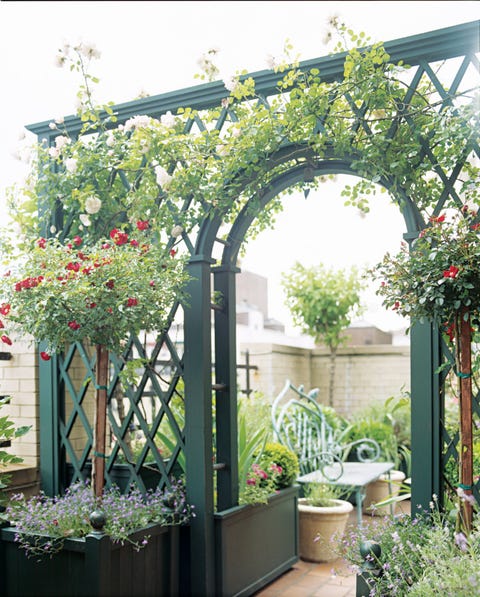 ARCHWAY TRELLIS
Flanked by planters with two types of fragrant blooms, this sweet trellis archway leads to a patio garden and gives it a more intimate atmosphere. David Kleinberg wanted this rooftop terrace to be low-key yet magical, and we definitely think he accomplished his mission.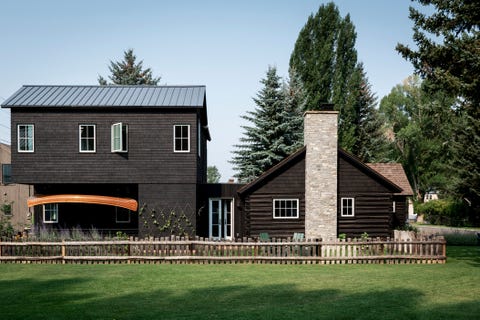 DIAMOND IVY WALL
Your trellis doesn't need to be made of wood! It can be a thinner material like aluminum, vinyl, and copper, which gains a charming patina over time, too. Emily Janak secured a thinner trellis to the exterior wall of her home to support newly planted ivy.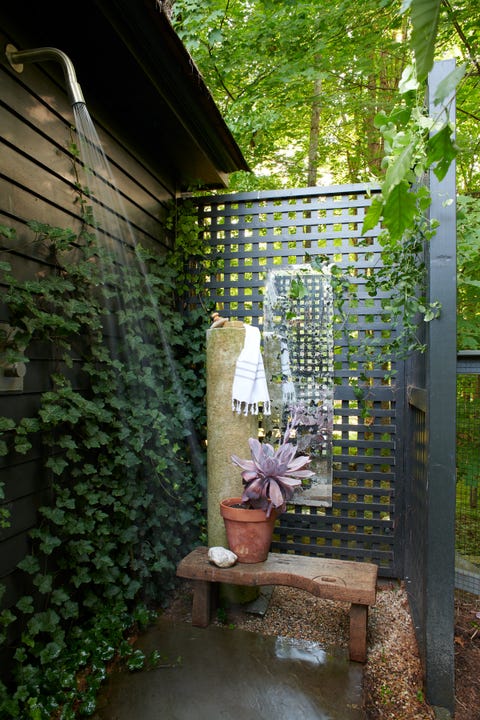 SHOWER STALL PARTITIONS
Two trellises create privacy for an outdoor shower stall without actually blocking the views and beautiful dappled light. Designer Hadas Dembo painted the trellis partitions dark green to blend in with the ivy. It's truly like showering in the open forest.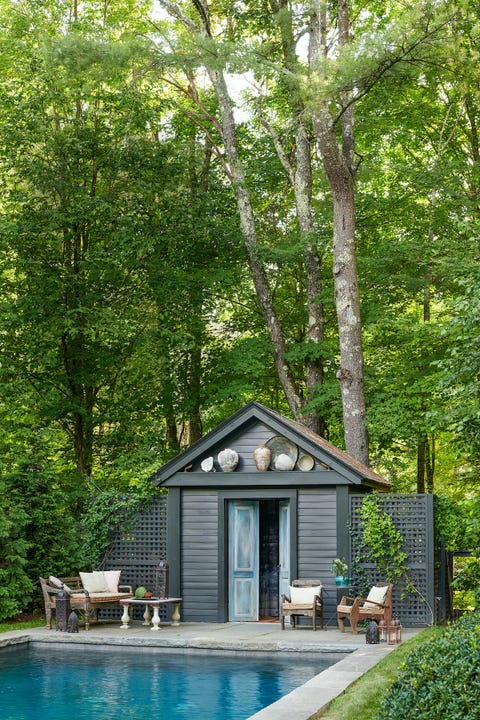 POOLHOUSE STORAGE TRELLIS
Here's another angle of the trellis walls surroundings Demobo's poolhouse. "I wanted it to be, you know, not as grand as Versailles, but this ornamental body of water surrounded by old tables and benches," Hadas Dembo explains about this poolside oasis. Gunite lines the pool deck and reclaimed Dutch Colonial doors, along with custom mixed paint colors bring a rustic, historic feel to the poolhouse and trellis. The dark shade also brings a sense of mystery to the trellis while also hiding anything that needs to be stored out there.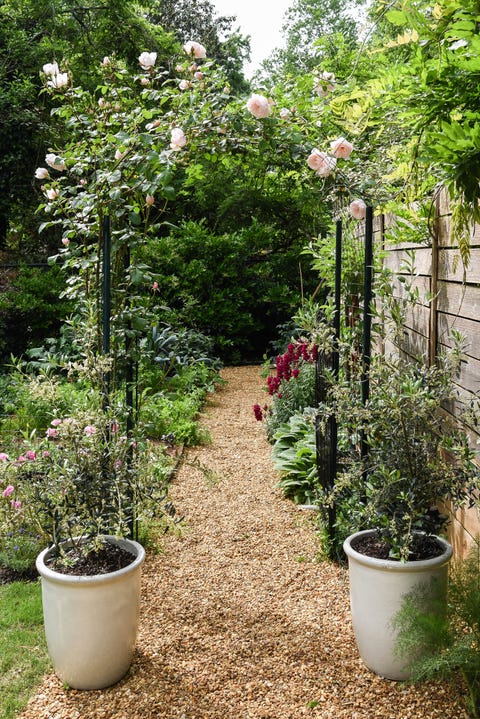 GARDEN ARCH TRELLIS
Make a statement at the entrance to your garden or along a scenic path with an arch trellis. For this one, blogger Michelle Cannon Smith used wire fencing and metal fence stakes to display climbing roses. Get the tutorial at Iron & Twine.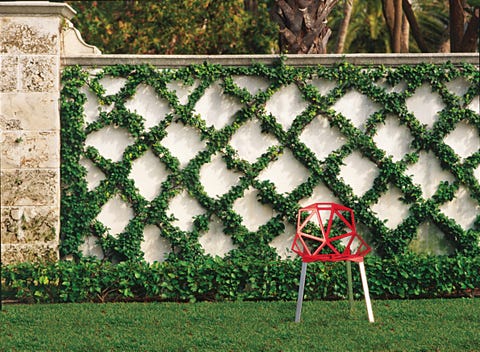 DIAMOND PATTERN WALL
A classic diamond pattern beautifies the garden retaining wall with lush vines and a perfectly kept lawn.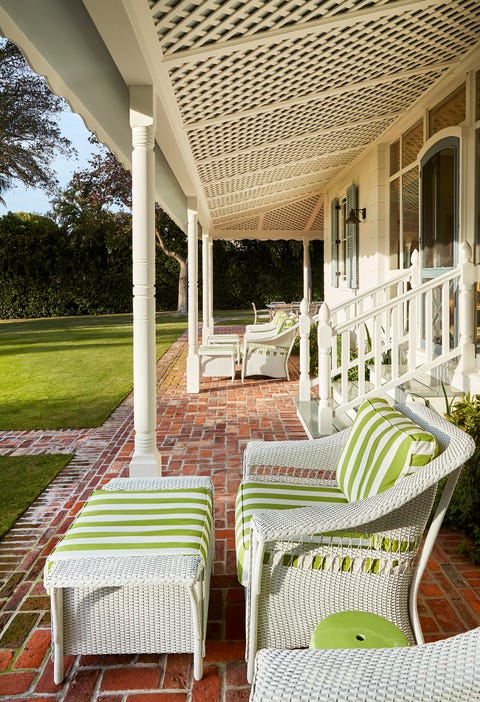 OVERHEAD INTRIGUE
The lattice trellises on this Palm Beach property designed by Pheobe Howard are customized and secured to the angled porch. The texture introduces visual intrigue for loungers and passersby.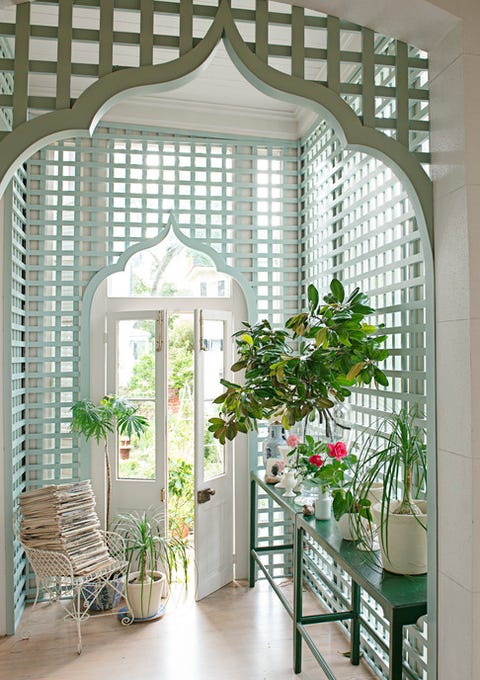 TRANSITION ROOM GEM
Designer Sara Ruffin Costello incorporated intricate wall-to-wall trelliswork with a double archway in this greenhouse-meets-entryway to segue from the outdoors to the inside. All the texture and cheerful color ensure a brilliant first impression.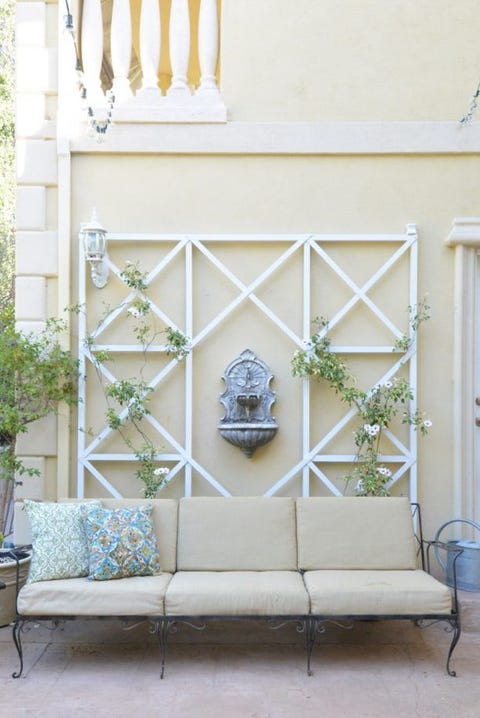 CRISS-CROSS WALL TRELLIS
Liven up your patio with a criss-cross wall trellis made of wood. Paint it a bright color for a go for a neutral. Blogger Kate Riley designed this white one to frame a European-style water fountain. Get the tutorial at Censational Style.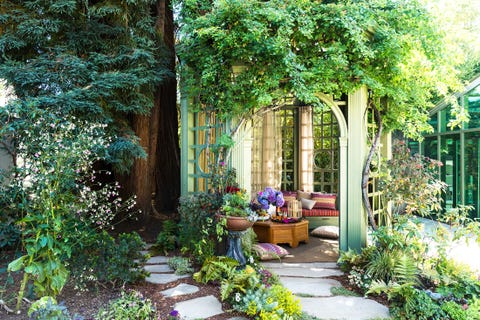 GARDEN GAZEBO
If you want to carve out a stylish hang area that feels truly transporting, opt for a trellised gazebo. This one from April Powers is also a post-swim hang area. The crawling vines, sheers, and camouflaging paint color allow the gazebo to blend right in with the garden environment, while the bench and coffee table ensure comfort and function.
WIRE TRELLIS
For something simple yet totally customizable, use wire secured to a wall in any design to want. This diamond-shaped trellis by Salvaged Living accentuates a formerly bare brick wall. Get the tutorial at Salvaged Living.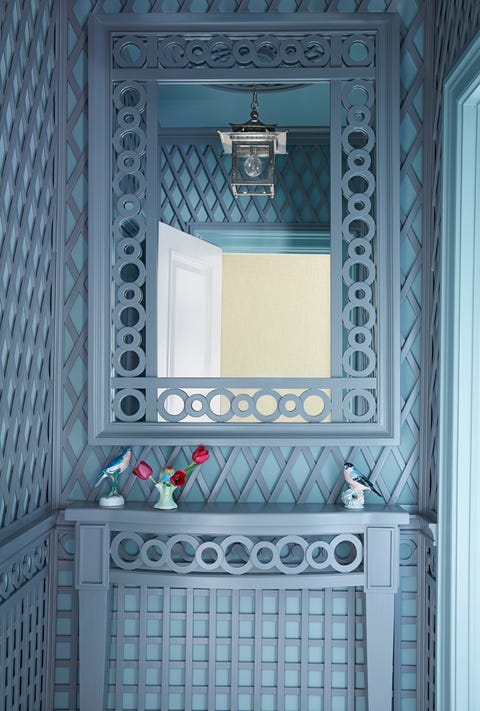 TEXTURE-RICH POWER ROOM
Here's another beautiful example of trelliswork transforming an indoor space. The gray-blue paint (Plummet by Farrow & Ball) is soothing and unique but still nods to the great outdoors in this powder room designed by Nathan Turner.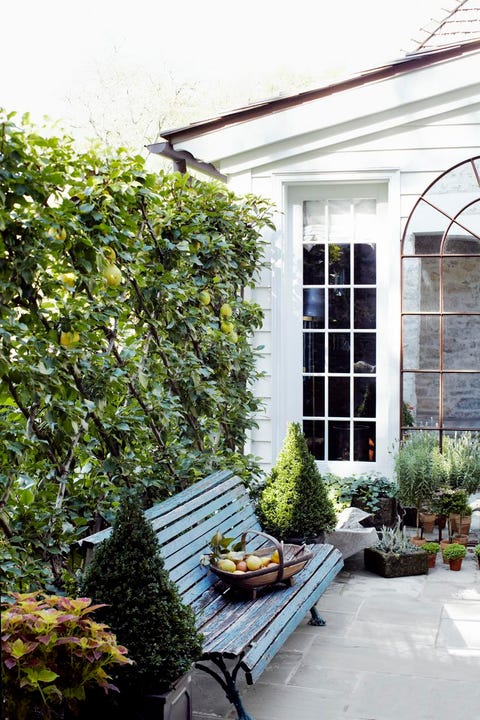 PEAR-COVERED TRELLIS
In Nashville, a new house with an old soul merges indoors with outdoors. On the front terrace, Jeannette Whitson designed a secret garden enclosed by pear trees espaliered on a trellis. The mudroom the skylit mudroom/ flower arranging room an arched window adds architectural interest.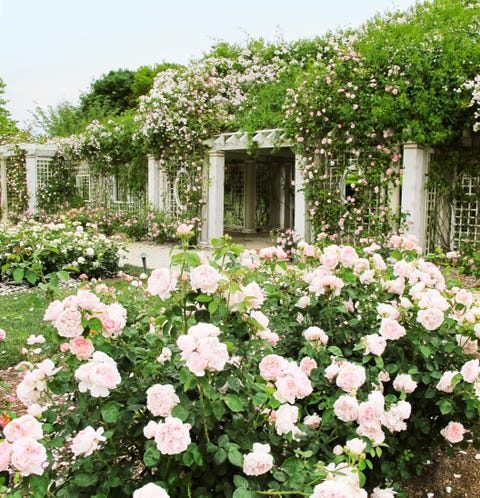 ROSE COVERED GARDEN
An elaborate pergola and trellis structure was erected to accommodate a client who really loves roses. Landscape designer Edmund Hollander planted some 250 English grandifloras, and they look particularly romantic growing over the passageway.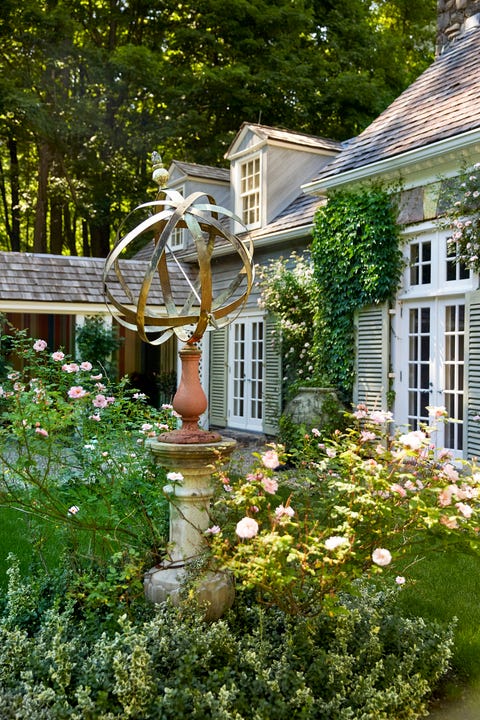 CLIMBING VINES PASSAGE
Look closely and you'll see the trellis peaking from behind the garden structure in this country estate designed by Thomas Jayne. With climbing vines weaving through it, the home becomes one with nature.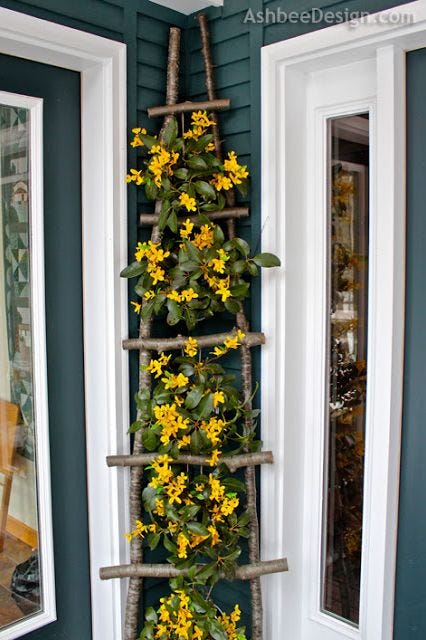 LADDER TRELLIS
Tuck a ladder trellis made of branches into a corner of your home's exterior. Hanging pots hold the plants while the branches allow them to spread to form a stunning display. Get the tutorial at Ashbee Design.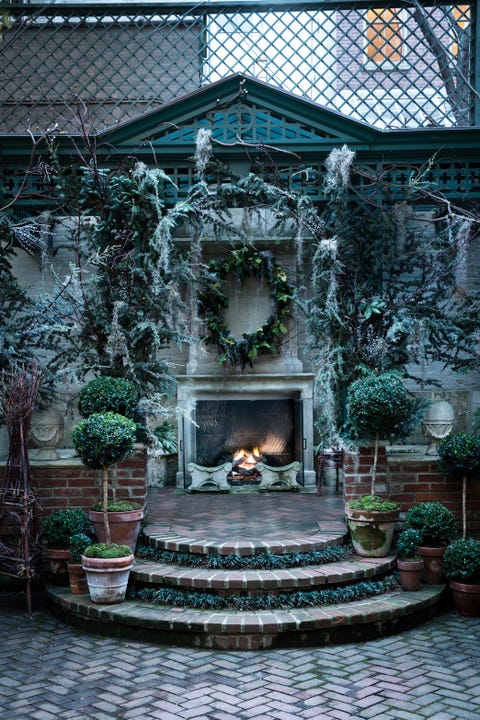 PRIVACY TRELLIS STRUCTURE
The trellis fencing lining this New York City terrace designed by Charlotte Moss creates both privacy and a canvas for seasonal displays. Here, a wintery scene is set with moody Spanish moss and a roaring fire.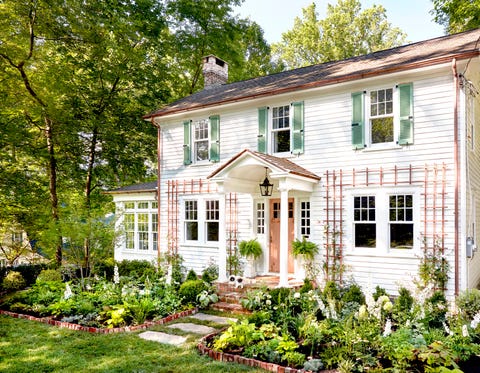 PLANNING AHEAD
Strategically framing the windows on both sides of the front door, the trellis duo is destined for greatness. Eddie Ross planted roses so that they will grow over the trellises over time, and the trellises can also be temporarily removed (with the vines) for repainting and other housekeeping needs!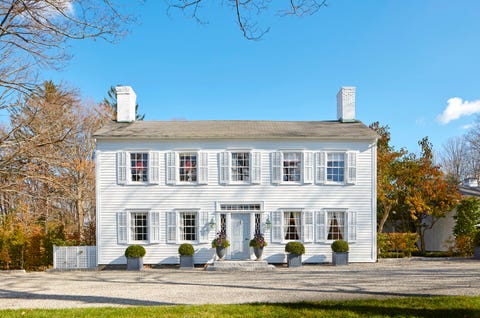 CLASSIC WHITE GATE
A trellis gate steps up the curb appeal of this home designed by Brittany Bromley. A simple paint color that matches the home's exterior ensures a classic, cohesive look.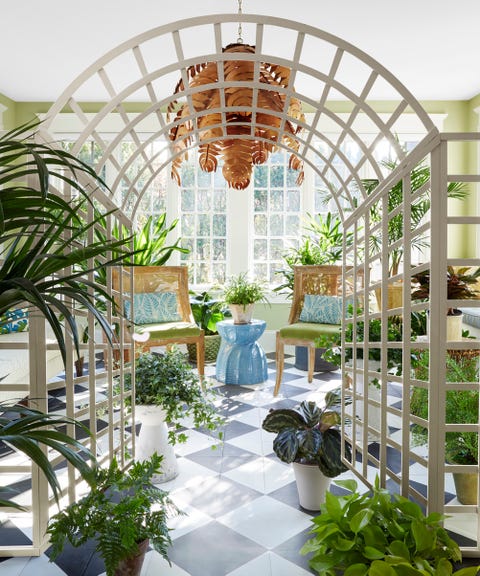 GREENHOUSE GRANDEUR
In this lively greenhouse slash sunroom designed by Eddie Ross, the seating nook makes it feel more liveable and grander, and the green cushions blend in nicely with plants while the pops of light blue introduce contrast. The plant motif pendant and trellis archway are also fun ways to create a sense of place and honor the theme.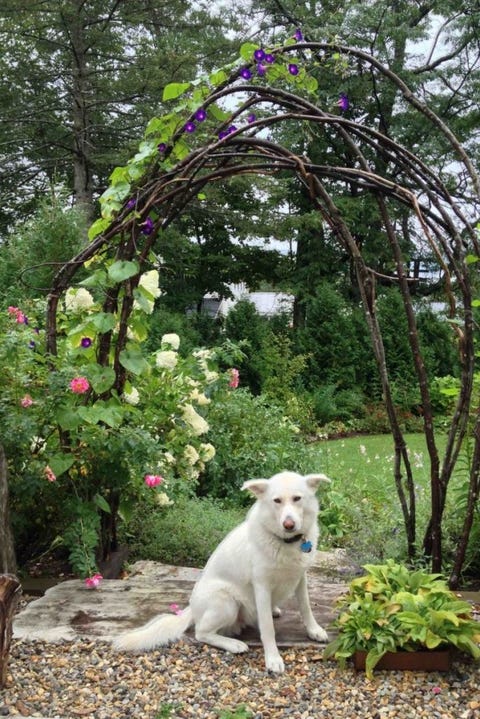 RUSTIC TRELLIS
For a natural look, build a trellis made of arching branches. This one in author and gardener Ellen Ecker Ogden's garden is proof the effort required to make it was worth it. Get the tutorial at Ellen Ogden.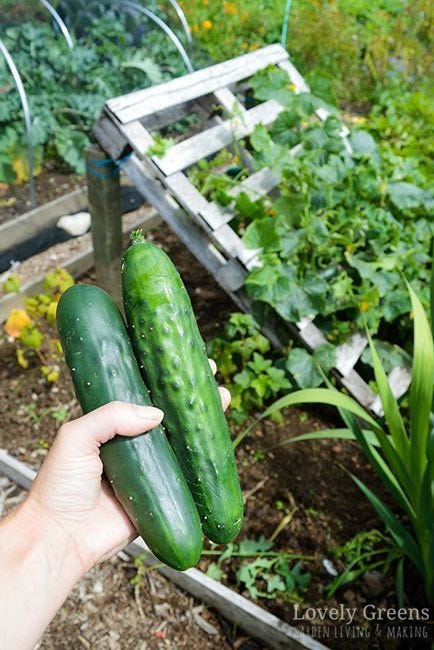 PALLET CUCUMBER TRELLIS
Growing cucumbers? Repurpose a heat-treated wood pallet into a trellis to make the process easier. The only other material you need is twine, and you're good to go. No tools are required! Get the tutorial at Lovely Greens.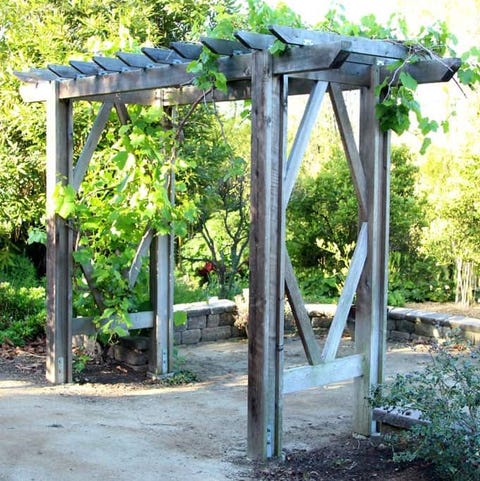 SIMPLE PERGOLA
A pergola can easily define any outdoor gathering area. This one requires a bit of heavy lifting considering its size, but it'll impress anyone who passes by—especially once it's covered in flowering or fruiting vines. Get the tutorial from A Piece of Rainbow.