Two Air Force Ones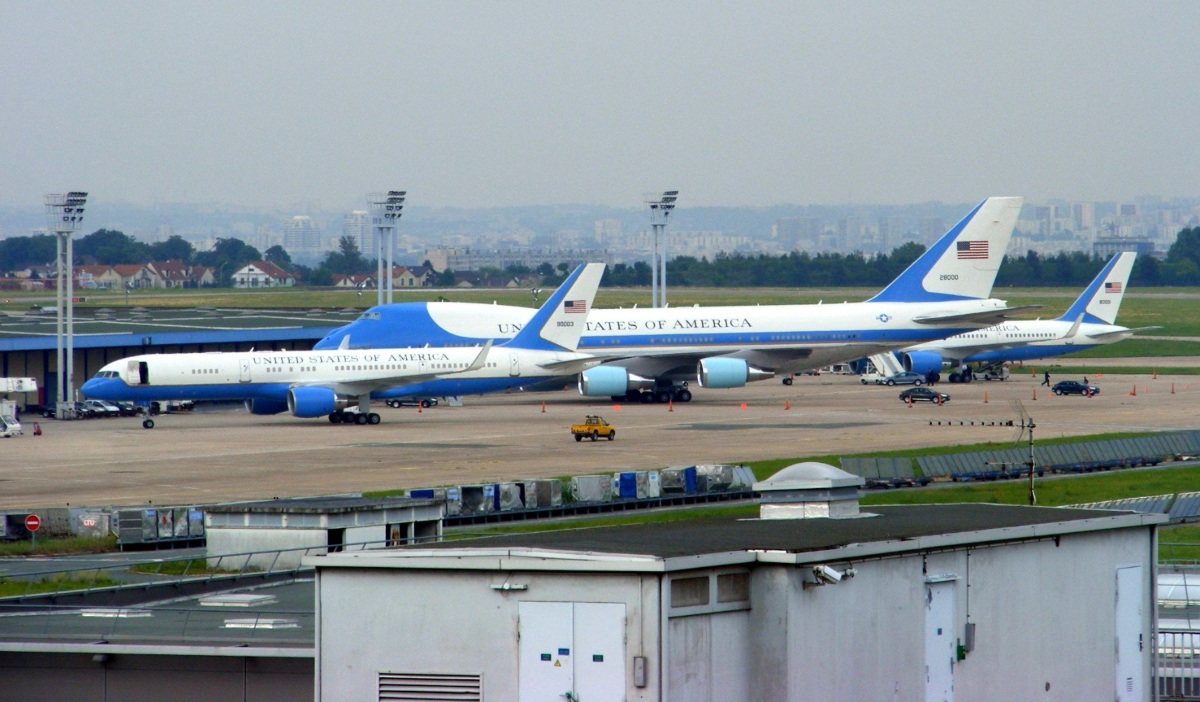 Air Force One is not a specific aircraft, rather, it is the designation given to any aircraft currently carrying the President of the United States. Typically, that's the Boeing 747-200B (of which there are two), with the tail codes 28000 and 29000. These jumbo jets are more significant than probably any other aircraft that's ever existed. Of all the awesome and interesting Air Force One facts, this one might be the most important to know before moving forward!
Unlimited Range
The Boeing 747-200B has impressive capabilities, no doubt about that. One of the most impressive is its unlimited range. With the help of aerial refueling, Air Force One theoretically can traverse the entire globe. But on one tank of fuel, which is about 53,000 gallons, the aircraft can fly from Washington D.C. to Tokyo, Japan without refuel; that's 6,735 nautical miles!
Giddy-Up
Air Force One reaches a cruising speed of .84 Mach, which is 644 miles per hour. It's maximum speed peaks somewhere around .9 Mach, which is 690 miles per hour. For reference, a Boeing 777 commercial jet also has a cruising speed of .84 Mach. That means, at cruising speed, with no air traffic issues, Air Force One can fly from Philadelphia to Atlanta in one hour. Now, time must be added for taking off and landing – but in air time alone, one hour from Philly to Atlanta is true. One of the cooler Air Force One facts out there.
The President's Car Meets Him There
Every international destination that the President flies to, a caravan flies ahead to meet him there upon arrival. The presidential convoy is a deep number of people, but the most impressive member is the C-5 Galaxy or the C-141 Starlifter that carry the State Car – an armored limo that can withstand all sorts of attacks. The President of the United States walks off the stairway `ramp of Air Force One and goes directly into "Cadillac One" or "The Beast", as some call it. There are also fighter jets in the area on most flights, just in case of a surprise aerial or ground attack – but the monstrous C-5 is the most major part of his aerial entourage.
Luscious Interior
It's got over 4,000 sq. feet of interior space which is plenty of room for the Commander In Chief and all his staff, plus media and guests. Officially, there is room for 102 souls on board. Included in the luscious interior are leather padded seats with the Presidential Insignia stitched on, two galleys that prepare meals for 100, a gym for the president, medical station, multiple meeting rooms and multiple staff rooms.
Separate Entrances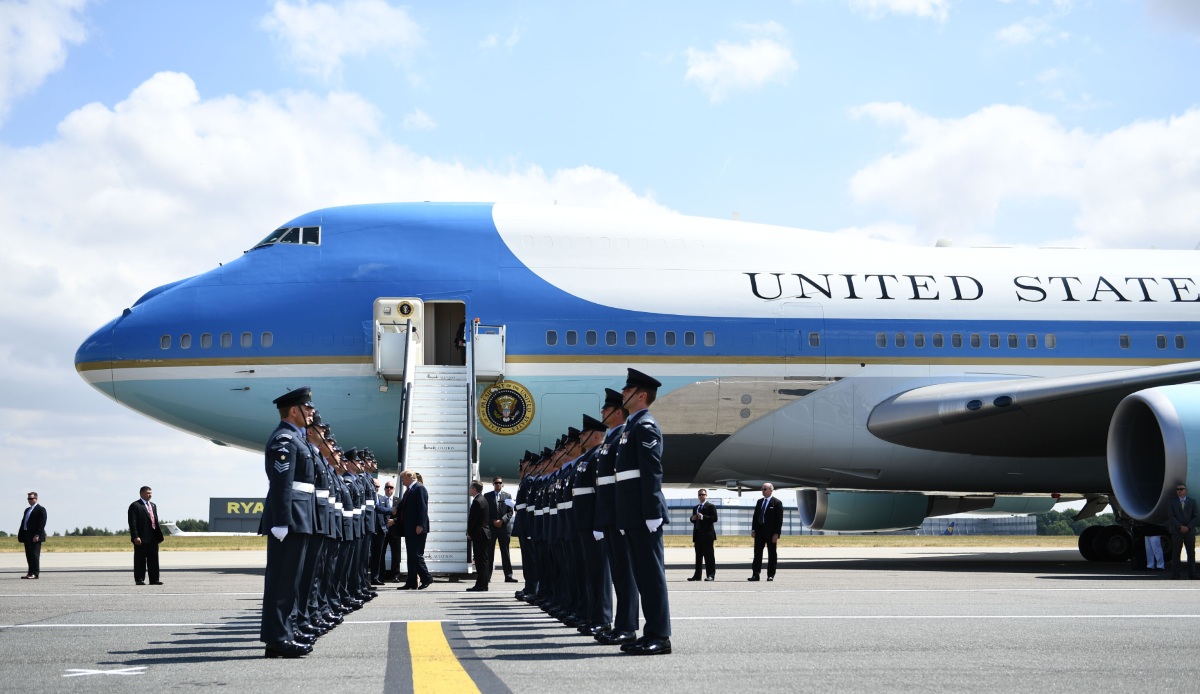 There are two entrances to Air Force One. The president, his family and special guests use the front entrance here, near the nose of the plane. Journalists board the plane in the rear. The rule of thumb for invited guests and media is that they are not allowed to walk towards the front of the plane, past their seats. So everything they need is located at the rear of the plane. The entrance you see the president walk up the stairs towards is never used by anyone but senior officials, very important guests, and security.
Aerial Oval Office
The office was upgraded after the September 11, 2001 terror attacks with the telecommunications equipment necessary to address the nation from the skies. A complete desk with telephones, office chairs and equipment complements the trimmings of a luxury business building office. Leather couches to lounge on while thinking and separate work surfaces complete the presidential office on Air Force One.
The Presidential Suite
The president's private suite, located in the nose of the plane, has foldable couches and a private bathroom. The southwestern decor theme seen here was designed by Nancy Reagan. As far as we know from this picture of President George W. Bush, the bed in the president's living quarters is similar to a fold-out or a couch bed. Not the most luxurious setting of all-time, but pretty nice for a plane.
Medical Services On Board
Adjacent to the president's office, near the entrance to the plane, is the Air Force One medical compartment. The medical office is always staffed with a nurse, its own supply of blood, drugs and a defibrillator – among other itmes. Given the nature of stress and bombardment that is the duty of the President of the United States – it's easy to assume the medical office gets used quite a bit. These Air Force One facts were compiled by Military Machine.
Meetings Must Take Place, Even In The Air
Down the hallway toward the back of the plane is the senior staff room. There a president can hold meetings and discuss policy with staffers. What kind of staff room would be complete without a massive conference table and leather-backed office chairs? Also, in case the meeting doesn't need to involve every official on board, or perhaps a secret conversation needs to take place, there's a smaller but similar conference room on board for the president and his staff to utilize.
Fine Dining on Air Force One
The elaborate meals served aboard Air Force One are prepared inside a special kitchen at Joint Base Andrews. Each entree is vacuum sealed and frozen on the ground; the cooking process is completed on stoves, ovens and microwaves in the plane's galley kitchen. The president can order just about any meal he'd like. Dinners for up to 100 people can be prepared and served aboard Air Force One.
Communication is Key
There are 85 phone lines and 19 televisions on each of the two identical planes, allowing the White House to stay in touch with events on the ground. How in the world could any plane need or find the use for 85 telephones? We're not positive, but odds are that there are a few of them that aren't normal phones. Perhaps direct lines to other countries leaders? Direct lines to the Pentagon and other governmental agencies? We may never know the extent of these types of Air Force One facts.
Air Force One is Loud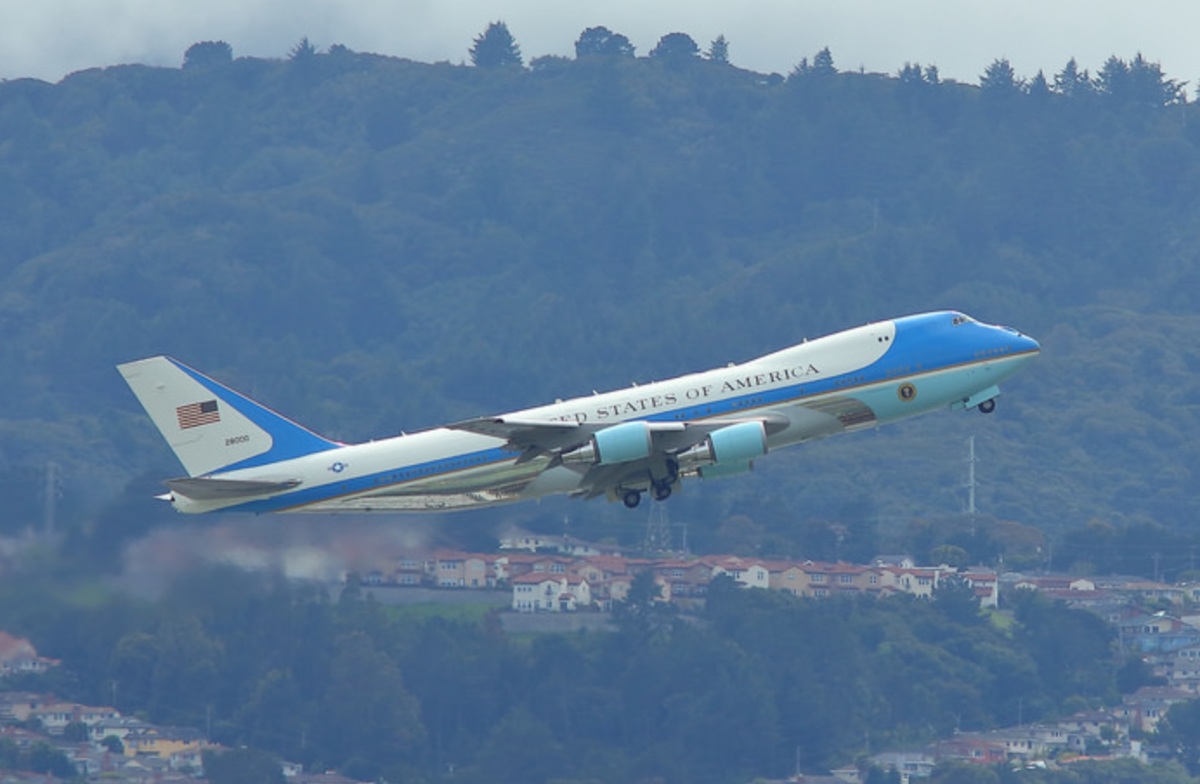 When the Clintons routinely flied to Westchester Airport, outside of White Plains, NY., to then commute to their suburban home, Air Force One touched down and took off on the relatively small airfield typically used for business executive and owners. When Air Force One flew into Westchester County Airport the first time in 2000, residents of the city filed 14 noise complaints over the issue. It's a massive plane so naturally it is extremely loud.
VIP Suites
Members of Congress and other invitees of the president sit here, in Air Force One's guest section. It's the front-most seating section for security reasons: Secret Service allows passengers to move freely toward the rear while in flight, but guests are never allowed to walk forward past their own seat. Because it is so secured and secretive, VIP's are few and far between. But what a ride that must be!
Press Passes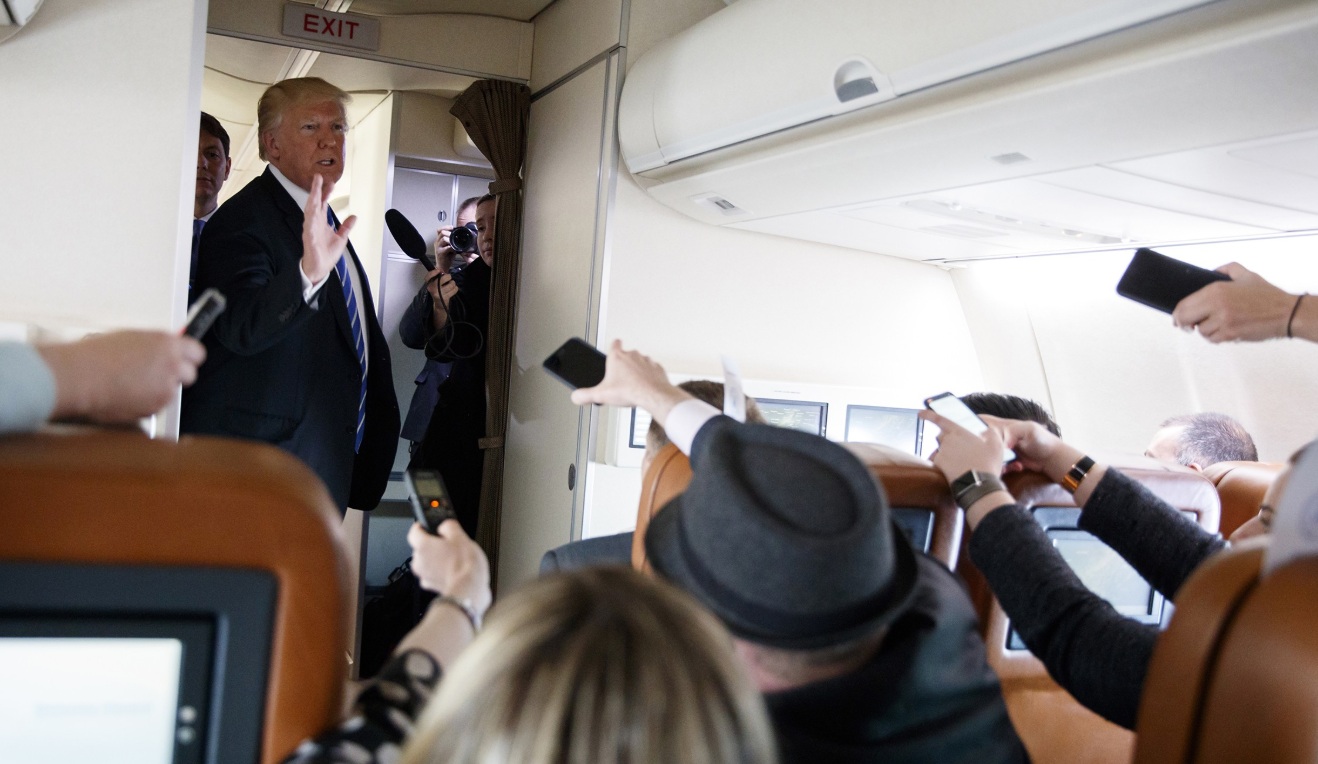 Traveling press are seated in the very back. They don't fly for free: news organizations must reimburse the government for the cost of travel. Occasionally, the president will walk back to the press section to talk and answer questions. One estimate, published in a leading newspaper, quoted the expense at over $80,000 per journalist, per trip! Most of them fly the charter plane that follows Air Force One to the destination. These Air Force One facts get better and better!
Everybody wants a Piece
Retired Air Force One planes are a hot-ticket item. Following its retirement, SAM 27000, the plane used by President's Nixon through George W. Bush, was disassembled and shipped to the Ronald Reagan Presidential Library in Simi Valley, California. These days, you can explore the inside of SAM 27000 inside The Air Force One Pavilion at the Ronald Reagan Presidential Library. The plane was famously used as a backdrop during the September 2015 Republican presidential debate held at the library.
It Wasn't Always This Pretty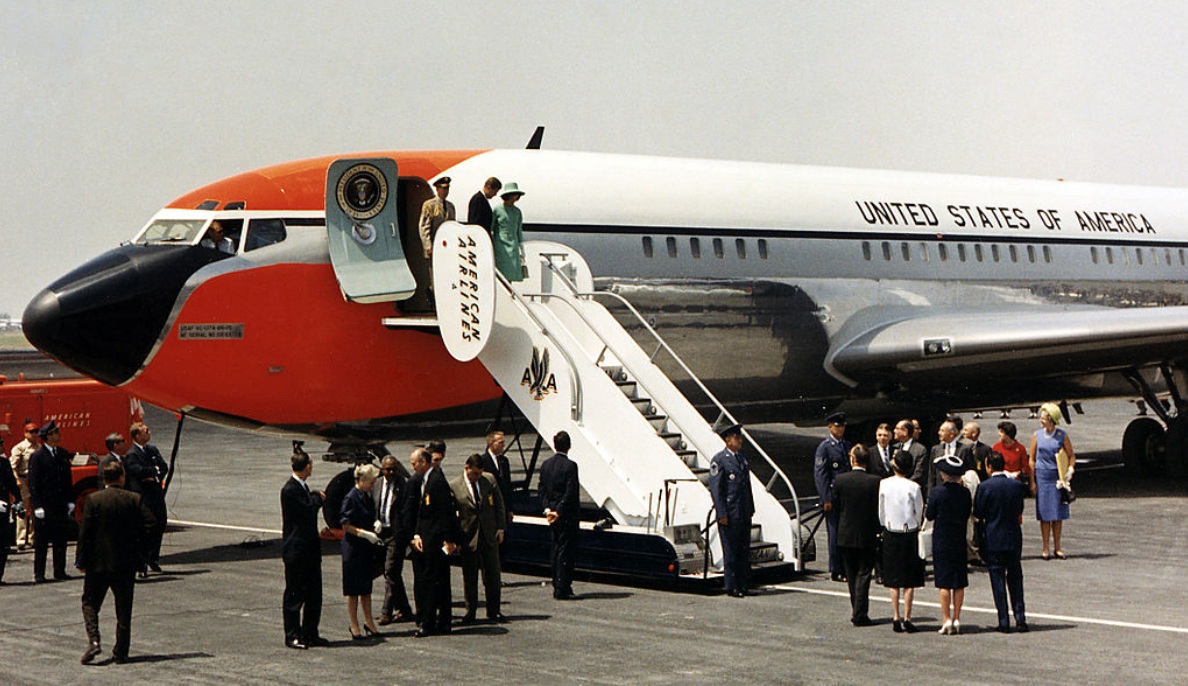 The term "Air Force One" gained popularity with the introduction of SAM 26000, a Boeing 707 obtained for use by President John F. Kennedy. It was replaced by President Richard Nixon in 1972. Seen here, it was standard military aircraft color – orange and red and white. But with a little re-imagination from none other than Mrs. Jackie Kennedy – way back in 1962 – a stylish design that represented the nation and her husband appropriately was put in place. When the new batch of aircraft was ordered in 1962, they were set to feature the then-standard military aircraft color scheme of red and orange with an outdated blocked typewriter font. The blue and silver you see today is from the Kennedy Era.
President Lyndon B. Johnson
Following the assassination of President Kennedy, Lyndon B. Johnson was sworn in on board Air Force One on November 22, 1963. In what has since been labeled, "The Most Famous Photo Aboard Air Force One" – you can see here the ceremony performed by Judge Sarah Hughes in one of the main gathering areas of the aircraft. President Johnson is the only president to ever be sworn in a vehicle. These Air Force One facts were compiled by Military Machine.
First of its kind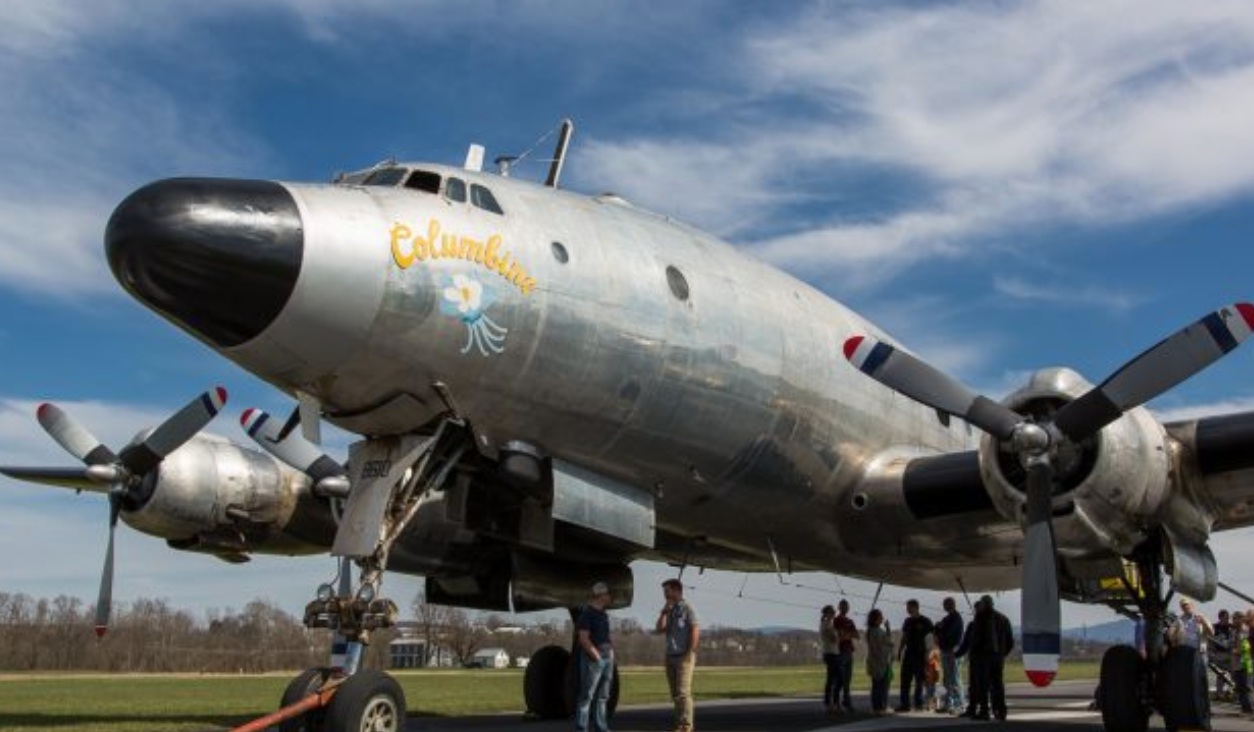 President Dwight Eisenhower's gleaming Lockheed Constellation, named Columbine II, was the first plane to officially carry the Air Force One call sign. It was in service from 1953-1954, when it was replaced by the Columbine III. Columbine II was built as a C-121A at Burbank, California and sent to Lockheed to support the Lockheed Air Service International maintenance facility at Keflavík, Iceland. In November 1952, President-elect Dwight D. Eisenhower used the aircraft to travel to South Korea. It was converted to a VC-121A-LO standard for use by President Eisenhower in 1953.
Before Air Force One
The official presidential plane hasn't always been so large and luxurious. President Truman's plane, The Independence, is a military version of the Douglas DC-6. The Independence was commissioned in July 1947. It was retired to the National Museum of the United States Air Force in Dayton, Ohio in 1965. Truman's Independence aircraft was cramped, offering space for just 25 passengers and a crew of nine. Today, President Trump's Air Force One can carry up to 76 passengers, with a crew of 26.
First President To Fly In Oval Office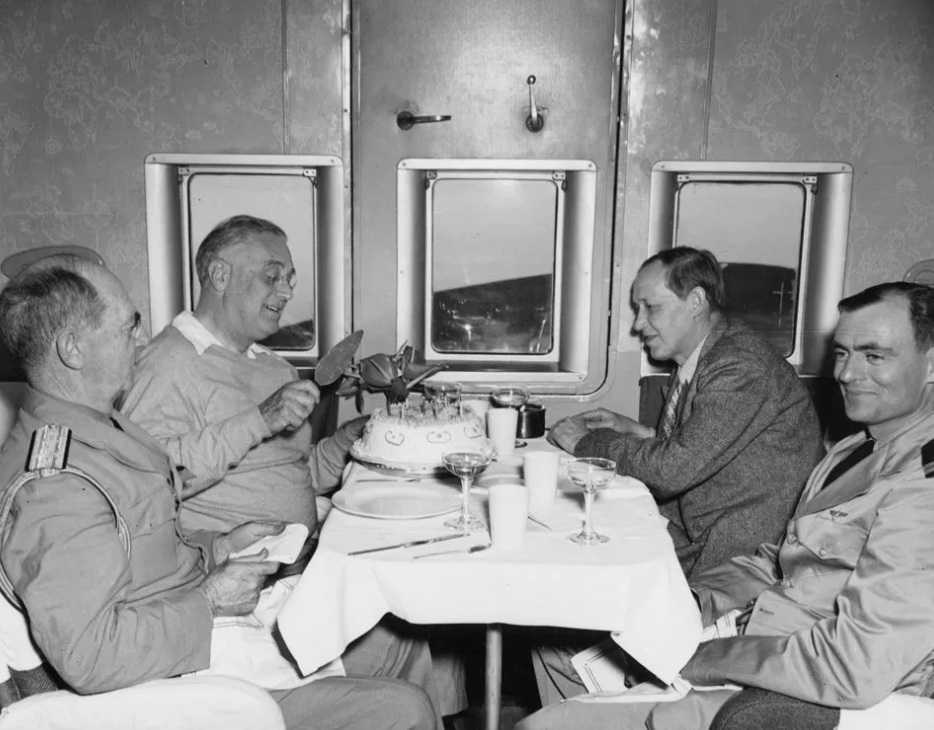 Franklin D. Roosevelt became the first American president to fly while in office on January 11, 1943, to attend the Casablanca Conference with British Prime Minister Winston Churchill. He made the risky wartime trip inside the Dixie Clipper, a Boeing 314, because German U-boats made travel by sea even more dangerous. While the Air Force and White House had not yet determined the call sign of Air Force One – President Roosevelt still made history.
$24 Million Refrigerators
The New York Times published an article in January 2018 that stated, "More than a quarter-century after they were installed, two of the refrigerators on the president's plane need to be upgraded." Both chillers combined with, "the engineering required to design, manufacture, conduct environmental testing and obtain Federal Aviation Administration certification", said the Air Force, total a price tag of $23,657,671. Air Force One has $24 million refrigerators.
Defense Mechanisms
Although it looks like a jumbo commercial jet, make no mistake, this is a U.S. Air Force plane carrying the President of the United States. This aircraft is loaded in defensive countermeasures and electronic defense mechanisms. As well as some impressive electronic gadgets used for business, too. Most of this information remains heavily classified, but we do know a good bit. The most useful defensive mechanism is likely the electronic countermeasures that jam or diffuse enemy radar. Air Force One also contains flares under the wings that are released to distract any potential heat-seeking missiles.
Navy One
When he landed on the USS Abraham Lincoln following the invasion of Iraq in 2003, President George W. Bush designated his naval transport aircraft, a Lockheed S-3 Viking, "Navy One". The Lockheed S-3 Viking was a four-seat, twin-engine turbofan-powered jet aircraft that was used by the U.S. Navy primarily for anti-submarine warfare. In the late 1990s, the S-3B's mission focus shifted to surface warfare and aerial refueling. These Air Force One Facts were compiled by Military Machine.
Evacuation Plan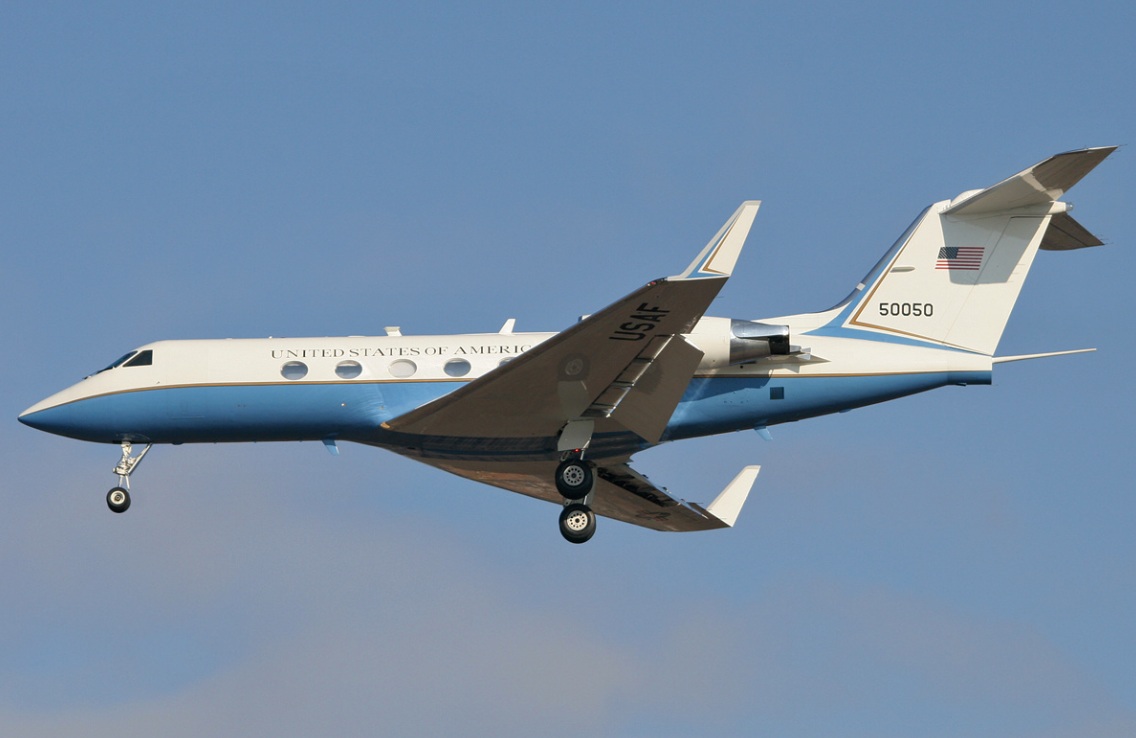 One of three presidential aircraft in charge of evacuating the President during an emergency situation is a Gulfstream C-20C. If you poke around the Air Force's website, however, you won't find any mention of the C-20C as presidential transport aircraft. The Air Force simply refers to it as, "…a twin-engine, turbofan aircraft acquired to fill the airlift mission for high-ranking government and Department of Defense officials. The 89th Airlift Wing, Joint Base Andrews, Md., operates five C-20Bs for worldwide special air missions. The 86th Airlift Wing, Ramstein Air Base, Germany, operates two C-20Hs for operational support airlift missions."
Professional Design

Jackie Kennedy, the fashionable First Lady, wanted to make sure that the planes were as physically attractive as possible. She enlisted the help of Raymond Loewy, a designer who worked with Coca-Cola and other top brands of the time. Loewy came to the White House to meet with the Kennedy's, and go over potential designs. Legend has it that he and President Kennedy sat on the floor of the Oval Office and went over color schemes, and type fonts. Loewy elected to swap out 'U.S. Air Force' for a more powerful and less static title of 'The United States of America'. He went over historical documents with the president and settled on the font used in the heading of the Declaration of Independence; Caslon, all caps.
Red, White and Two Specific Blues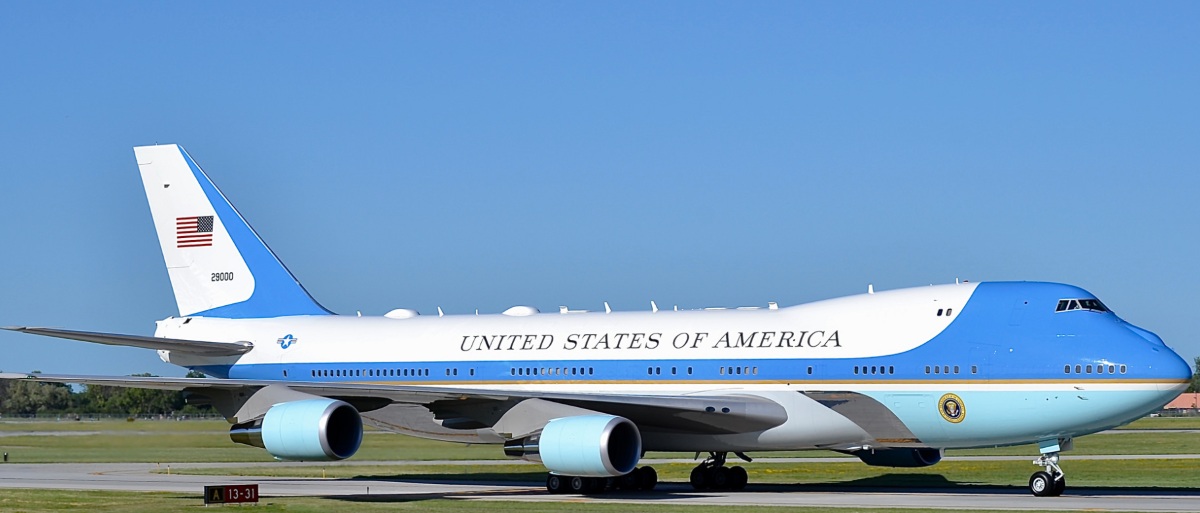 The Kennedy's were known for the appreciation of the color blue, so Cyan and Slate were chosen to colorize the new aircraft wings, with the top of the plane left white and the belly set to silver. The aesthetic design scheme, which remains to this day, was applauded by the American public. Cyan and Slate may not have a long future as the colors of Air Force One, as new planes are under construction and color scheme has yet to be determined. But for now, Cyan and Slate are two good-to-know Air Force One Facts.
Dimensions
The Boeing 747-200B is no commercial airliner jet. These high-profile military transport vehicles are nearly as big as the C-5 Galaxy which is the largest aircraft in the entire Air Force. Air Force One's wingspan is 195 ft long, the C-5's is about 220 feet. The Boeing 747-200B is 231 feet long, compared to the 247-foot long Galaxy. Air Force One measures over 63 feet off the ground and can take off with a maximum weight of over 830,000 pounds. Quite the machine.
Air Force One Facts – Crew
Although it's nothing like any plane you've ever been on before, there are still some standard protocol on this plane that most commercial jets have as well. The crew members, for instance. On board every flight that the President flies is a crew of 26 that include: pilot, co-pilot, engineer, navigator, baggage loader, flight attendants and others. Room for 102 total on board. The crew members selected to serve on Air Force One are vetted intensely and tend to remain employed for a long time for continuity.
Presidential Airlift Group
Air Force One is maintained and operated by the Presidential Airlift Group, part of the White House Military Office. The Airlift Group was founded in 1944 as the Presidential Pilot Office at the direction of President Franklin D. Roosevelt. Otherwise known as the 89th Airlift Group stationed at Joint Base Andrews, it maintains an Air Expeditionary Force combat-ready force of more than 1,100 personnel. The 89th Airlift Wing provides global Special Air Mission airlift, logistics, aerial port and communications for the president, vice president, cabinet members, combatant commanders and other senior military and elected leaders as tasked by the White House, Air Force chief of staff and Air Mobility Command.
Special Air Mission 41
After former president George H.W. Bush passed away, his final flight aboard on Air Force One was called "Special Mission 41." By tradition, the plane is only called Air Force One when the president is on board. President Donald Trump did not travel on the aircraft, so the plane was re-designated and renamed to honor Bush. His body was carried to Washington National Cathedral for a memorial and then back to Houston and its final resting place, at the George H.W. Bush Presidential Library in College Station, Texas.
Air Force One Cost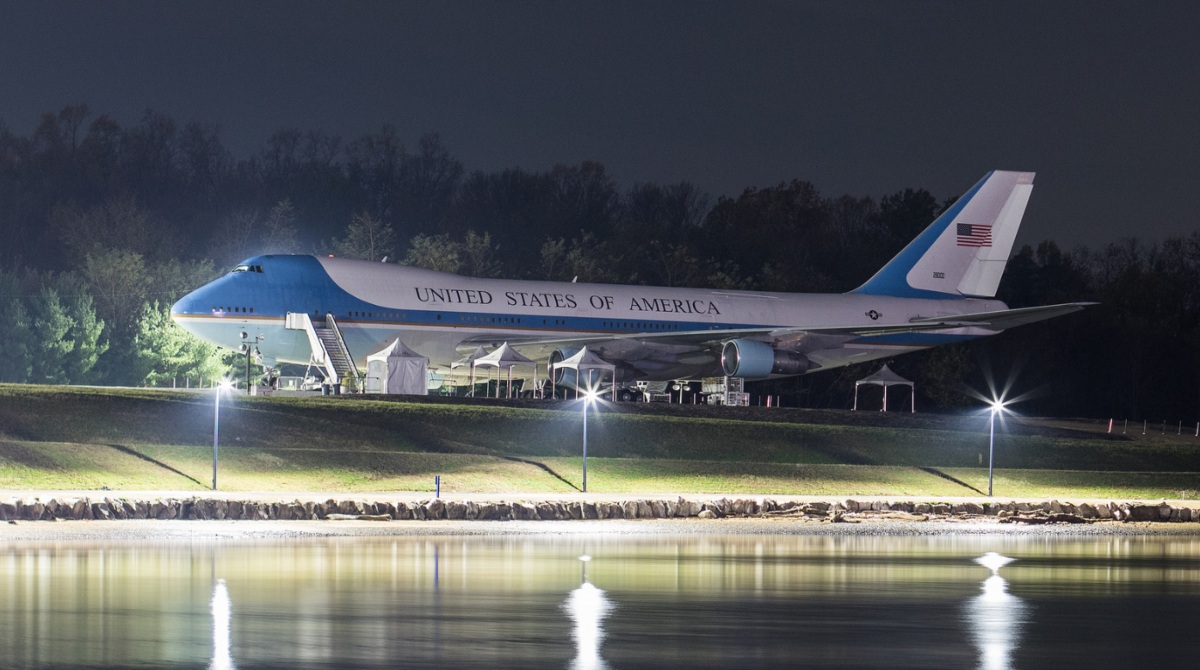 This is a highly-classified plane. More secretive and guarded than even the F-22 and F-35 fighter jets. As such, there are additions and specifications we will never know about. Therefore, there's no way to determine the unit cost of the plane. But thanks to open records, we know that Air Force One costs about $206,000 per flight hour. That's right, over $200,000 for every 60 minutes that the Boeing 747-200B is in use.
Food aboard Air Force One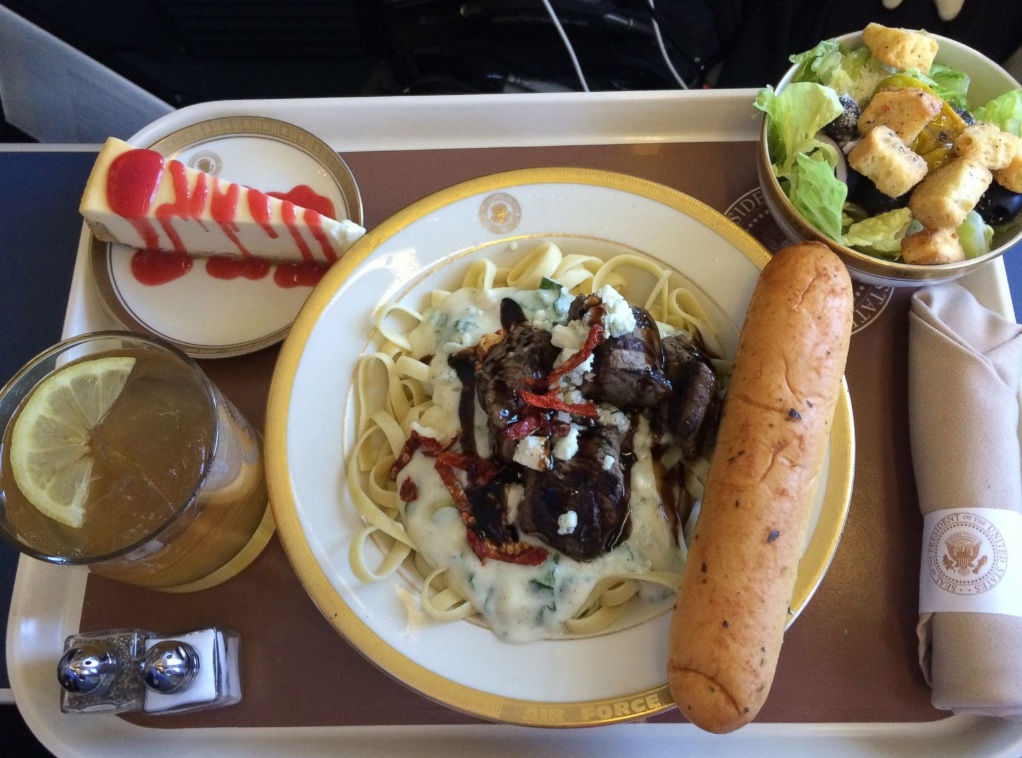 Fare inside of Air Force One has been confirmed to include: A blue-cheese burger with lettuce, tomato and garlic aioli, accompanied by Parmesan-sprinkled fries. Chocolate fudge cake. Pasta shells stuffed with four cheeses, topped with meat sauce and shredded mozzarella, and served with a garlic breadstick. Cake infused with limoncello. Buffalo wings with celery, carrots and homemade ranch dip. That's just to name a few confirmed meals. That was part of the menu rom a three-day trip during the 2012 campaign season.
It's All In The Details
There are three digital clocks in specific sections of the plane, including the press cabin. These clocks state the time in Washington D.C., the time at the destination and the local time. Another quirky detail is there's a long, padded cover that folds down over the toilet seat, for anyone who might need to take a private rest for a few moments. Also, there's a white phone in the press cabin which can connect anywhere in the world. Only rule: business calls only.
The Gas Has More Security Than Most Homes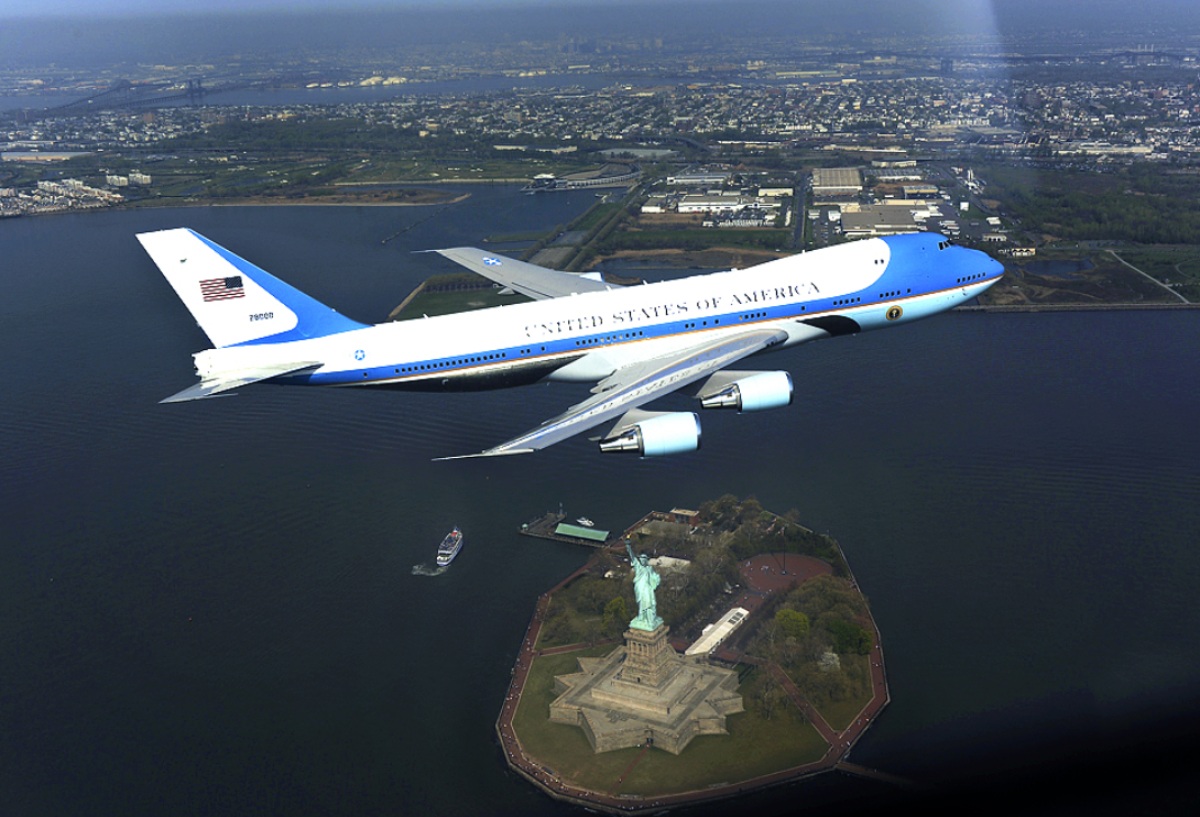 Many aspects of the president's travel aboard Air Force One is more lavish and secretive than anything most citizens will encounter in their lives. But even the finite details like the gasoline storage are highly complicated matters. The gasoline used for Air Force One is separated, tested and set aside in a locked tanker for exclusive use on the presidential aircraft. Ideally, the aircraft only fuels up at Joint Base Andrews in Washington D.C.
The Airways Clear Out
In a New York Times article written and published in 2000, we got a brief glimpse of the air traffic control efforts during days that Air Force One is in the air.
"William Shumann, of the Federal Aviation Administration, said a presidential flight from Andrews Air Force Base to White Plains will involve four air traffic stations. "The general instruction for controllers is to expedite the movement of presidential aircraft," he said. Which is why, as Air Force One approached Westchester Airport on Feb. 5, the pilot of Northwest Airlines Flight 496, flying from Detroit to White Plains, was told to slow down because the airport was closing for 15 to 20 minutes. The controller did not say why, but Capt. Steve Stengel heard the radio transmission between Air Force One and approach control and figured it out."
Air Force One has taken the President of the United States all over the world…including very close to some of these historical abandoned military bases!